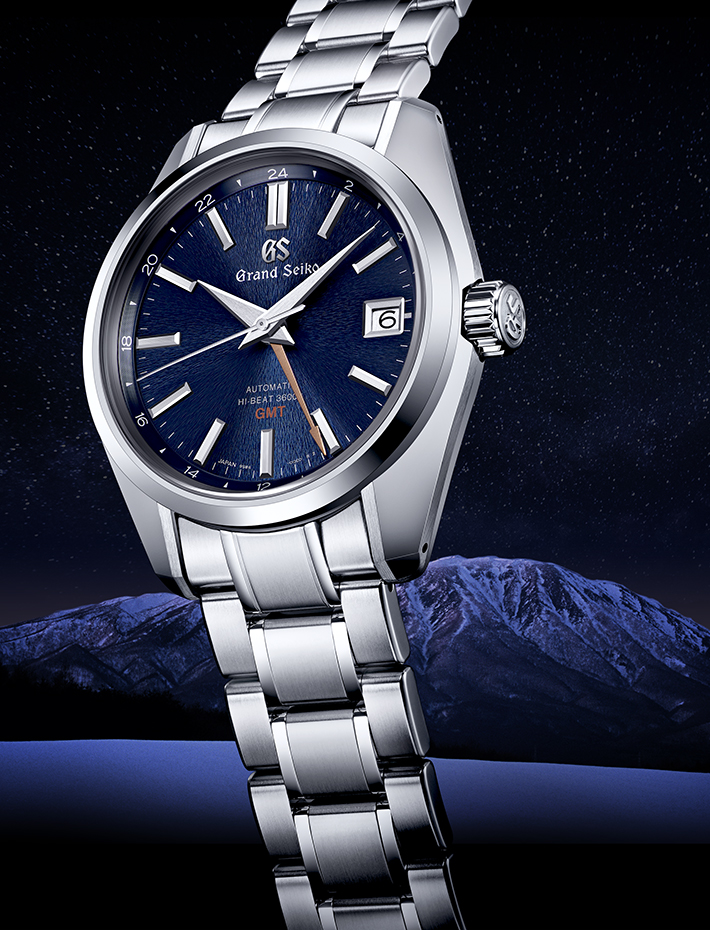 Heritage CollectionSBGJ267
SBGJ267
Heritage Collection
Available at the Grand Seiko Boutiques
The 44GS design presented in Ever-Brilliant Steel with a Hi-Beat 36000 GMT
When the 44GS first went on sale in 1967, it established the design language known as the "Grand Seiko Style", which was devised to achieve a brilliantly shining watch. Now, as a modern interpretation of this ideal, the SBGJ267's exterior features many flat surfaces that exhibit an unblemished, mirror-like surface. And thanks to the use of a cutting-edge steel alloy for the case and bracelet, it's sharp features will look like new for longer.
In this watch, the Hi-Beat 36000 mechanical movement has been adapted to include a GMT function. Thanks to Caliber 9S86, this watch can tell the time in two places simultaneously: a 24-hour hand can be used to track the time in one time zone, while the local time can be tracked by the conventional hour hand, which can be easily adjusted in one-hour increments.
The dial bears the "Mt. Iwate pattern," which evokes the surfaces of the imposing peak, which is visible from the Grand Seiko Studio Shizukuishi, the birthplace of Grand Seiko mechanical watches. The case and bracelet are made of highly anticorrosive Ever-Brilliant Steel, a stainless-steel alloy that boasts a PREN (Pitting Resistance Equivalent Number) value 1.7 times higher than that of the grade of steel used in most high-end watches.
Exterior
| | |
| --- | --- |
| Case back: | See-through & Screw case back |
| Materi kaca: | Safir lengkung ganda |
| Coating kaca: | Lapisan anti-reflektif di permukaan bagian dalam |
| Ukuran case: | Diameter 40.0mm Membujur 46.2mm Ketebalan 14.0mm |
| Band width: | 19mm |
| jenis Genggam: | Gesper tiga kali lipat dengan pelepas tombol tekan |
| Perimeter Band: | 195mm |
Movement
No. Kaliber:
9S86 Instruksi
gerakan Jenis:
Otomatis dengan kapasitas lilitan manual
cadangan daya:
Approx. 55 jam
Mean daily rate:
.+5 hingga -3 detik per hari

Mean daily rate is a mean value of daily rates in a condition where the movement before assembly in a case is measured in six positions in a fixed manner under artificially controlled environment for 12 days.
Functions
Tahan air:
10 batang
Resistensi magnetik:
4,800 A/m
Rincian lainnya / Fitur:

Kenop pemutar disekrup
37 permata
Jarum 24 jam (fungsi tampilan waktu ganda)
Fungsi penyesuaian perbedaan waktu terkait kalender