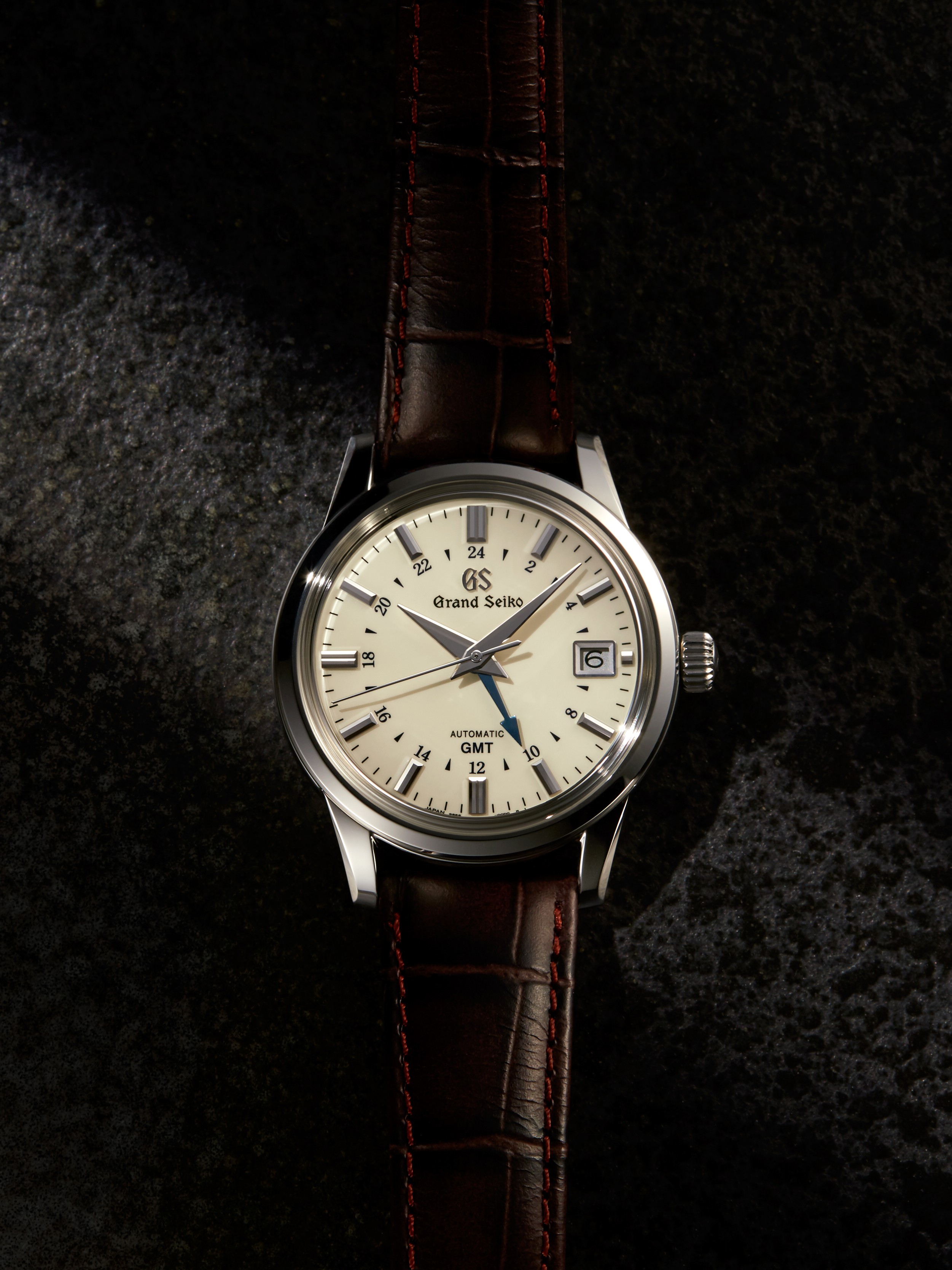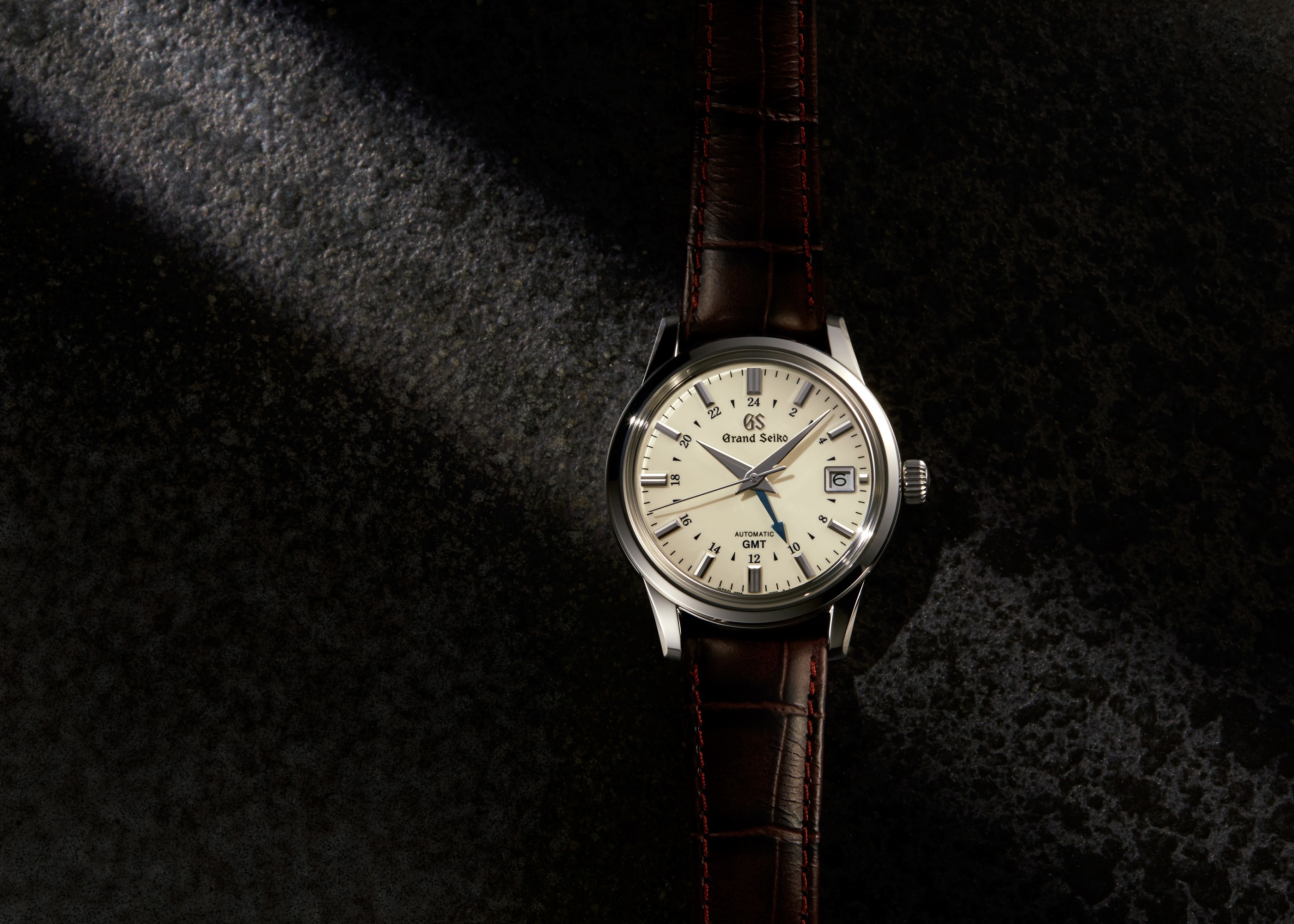 Elegance Kollektion
Understated, elegant and quintessentially
Grand Seiko
SBGM221. This classic timepiece shows the Grand Seiko Elegance Collection at its very best. It is a quiet, refined and minimalist design and yet it has a GMT hand, a date and a 24 hour inner dial ring so that the time shown by the GMT hand is as easy to read as that shown by the hour and minute hands. The hands and indexes are polished to a razor edge so that they catch the light and make the time legible even in semi-darkness.
Eine klassisch elegante, mechanische Uhr mit GMT Funktion
Die klassische Uhr mit GMT Funktion - ausgestattet mit dem weiterentwickelten Uhrwerk 9S66 - vereinigt einen Stil, der Uhrenliebhaber bereits lange Zeit bezaubert. Die Uhr hat eine Gangreserve von bis zu 3 Tagen und vereinigt die neueste Spiralfedertechnologie mit einer durch MEMS-Technologie entwickelten Hemmung, um hohe Genauigkeit und Stabilität während des Tragens zu erreichen.
Das Design verkörpert eine reine, klassische Eleganz mit einem bis über die Lünette gewölbten Saphirglas, Zaratsu polierten Bandanstößen, einem braunen Lederband und einem stahlblauen 24-Stunden-Zeiger, der das tief elfenbeinfarbige Zifferblatt komplementiert.
Die Feinheit, Stärke und Schönheit des Uhrwerks können durch den durchsichtigen Gehäuseboden bewundert werden.
Exterior
Äußeres:
Edelstahl
Gehäuseboden:
Durchsichtiger Gehäuseboden
Gehäuseboden mit 6 Schrauben
Material des Glases:
Bis über die Lünette gewölbtes Saphirglas
Glasbeschichtung:
Beschichtung zur Entspiegelung auf der Innenseite
Gehäusegröße:
Durchmesser 39.5mm Länge 46.9mm Höhe 13.7mm
Band width:
19mm
Band:
Krokodilleder
Verschluss:
Sicherheitsfaltschließe
Movement
Kalibernummer:
9S66 Bedienungsanleitungen
Antriebssystem:
Mechanisch, automatischer Aufzug (Handaufzug möglich)
Gangreserve:
Etwa 72 Stunden (3 Tage)
Ganggenauigkeit (unter statischen Bedingungen):
-3 bis +5 Sekunden pro Tag (Durchschnitt)

Der mittlere Tagessatz ist ein Mittelwert der Tagessätze in einem Zustand, in dem die Bewegung vor der Montage in einem Gehäuse in sechs Positionen auf festgelegte Weise in künstlich kontrollierter Umgebung für 12 Tage gemessen wird.
Functions
Wasserdichtigkeit:
Wasserdichtigkeit bis 3 bar
Magnetischer Widerstand:
Magnetischer Widerstand
Gewicht:
88 g
Hinweise:

35 Steine
24-Stunden-Zeiger (Dual Time Anzeigefunktion)
Kalendergekoppelte Funktion zur Zeitunterschiedskorrektur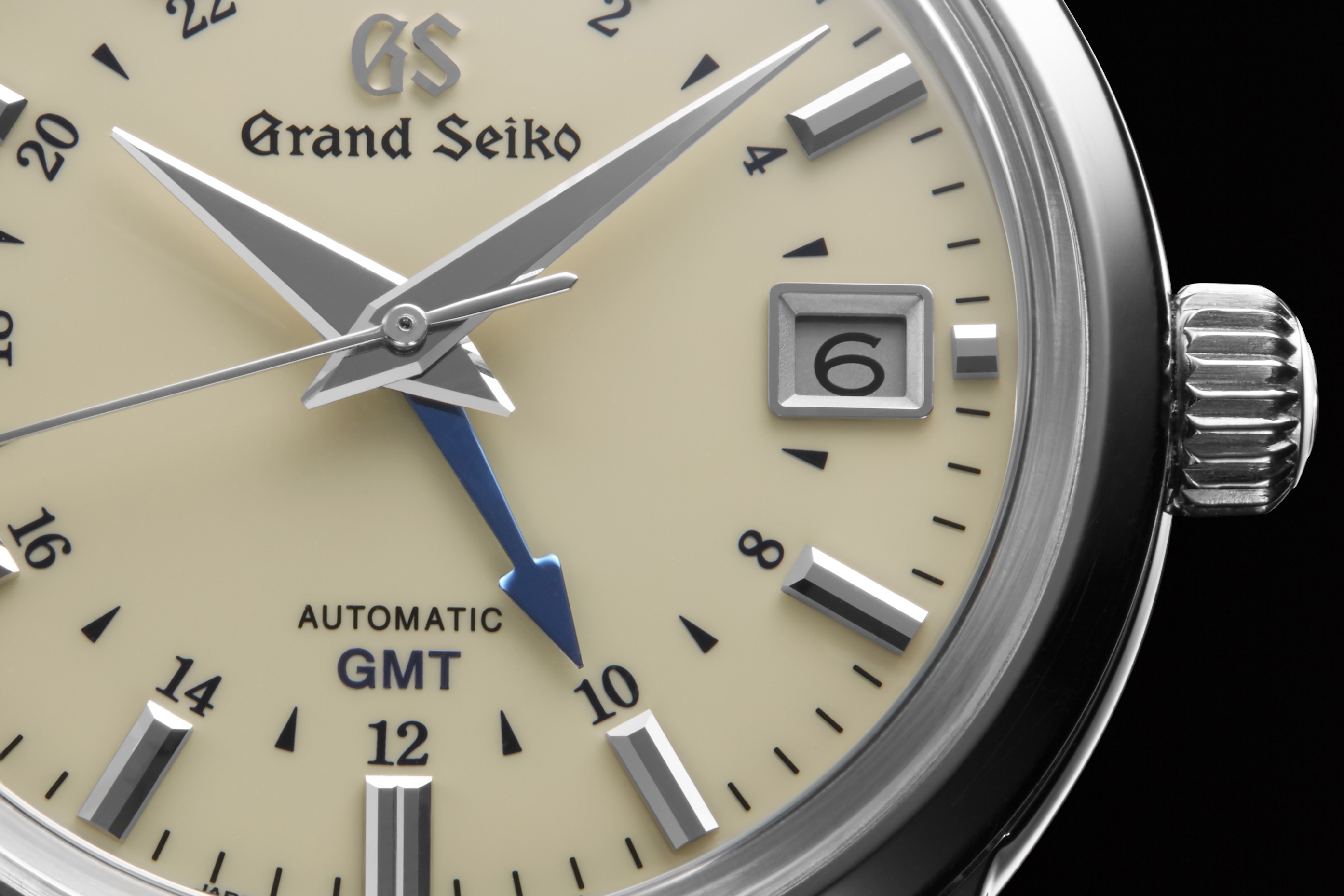 The GMT hand, blue, distinctive and perfectly functional.
The GMT hand is both unobtrusive and yet easy to see. How can this be? Because it is shorter than the other hands and set underneath them, it never interferes with the legibility of the time of day. However, because of its distinctive arrow shape and its blue color, it catches the eye whenever the wearer glances to see the time in a second time zone. It extends right to the 24 hour numerals but never overlaps them and, thanks to its powerful shape, it stands out clearly from the pure ivory dial. Form and function in perfect harmony, as the Grand Seiko Style demands.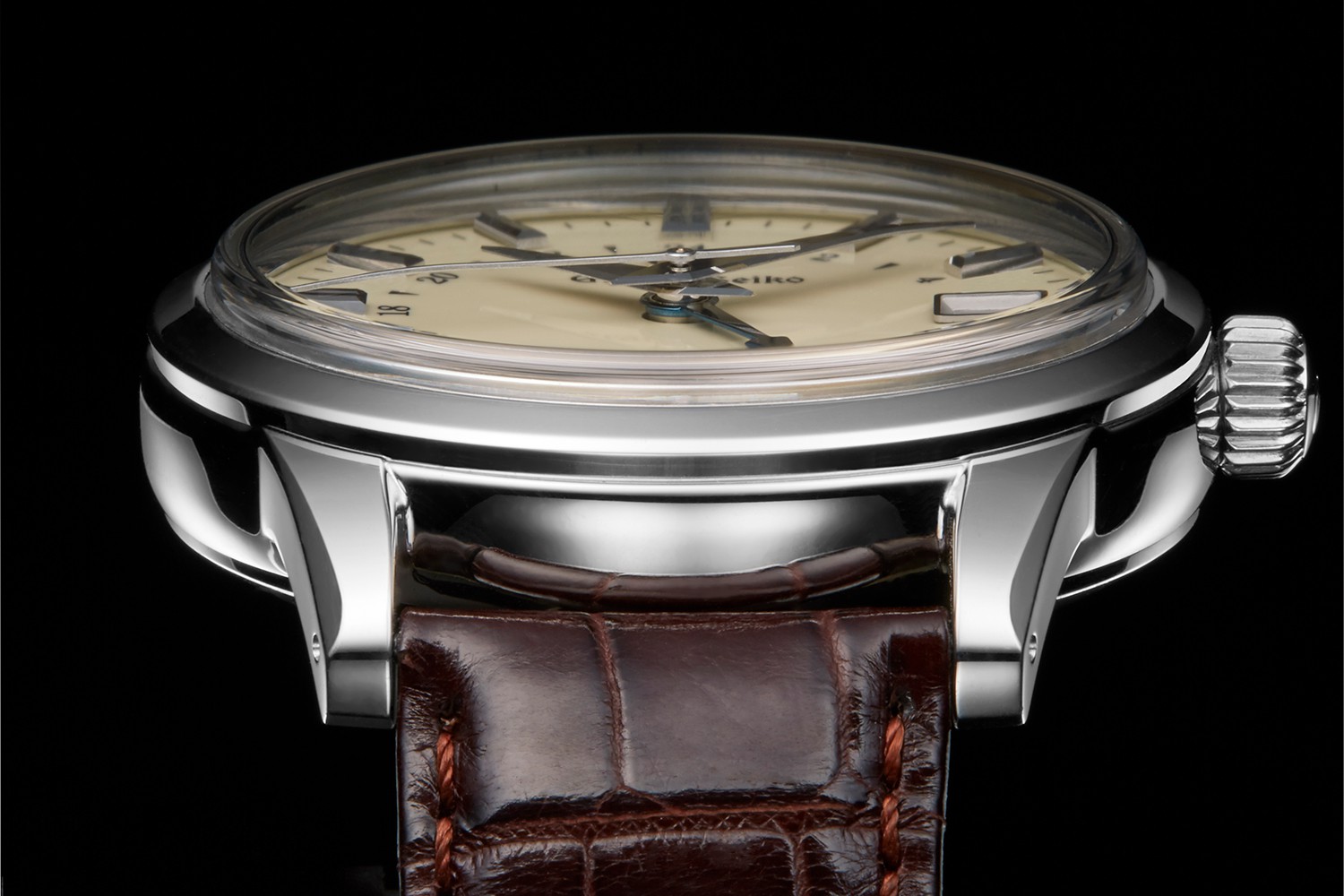 An authentic classic, with the Grand Seiko touch.
SBGM221 has long been a favorite in the Grand Seiko collection. It is an automatic watch with a GMT hand set above a deep ivory color dial. Its uniqueness lies in the shape of the case. While every angle is soft and rounded, there is a subtle triangle that catches the eye that dwells. Formed by the case at is widest and the Zaratsu polished edges to the lugs, it adds a sharp yet delicate distinction to this classic design.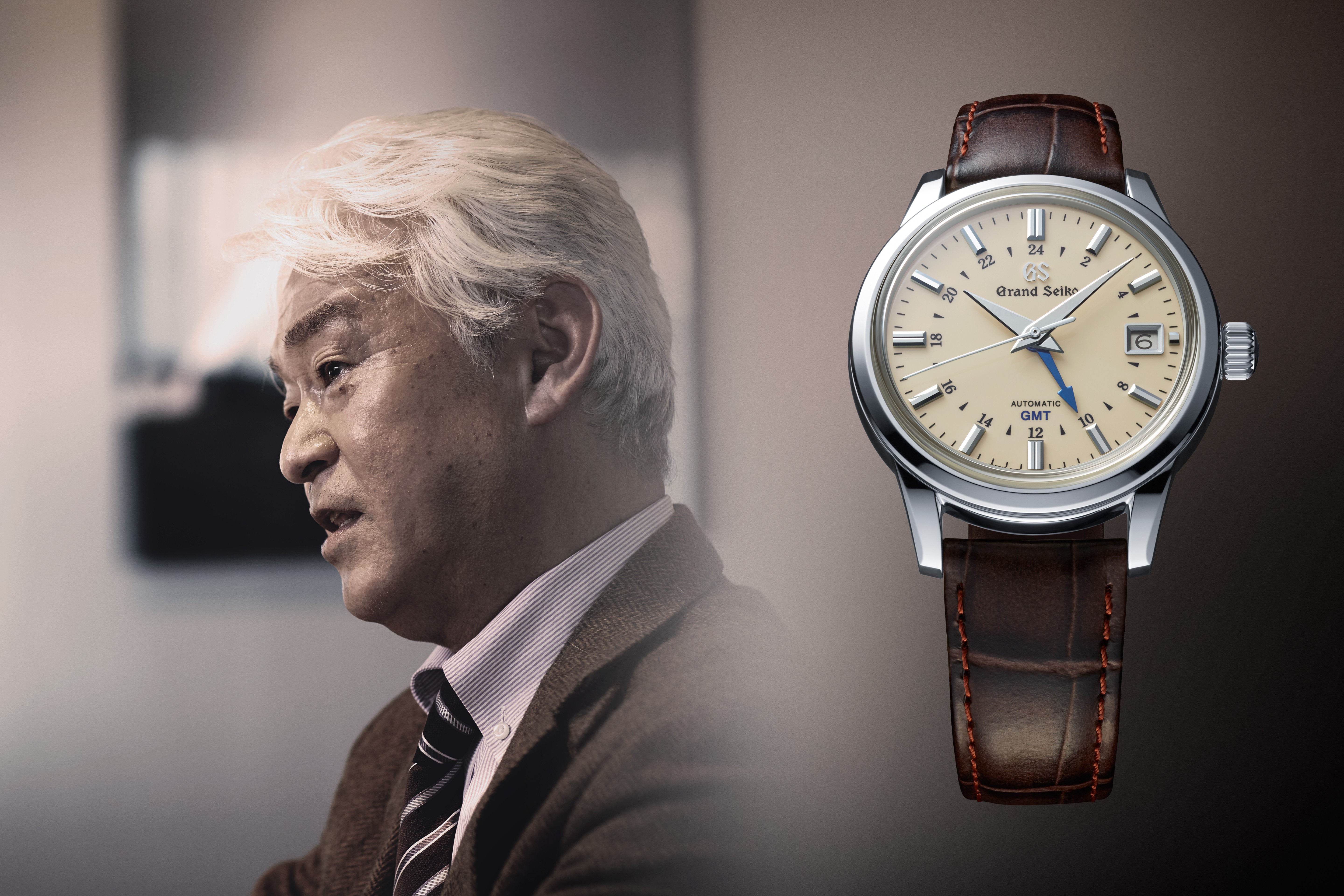 The Grand Seiko Automatic GMT, standing the test of time.
Nobuhiro Kosugi was the first watch designer in Japan to receive recognition from the Japanese government as a "Contemporary Master Craftsman." Among his most celebrated designs is this automatic GMT watch, first offered in 2010. "Its originality comes from the crescent moon shaped profile on the Zaratsu polished, curved lugs." says Kosugi. Perhaps so, but the combination of this distinctive case with the blue tempered GMT hand, the ivory color dial and the brown leather strap also play a role in creating a design that looks as perfectly understated today as it did nearly a decade ago.