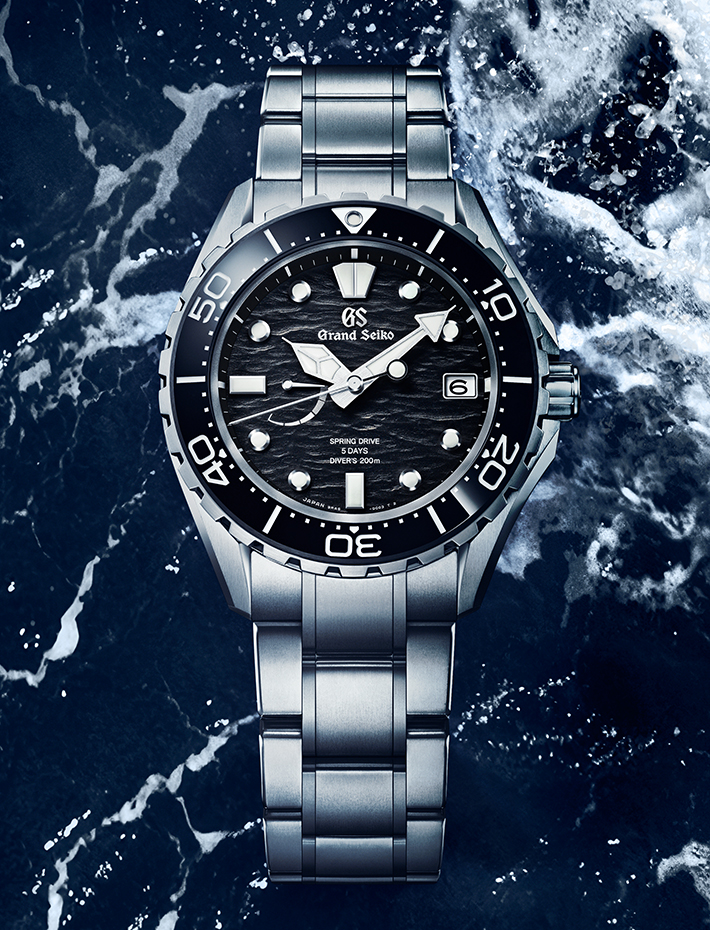 Evolution 9 Collection
A uniquely high specification diver's watch
SLGA015
Evolution 9 Collection
CAD 15 100,00
Available at the Grand Seiko Boutiques and Grand Seiko Salons
The Grand Seiko Evolution 9 Collection Spring Drive 5 Days Diver's 200m
This is the Grand Seiko Diver's watch to be powered by Spring Drive Caliber 9RA5 which offers an accuracy rate of ±10 seconds per month and a five day power reserve. It is made from High-intensity Titanium, a material that is 30% lighter than stainless steel and even more impervious to scratches and corrosion. To further enhance its durability, the rotating bezel is in ceramic to protect the watch from being scratched.

The dial is deep black in color and has a strongly patterned surface, inspired by a particular aspect of the oceans that surround the Japanese archipelago and that are criss-crossed by water currents of great power. One such is the Kuroshio Current, also known as the Black Stream. It flows northwards past Japan towards the Arctic North Pacific and is one of the largest ocean streams in the world. The dynamic and sometimes violent tides caused by the Black Stream inspire the deep black color and richly textured surface of the dial of this new 200m diver's watch.
Exterior
| | |
| --- | --- |
| extérieur: | Titane haute intensité |
| Case back: | Fond de boîtier vissé |
| Composition du verre: | Saphir |
| Revêtement en verre: | Revêtement anti-reflet sur la surface interne |
| LumiBrite: | LumiBrite sur les aiguilles, les index et la lunette |
| Dimension du boîtier: | Diamètre 43.8mm Lug-to-lug 51.5mm Épaisseur 13.8mm |
| Band width: | 23mm |
| Type de boucle: | Fermoir à boucle déployante avec verrouillage de sécurité et ouverture par bouton-poussoir, dispositif de réglage à glissière |
| Périmètre du bracelet: | 185mm |
Movement
| | |
| --- | --- |
| Calibre: | 9RA5 Manuels d'utilisation |
| Type de mouvement: | Spring Drive |
| Précision: | ± 0,5 seconde par jour (± 10 secondes par mois) |
Functions
Résistance magnétique:
4,800 A/m
Poids:
150 g
Autres détails / Caractéristiques:

Lunette rotative unidirectionnelle
Couronne vissée
Fermoir à boucle déployante avec verrouillage de sécurité
Affichage de la réserve de marche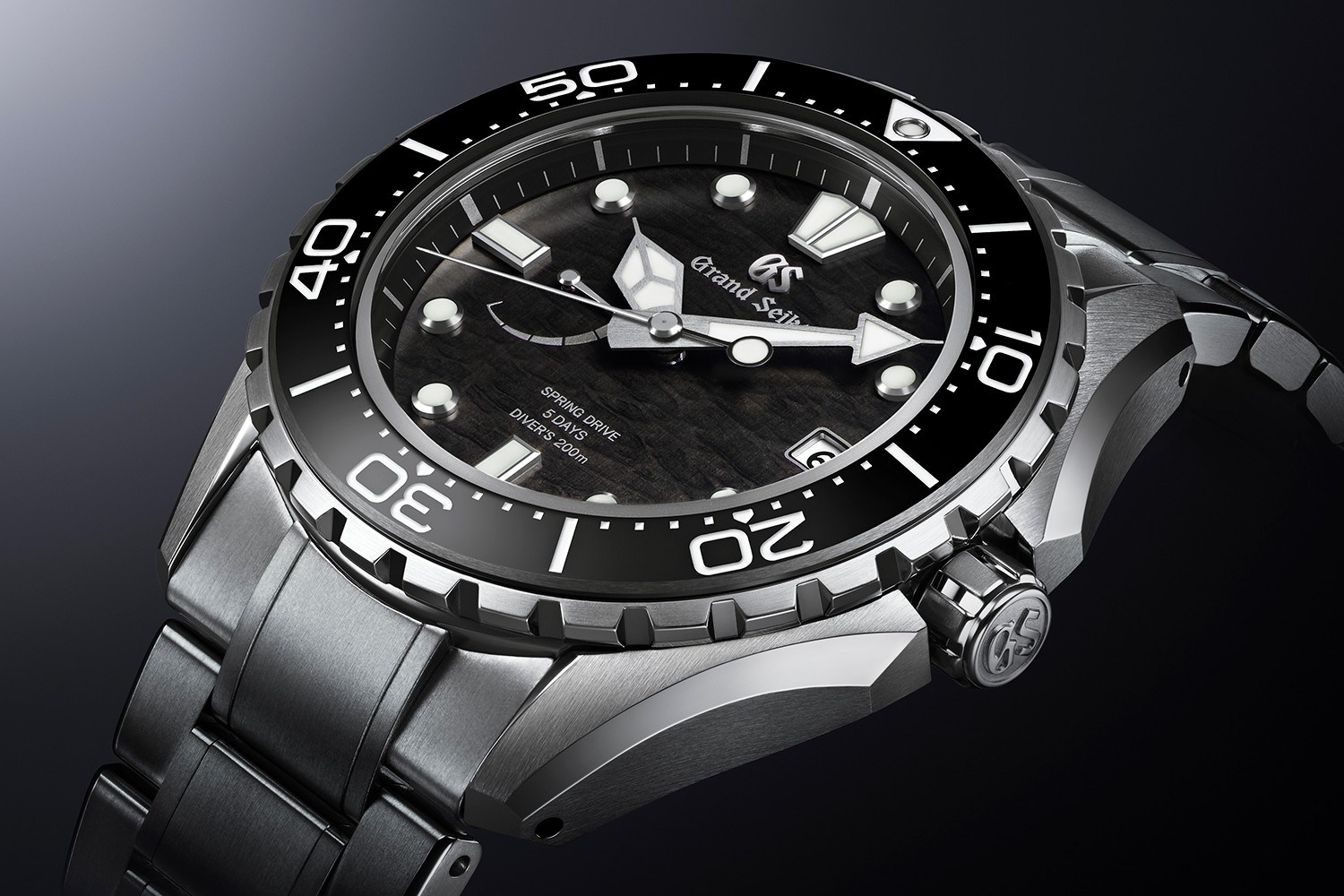 The Evolution 9 Style
In 2020, Grand Seiko introduced a new design philosophy called the Evolution 9 Style. It was based, of course, on the Grand Seiko Style which has always defined the design of all Grand Seiko watches and continues to do so. The Evolution 9 Style preserves the fundamentals of the Grand Seiko Style but adapts them for a new generation by setting new standards of legibility, comfort and beauty.
Ever since its creation in 1960, Grand Seiko has evolved continuously as new technologies, materials and ideas have opened up new design possibilities and the Evolution 9 Style is another step forward on this never-ending road. It was developed to further refine the aesthetics that have been at the heart of Grand Seiko from the start and to renew them for the years to come.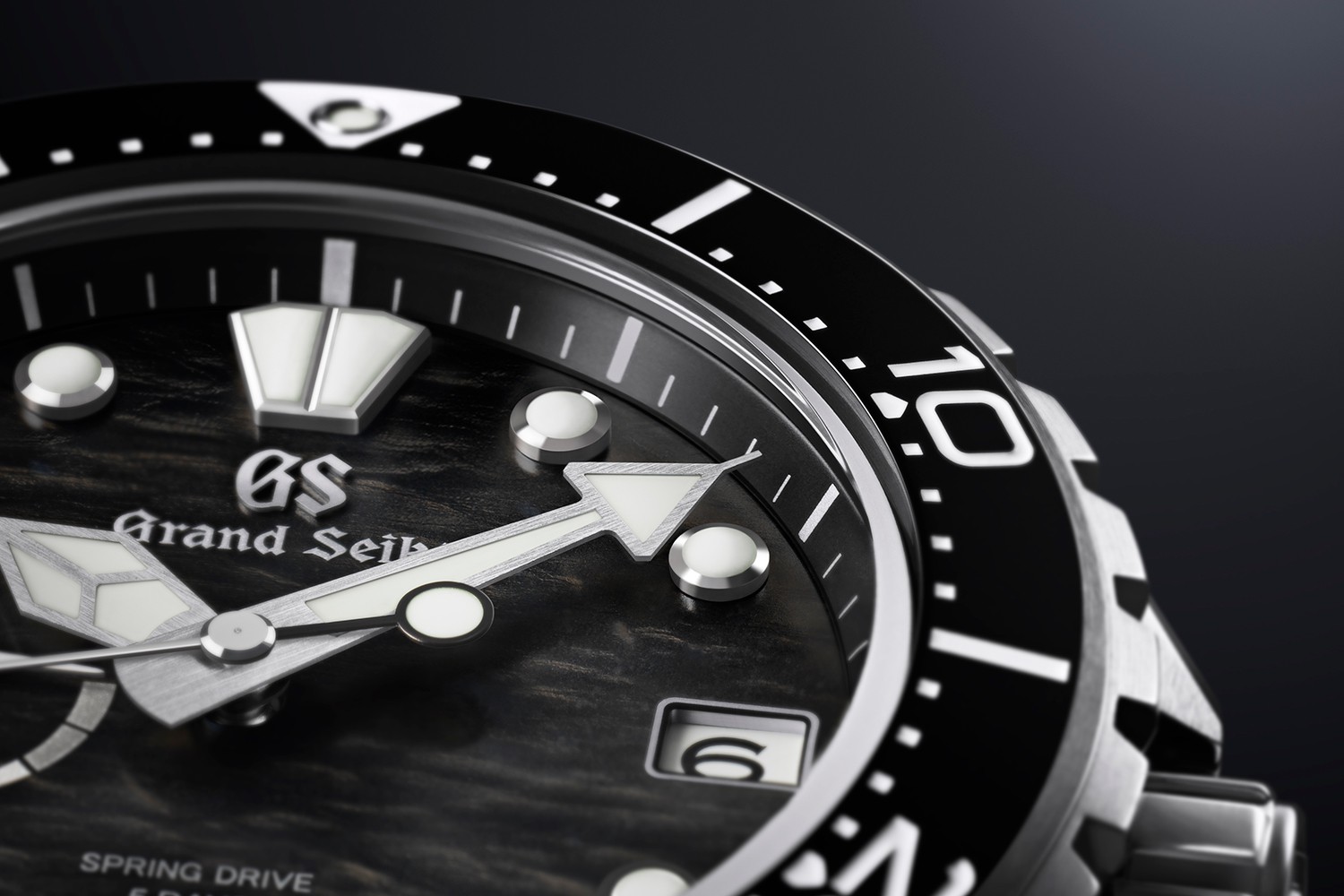 Contrast, depth and Lumibrite
The legibility could not be greater, thanks to the high contrast between the dial and hands, the precision of the engineering and the generous coatings of Lumibrite that the hands and the markers carry. Furthermore, each hand has its own distinctive shape, as does the 12 o'clock marker, so that the exact time can be read at a glance, even under water.
Spring Drive 5 Days Caliber 9RA5
Spring Drive is a unique watch technology. It generates energy like every other traditional mechanical watch but combines this with an electronic regulator to deliver a level of precision that no mechanical watch can match. The development of Spring Drive was possible because Grand Seiko is one of the very few manufacturers with mastery of both electronic and mechanical watchmaking.
In addition to achieving a high accuracy of ±10 seconds/month, this movement is 0.8mm thinner than the previous Caliber 9R65 by adopting the "Offset Magic Lever." The movement is equipped with a power reserve indicator located on the dial side for safety during diving.