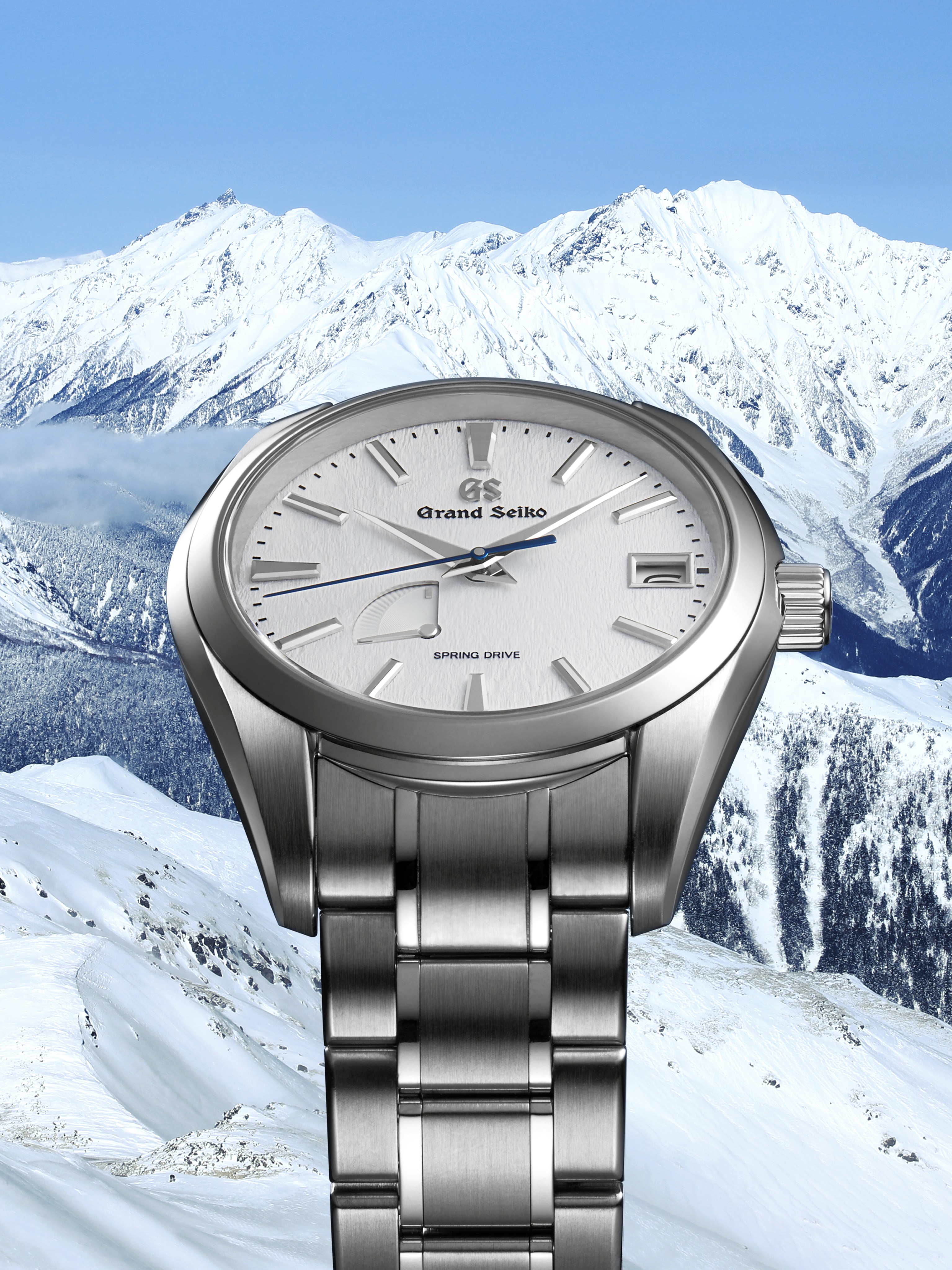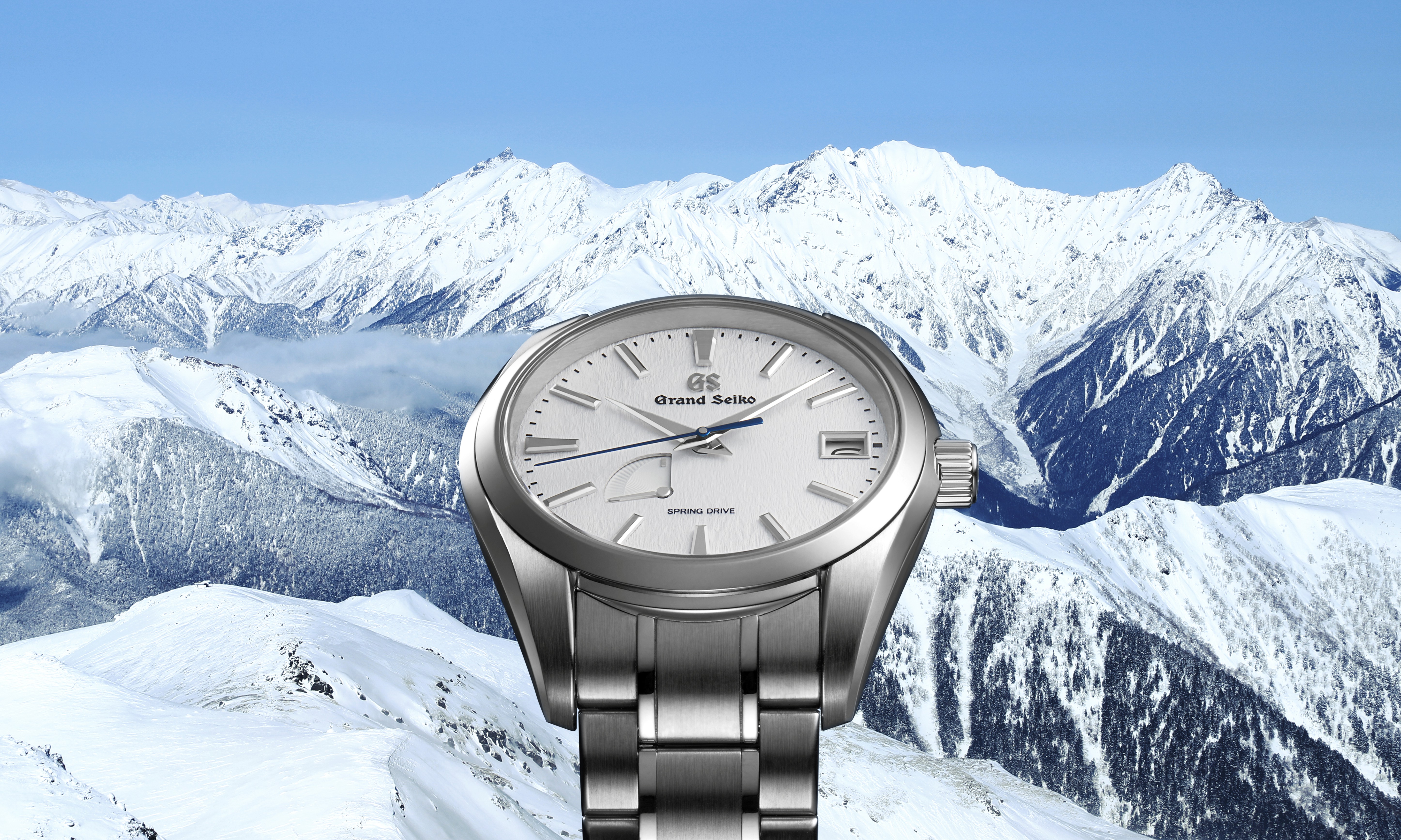 Heritage Collection
SBGA211
Inspired by the Hotaka mountains. Crafted in their shadow.
This Spring Drive classic is made by the craftsmen and women of the Shinshu Watch Studio in Japan's Nagano Prefecture. The studio is surrounded by the Hotaka mountains that, for several months each year, are covered in snow. In the crisp, dry air, and when driven across the slopes by the wind, this snow has a special light and delicate quality that is captured in the subtly textured surface of the dial. The blue tempered steel seconds hand moves over it in the perfect glide motion that is Spring Drive's unique signature and reflects the continuous, eternal and beautiful nature of time.
Un modèle Spring Drive avec un boîtier en titane haute intensité lui conférant une véritable sensation de légèreté
La SBGA211 est alimentée par le calibre Spring Drive, le calibre unique de Grand Seiko combinant la force motrice d'un ressort-moteur à la précision supérieure d'une montre à quartz.

Le boîtier et le bracelet sont fabriqués en titane haute intensité offrant une finition anti-rayures et anti-corrosion. La montre est ainsi 30 % plus légère que celle en acier inoxydable et agréable à porter.

L'aiguille des secondes en acier bleui se déplace de manière fluide, en un mouvement glissant et brille pour contraster le cadran blanc pur afin de créer un mouvement encore plus spectaculaire.

Ce modèle offre une réserve de marche de 72 heures (3 jours) et un indicateur de réserve de marche se trouve en bas à gauche du cadran.
Exterior
| | |
| --- | --- |
| extérieur: | Titane haute intensité |
| Case back: | See-through & Screw case back |
| Composition du verre: | Saphir bombé extérieur et incurvé intérieur |
| Revêtement en verre: | Revêtement anti-reflet sur la surface interne |
| Dimension du boîtier: | Diamètre 41.0mm Lug-to-lug 49.0mm Épaisseur 12.5mm |
| Band width: | 20mm |
| Type de boucle: | Fermoir à boucle déployante avec ouverture par bouton-poussoir |
| Périmètre du bracelet: | 193mm |
Movement
| | |
| --- | --- |
| Calibre: | 9R65 Manuels d'utilisation |
| Type de mouvement: | Spring Drive |
| Réserve de marche: | Environ 72 heures (3 jours) |
| Précision: | ± 1 seconde par jour / ± 15 secondes par mois (en moyenne) |
Functions
Étanchéité:
10 bar
Résistance magnétique:
4,800 A/m
Poids:
100 g
Autres détails / Caractéristiques:

Couronne vissée
Contre une réaction allergique au métal
30 rubis
Affichage de la réserve de marche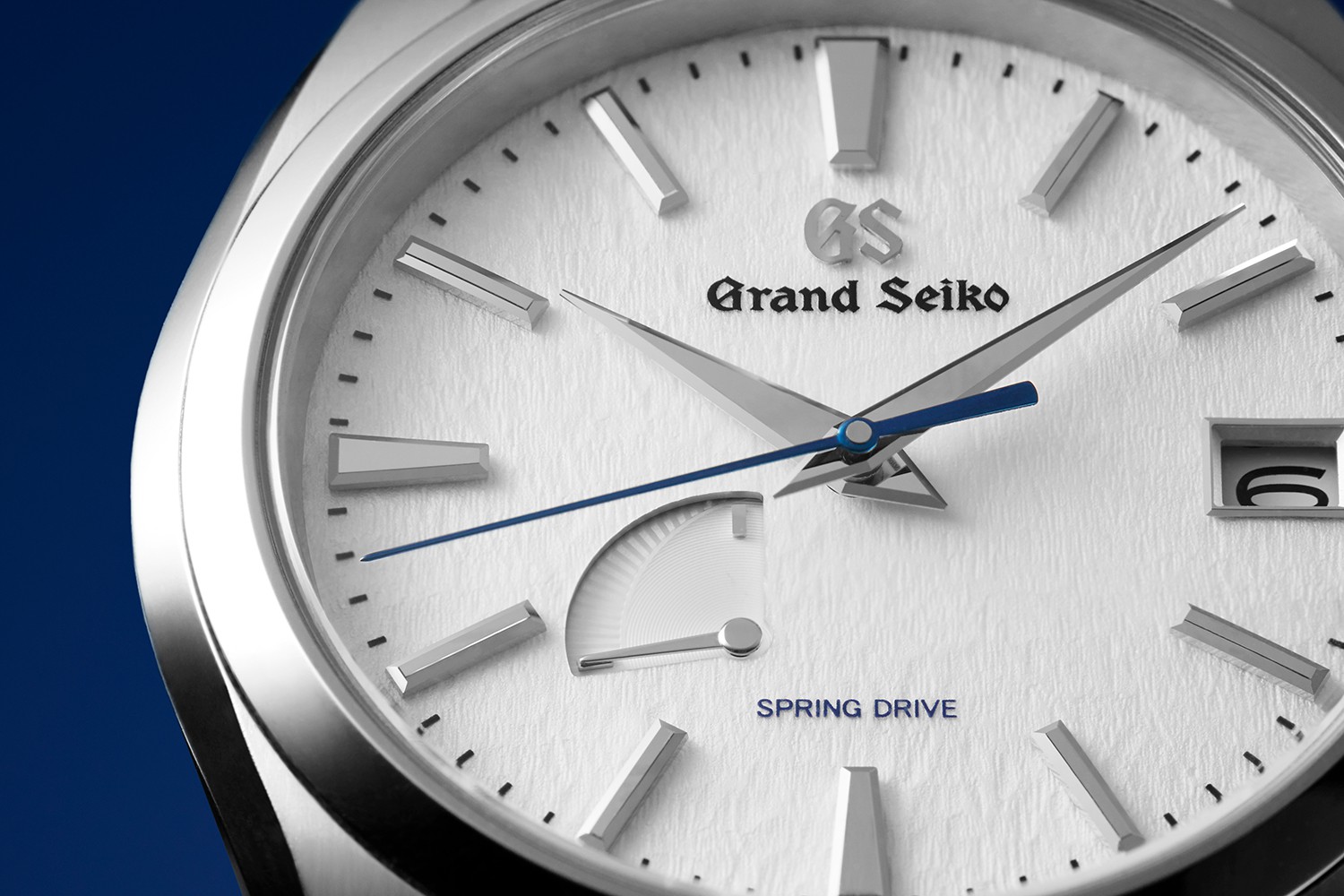 The special whiteness of driven snow
This Spring Drive watch is made and assembled by hand at the Shinshu Watch Studio high in the mountains of Nagano Prefecture in Central Japan. When snow falls, as it does every winter, it forms into light, hard crystals that sparkle in the sun and, driven by the cold wind, create delicate patterns as they drift on the sharp dry air. This effect is captured on the dial whose brilliant whiteness holds a secret. It is not painted white but is made by a special silver plating process that allows the creation of the delicate texture of the snow to be replicated so perfectly. White magic.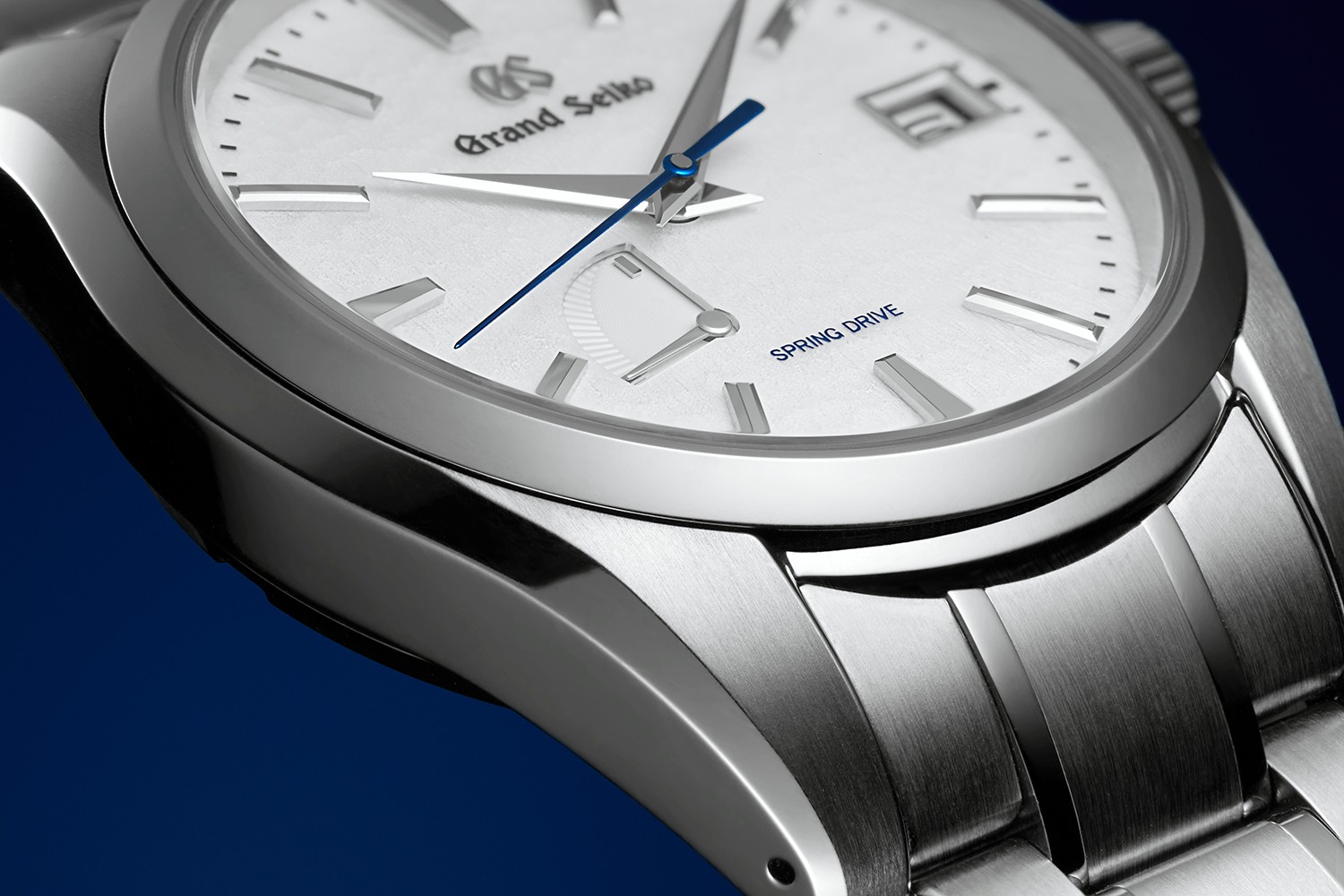 The art of Zaratsu polishing and high intensity titanium
The Zaratsu polishing of steel is an art that takes many years to master. To use this technique on a material that is harder than steel is an even greater challenge but is one that Grand Seiko succeeded in meeting with this watch case. It has the elegant combination of hairline and mirror finishes and the sharply defined edges that are central to the Grand Seiko Style and the mirror finishes are free of all distortion. The result is a watch whose many interlocking surfaces act as a perfect stage for the interplay of light and shadow.