A 3-day power reserve with lasting quality
The watch has a 3-day power reserve and combines the latest in
hairspring technology with an escapement developed through the MEMS
technology to achieve high accuracy and stability when worn.
The delicacy, strength and beauty of the movement can be enjoyed the exhibition case back.
Exterior
extérieur:
Acier inoxydable
Case back:
Fond de boîtier transparent
Fond de boîtier vissé avec 6 vis
Composition du verre:
Saphir box- shaped
Revêtement en verre:
Revêtement anti-reflet sur la surface interne
Dimension du boîtier:
Diamètre 37.3mm Lug-to-lug 44.3mm Épaisseur 11.6mm
Band width:
19mm
Composition du Bracelet:
Cuir de Crocodile
Movement
Calibre:

9S64

Manuels d'utilisation
Type de mouvement:
Mécanique, remontage manuel
Réserve de marche:
Environ 72 heures (3 jours)
Précision:
- 3 à + 5 secondes par jour

Mean daily rate is a mean value of daily rates in a condition where the movement before assembly in a case is measured in six positions in a fixed manner under artificially controlled environment for 12 days.

Précision en condition d'utilisation normale:
-1 à +10 seconde(s) par jour
Functions
| | |
| --- | --- |
| Étanchéité: | Résistante aux projections d'eau |
| Résistance magnétique: | 4,800 A/m |
| Poids: | 61 g |
| Autres détails / Caractéristiques: | |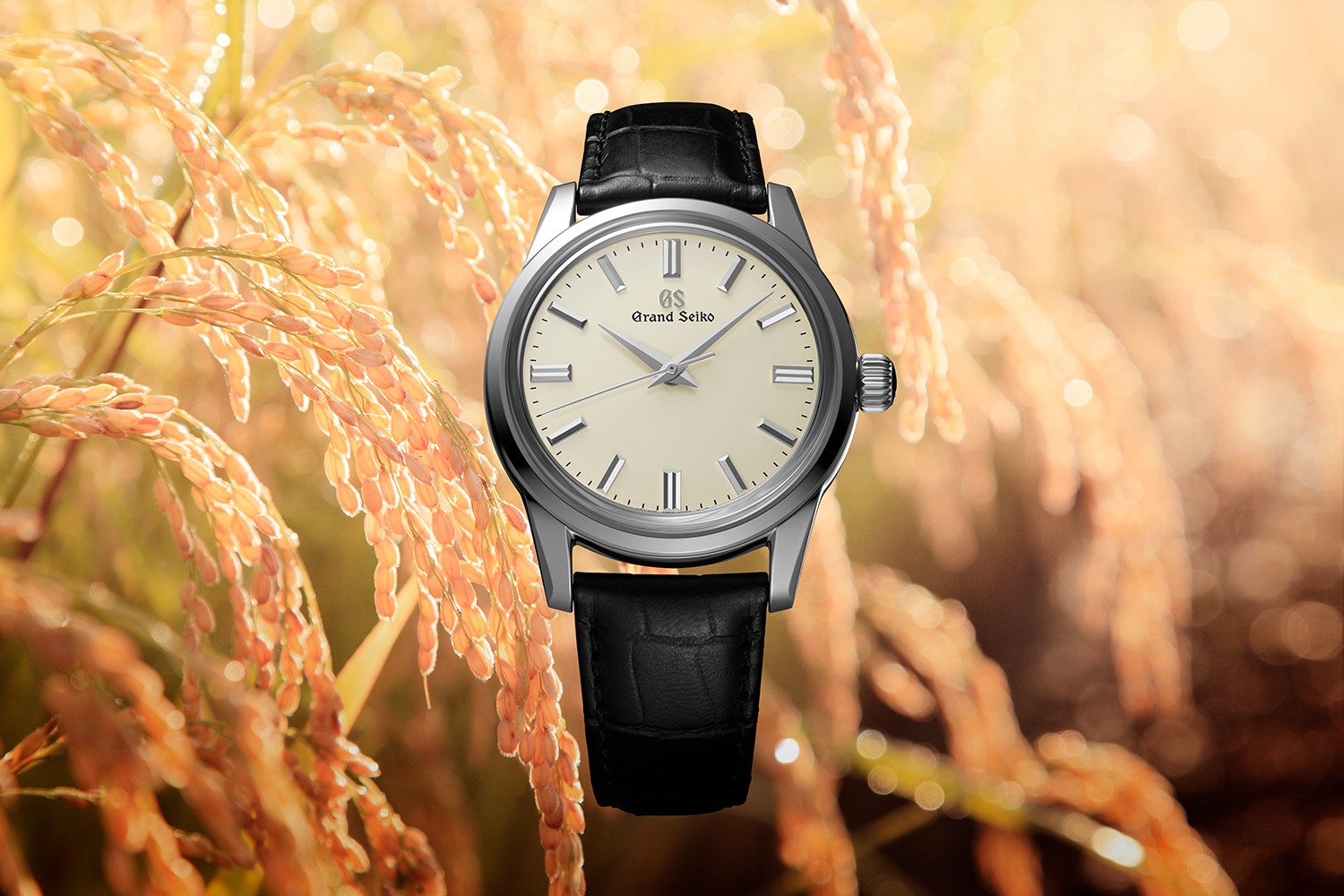 The natural beauty of time
Kanro is the "Sekki" or season in Japan that is the harbinger of winter. It falls in early October, when the rice is ready to be harvested before the cold sets in. The morning mist covers the plants in dew and a pale mist hangs lightly over the fields. All is mellow and calm. The dial of this Grand Seiko hand-winding timepiece is as pure and rich as the Autumn light. It is at one with nature.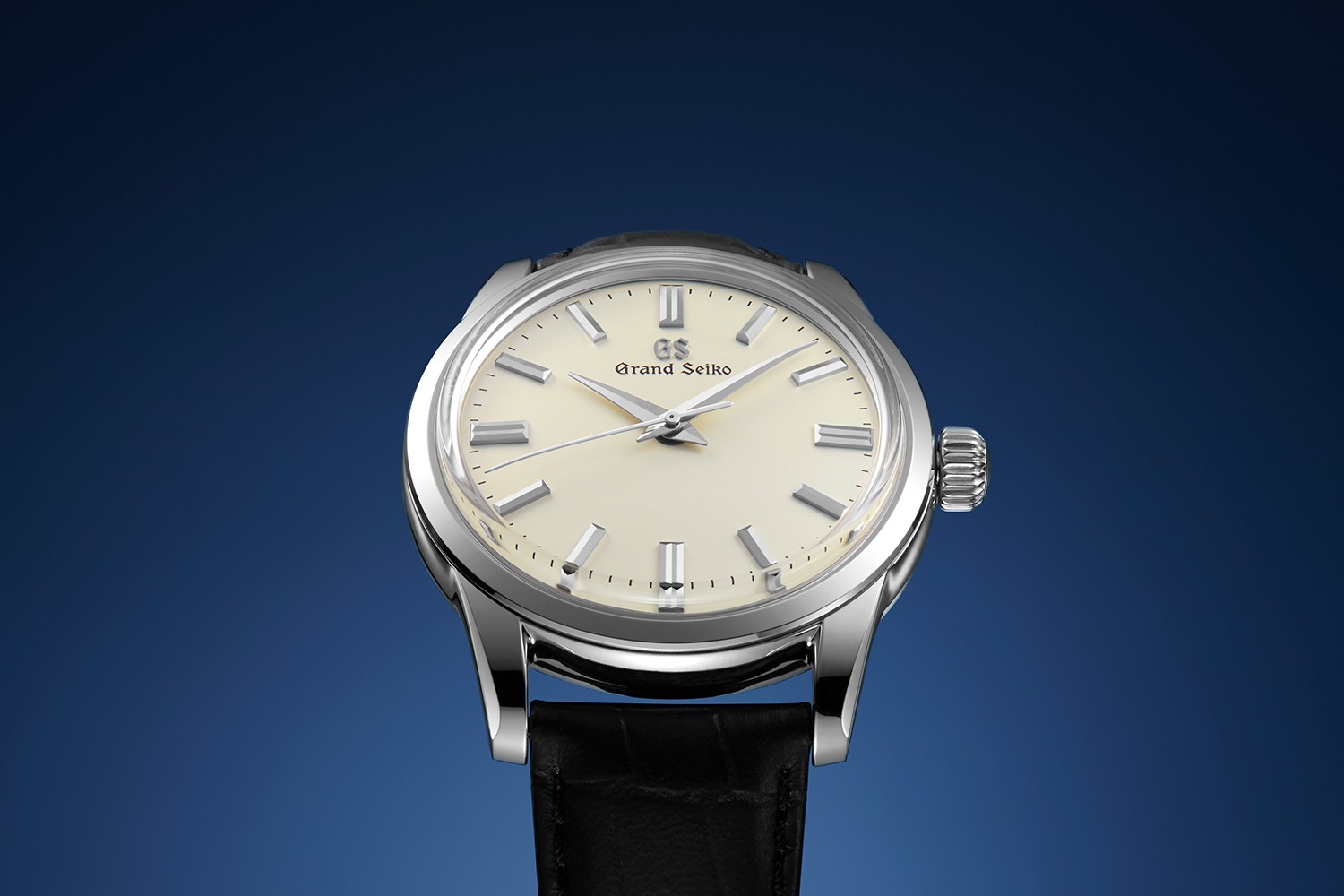 A classic look, with the Grand Seiko touch.
The case is round. The dial is simple. The case is a conventional 37.3mm in diameter. In all its fundamentals, this is a classic "dress" watch. But look more closely and the unique character of Grand Seiko is revealed. The lugs are curved. The case is Zaratsu polished to a distortion-free finish. The hands and indexes are diamond cut to reflect the light from every angle. The more you look, the more you understand why the original design team of Grand Seiko in the 1960's talked of 'the sparkle of quality'.
As comfortable as a watch can be.
How can a watch be made to sit so comfortably on the wrist? It all starts on the inside. This Elegance timepiece is powered by the hand-winding Caliber 9S64 which is so slim that the entire case is just 11.6 mm in depth. The dial, hands and sapphire crystal are curved and the lugs are shaped so as to allow the leather strap to wrap snugly around the wrist. When you wear a Grand Seiko, it just feels right.