Une Hi-Beat 36000 haute précision avec un design raffiné
Ce modèle renferme le Caliber 9S86, un mouvement hautement spécifique garantissant la même précision (- 5 à + 3 secondes par jour) et la même réserve de marche (55 heures) que le Caliber 9S85 d'origine tout en offrant la fonction GMT dont les globe-trotters ont besoin pour s'assurer que la précision de l'heure affichée n'est pas compromise en cas de changement de fuseau horaire. L'aiguille GMT indique l'heure dans le fuseau horaire de la zone géographique dans laquelle l'utilisateur se trouve.

Le design extérieur est une touche moderne du magnifique « Style Grand Seiko », l'incarnation de la philosophie du design de Grand Seiko qui a débuté avec la 44GS en 1967, avec sa surface large réfléchissante sans distorsion.

Un fini magnifiquement délicat et poli a été créé sur le cadran avec un « motif Mont Iwate » inspiré des contours très striés du Mont Iwate, la montagne que l'on peut voir à travers les fenêtres du Shizuku-Ishi Watch Studio dans lequel les montres mécaniques Grand Seiko sont fabriquées.
Exterior
| | |
| --- | --- |
| extérieur: | Acier inoxydable |
| Case back: | See-through & Screw case back |
| Composition du verre: | Saphir bombé extérieur et incurvé intérieur |
| Revêtement en verre: | Revêtement anti-reflet sur la surface interne |
| Dimension du boîtier: | Diamètre 40.0mm Lug-to-lug 46.2mm Épaisseur 14.0mm |
| Band width: | 19mm |
| Type de boucle: | Fermoir à boucle déployante avec ouverture par bouton-poussoir |
| Périmètre du bracelet: | 195mm |
Movement
Calibre:
9S86 Manuels d'utilisation
Type de mouvement:
Automatique avec fonction de remontage manuel
Réserve de marche:
Environ 55 heures
Précision:
- 3 à + 5 secondes par jour

Mean daily rate is a mean value of daily rates in a condition where the movement before assembly in a case is measured in six positions in a fixed manner under artificially controlled environment for 12 days.
Functions
Étanchéité:
10 bar
Résistance magnétique:
4,800 A/m
Poids:
159 g
Autres détails / Caractéristiques:

Couronne vissée
37 rubis
Aiguille 24 heures (fonction d'affichage à double fuseau)
Fonction d'ajustement du décalage horaire lié au calendrier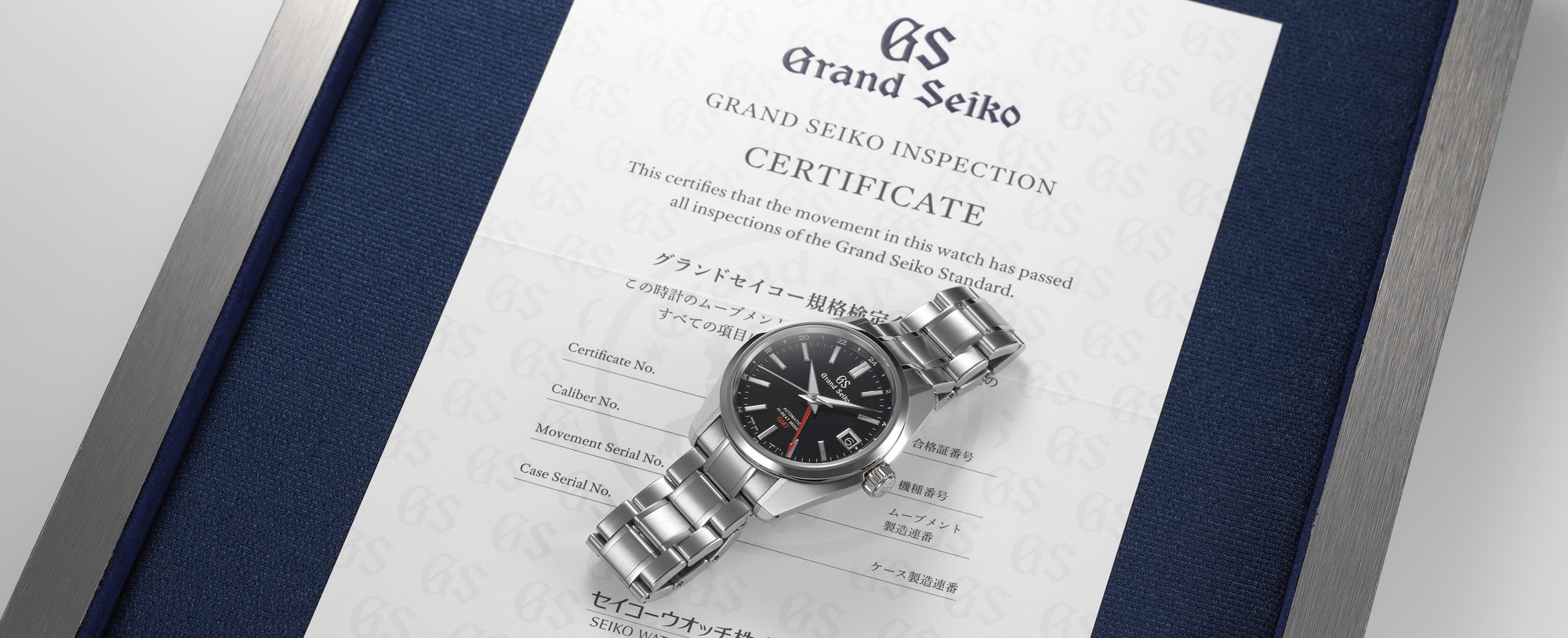 The pursuit of precision
Precision. It's the pursuit of every watchmaker. When Grand Seiko was born in 1960, it was ready to break tradition. After meeting the chronometer standards of the time, Grand Seiko set its own accuracy standards in 1966. By 1998, advancements in materials and craft gave rise to the New Grand Seiko Standard. Every movement undergoes rigorous testing in six positions and three temperatures over seventeen days. The craftsmen and women uphold their commitment to quality while consistently exploring the limits of possibility.