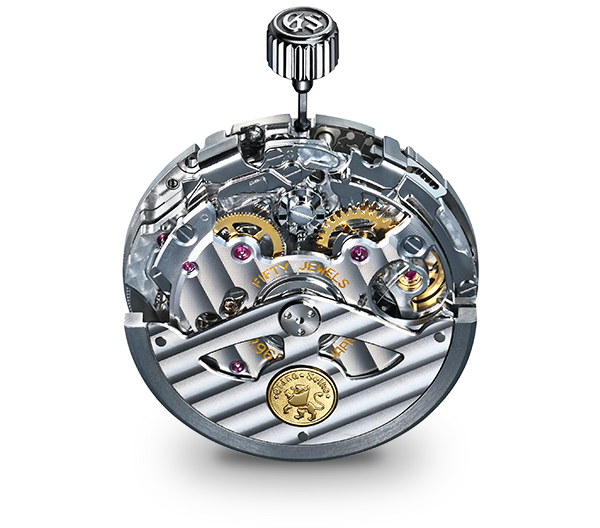 AUTOMATIC SPRING DRIVE 3-DAY CHRONOGRAPH GMT
Caliber 9R96
Caliber 9R96 is a version of Caliber 9R86 specially adjusted to deliver an even higher level of precision. Caliber 9R86 delivers a precision rate of ±15 seconds per month (equivalent to ±1 second per day), whereas Caliber 9R96 delivers ±10 seconds per month (equivalent to ±0.5 second per day).
The difference between the two movements lies in the choice and testing of the quartz crystal oscillator. While all 9R Spring Drive movements use a quartz crystal oscillator in the regulator, only oscillators which exhibit particularly excellent performance are selected for use in Caliber 9R96.

The Spring Drive Chronograph may well be the world's most accurate spring-driven chronograph. It measures elapsed time not to the nearest fraction of a second but exactly, thanks to the fact that the glide motion hands stop at the very instant that the button is pressed. The 72 hour power reserve is maintained even if the chronograph is in operation.

The Grand Seiko lion in 18K gold graces the oscillating weight to symbolize the enhanced accuracy.