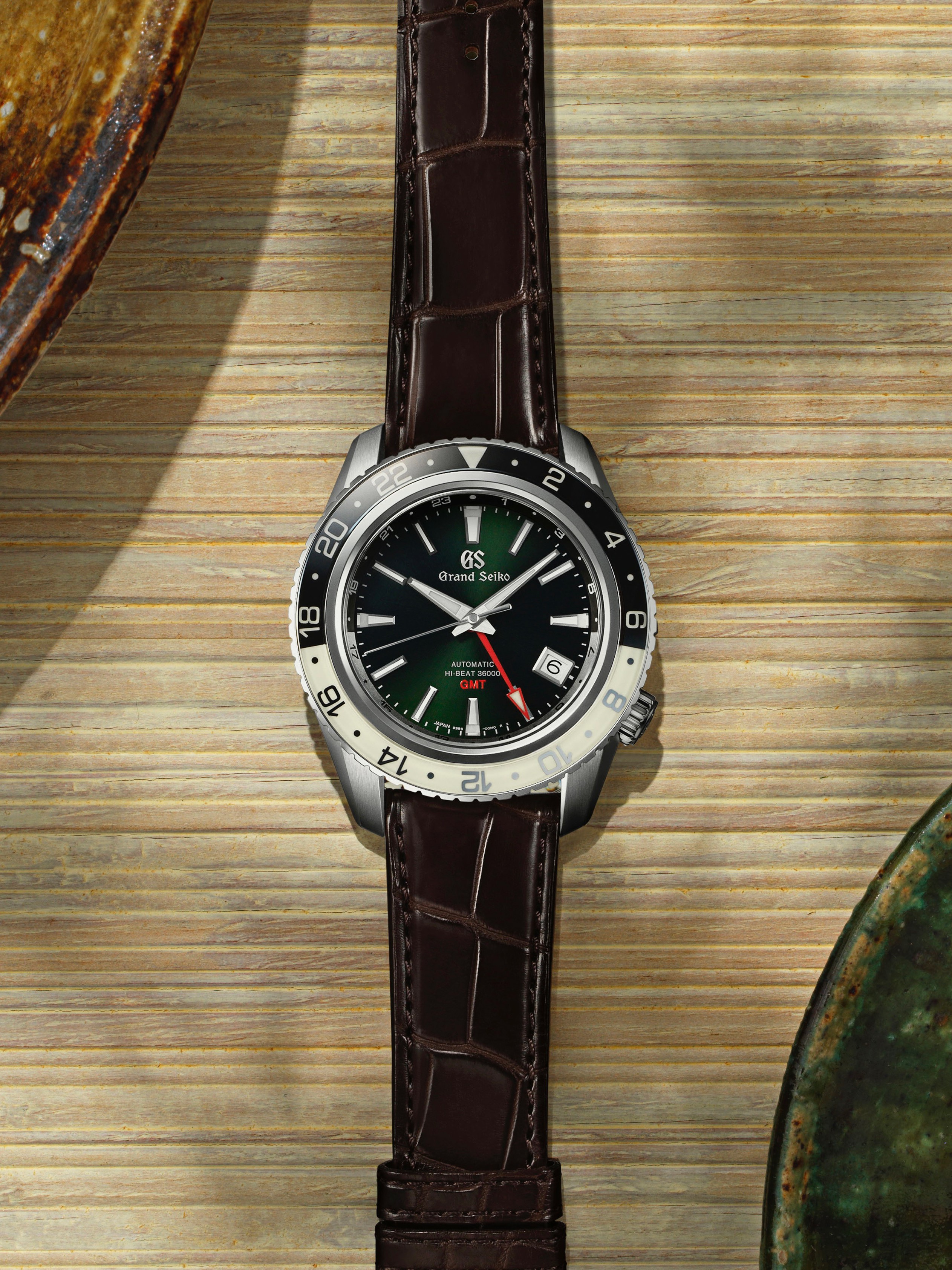 The end of summer
Can a watch mark the changing seasons? Sometimes it almost seems so. The green of the dial and the brown of the strap seem reminiscent of the hues of late summer in the dense forest on the lower slopes of Mount Iwate, the mountain that overlooks the studio where SBGJ239 is made. As autumn comes ever nearer, the shadows lengthen and the light softens and, as it does so, the high legibility of the dial starts to come into its own. Could it be that the watch anticipates the change in the season? Perhaps not but its suitability for all seasons is once again made clear.
SBGJ239
Sport Collection
Rp 96.800.000
Available at the Grand Seiko Boutiques and Grand Seiko Salons
Teknik Hi-Beat 36000 GMT Tiga Waktu
Zona untuk generasi berikutnya
arloji ini mencapai fungsi yang tak tertandingi sebagai berputar 24 jam bezel-secara bersamaan menampilkan tiga zona waktu yang berbeda. Desain memiliki kehadiran yang mendalam, sementara tetap mempertahankan bersinar tradisional model Grand Seiko klasik."&" Dikombinasikan dengan eksterior tangguh, air bawah tahan terhadap 20 bar dan sangat tahan terhadap guncangan, arloji ini telah disempurnakan sebagai olahraga mewah yang ideal menonton bagi mereka yang aktif di panggung global. Berkualitas tinggi safir ka"&"ca pada permukaan cincin memberikan rasa yang kuat dari transparansi, luas dan kedalaman.
Dial hijau vintage dan hitam / bezel putih yang terbuat dari kristal safir memberikan penampilan jam tangan vintage.
Model ini menggabungkan Kaliber 9S86, gerakan sp"&"esifikasi tinggi yang memberikan akurasi yang sama (-5 sampai 3 detik sehari) dan cadangan daya yang sama (55 jam) sebagai inti Kaliber 9S85, sementara juga menawarkan fungsi GMT bahwa internasional wisatawan perlu memastikan bahwa ketepatan waktu yang di"&"tampilkan tidak terganggu ketika zona waktu berubah. Merah GMT menunjukkan tangan waktu di zona waktu rumah.
Exterior
| | |
| --- | --- |
| Eksterior: | Besi tahan karat |
| Case back: | Sekrup kembali |
| Materi kaca: | Safir lengkung ganda |
| Coating kaca: | Lapisan anti-reflektif di permukaan bagian dalam |
| LumiBrite: | Lumibrite di tangan, indeks, dan bezel |
| Ukuran case: | Diameter 44.2mm Membujur 50.6mm Ketebalan 14.4mm |
| Band width: | 21mm |
| Bahan Band: | Kulit buaya |
| jenis Genggam: | Gesper tiga kali lipat dengan pelepas tombol tekan |
Movement
No. Kaliber:
9S86 Instruksi
gerakan Jenis:
Otomatis dengan kapasitas lilitan manual
cadangan daya:
Approx. 55 jam
Mean daily rate:
.+5 hingga -3 detik per hari

Mean daily rate is a mean value of daily rates in a condition where the movement before assembly in a case is measured in six positions in a fixed manner under artificially controlled environment for 12 days.
Functions
Tahan air:
20 batang
Resistensi magnetik:
4,800 A/m
Rincian lainnya / Fitur:

Bezel berputar (tampilan 24 jam)
Kenop pemutar disekrup
37 permata
Jarum 24 jam (fungsi tampilan waktu ganda)
Fungsi penyesuaian perbedaan waktu terkait kalender