Understatement as artistry
While every watch in the Elegance Collection has, of course, the strength and resilience to be worn every day, they all also offer a special level of refinement that makes them the perfect choice for those landmark occasions in life where everything has to be just right. Each Elegance Collection timepiece gives its owner the reassurance and confidence that comes from knowing that he or she is wearing the very best. Whether at a midday wedding, a late afternoon reception or an evening celebration, an Elegance Collection watch is the perfect companion, with its subtle beauty shining through in any light conditions. It is a collection in which Grand Seiko's Japanese aesthetic and the purity of the designs combine to ensure that the elegance is everlasting.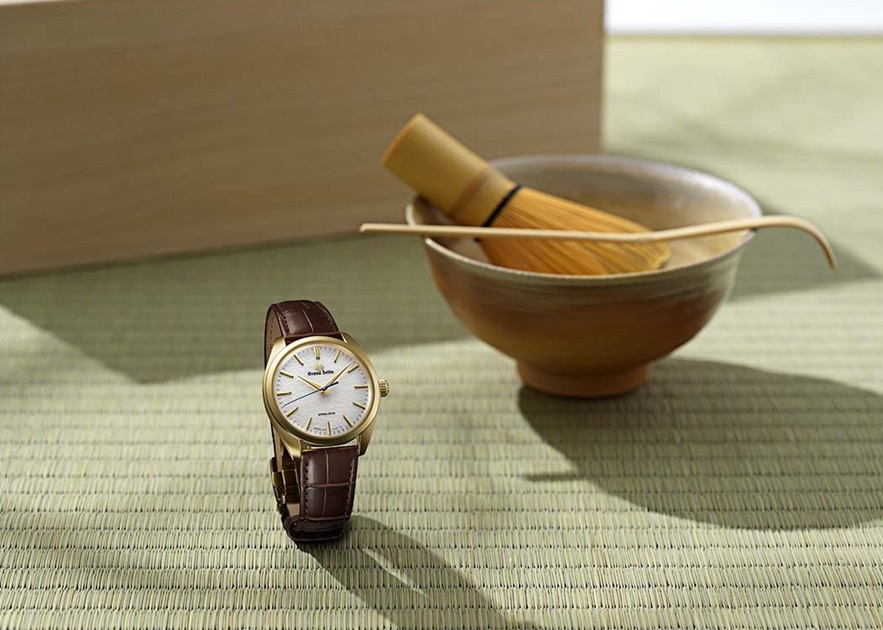 The beauty of tranquility
In the Japanese tea ceremony "Sado," every object is formed from nature and every action has its own calm rhythm. It is a quiet, tranquil art in which harmony is a central theme.
Like the tea ceremony, this watch also typifies the beauty and tranquility of traditional Japan. Its hands and indexes have the delicate sparkle that only the sharpest angles can create while the curves and rounded contours of the case and dial exude a quiet serenity. When you gaze at the watch, just as when you at last sip matcha at the culmination of a Sado ceremony, you are struck by the beauty of harmony. Some things just feel exactly right.
The perfect fit
With its slim hand-winding movement and the rounded shape of the case, this handsome dress watch presents a thin profile from every angle and sits snugly on the wrist. What is perhaps surprising is that this is true whatever your wrist size. Thanks to the delicately curved lugs, the watch is a perfect fit on a small or larger wrist. To wear it is to believe it; it's as if it were customized just for you.