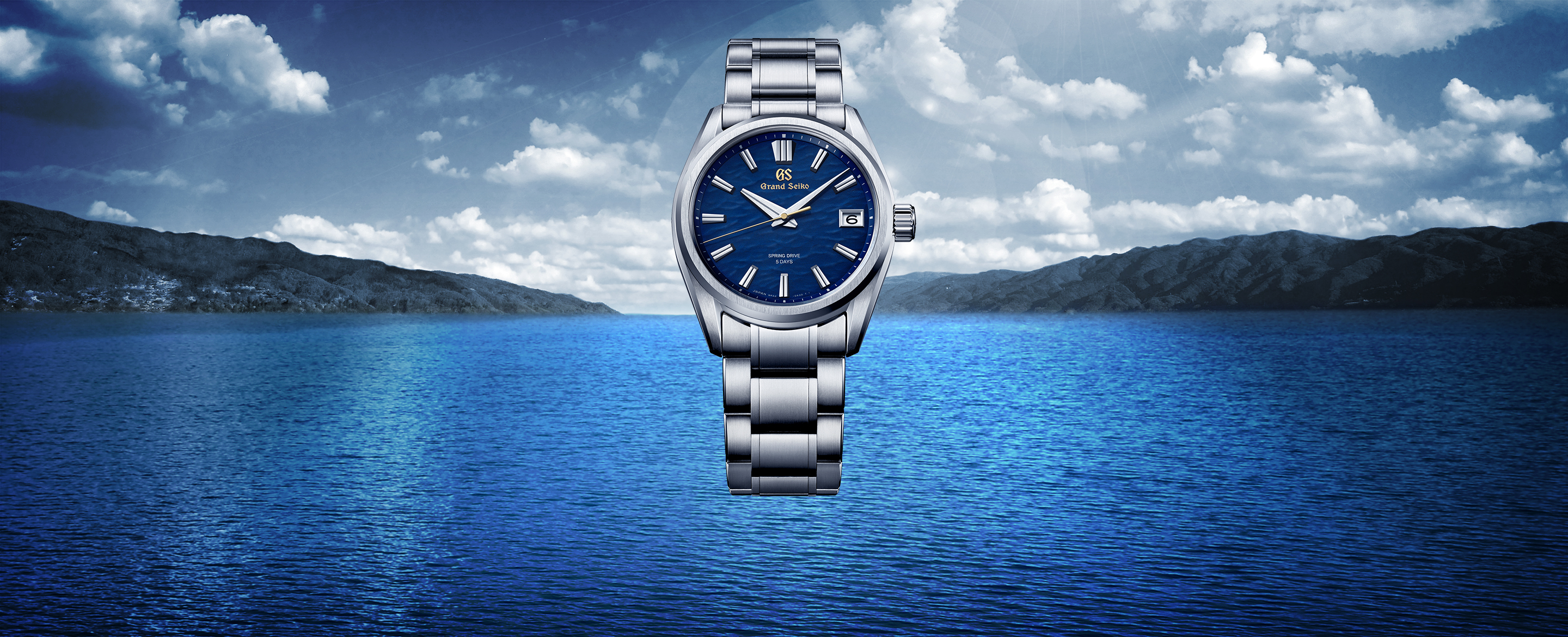 A new Grand Seiko creation inspired by the serene blue waters of Lake Suwa
Time and Nature in perfect harmony.
A Grand Seiko Spring Drive limited edition celebrates the company's 140th anniversary.
Kintaro Hattori founded his company in 1881 and led it until his death at the age of 73 in 1934. His philosophy was that his company should be "Always one step ahead of the rest" and, while it was not created until 1960, nothing better expresses the power of his vision than Grand Seiko with its unique design, leading edge manufacturing and exquisite finishing.

Today, Grand Seiko commemorates the 140th anniversary of the foundation of Kintaro's company with a Spring Drive watch whose dial is inspired by the calm waters of Lake Suwa that lies close to the Shinshu Watch Studio where the watch is made.
Edizione limitata di 2,021 esemplari
Seiko 140th Anniversary model
SLGA007
Evolution 9 Collection
EUR 9.100,00
Una nuova creazione Grand Seiko ispirata alle serene acque blu del lago Suwa
Il motivo del quadrante evoca il delicato movimento delle acque trasparenti e calme del lago Suwa. Il quadrante riecheggia la superficie morbida e calma dell'acqua, con increspature e onde basse che creano un piacevole bagliore a seconda dell'angolazione con cui la luce vi si riflette.
La lancetta dei secondi e le lettere Grand Seiko sono nettamente definite in un colore oro e fanno eco all'alba mattutina che brilla sulla superficie del lago. 
L'orologio è alimentato dal nuovo Grand Seiko Spring Drive 5 Days Calibro 9RA2, che eredita tutte le caratteristiche di performance dello Spring Drive Calibro 9RA5, ma l'indicatore della riserva di carica è ora visibile attraverso il fondello in vetro zaffiro dal quale si può osservare la bellezza delle finiture del movimento.
Questo orologio commemorativo in edizione limitata esprime perfettamente il carattere tranquillo ma forte di Grand Seiko. Le sue potenti lancette e gli indici scanalati e sporgenti assicurano una perfetta leggibilità, la sua finitura a specchio Zaratsu, senza distorsioni, e la delicata finitura hairline si alternano, conferendo alla cassa un bagliore tranquillo e armonioso. La cassa ha larghe anse e un basso centro di gravità così che l'orologio stia facilmente e saldamente al polso.
Esterno
| | |
| --- | --- |
| Esterno: | Acciaio inox |
| Fondello: | See-through & Screw case back |
| Materiale del vetro: | Zaffiro a doppia curvatura |
| Rivestimento vetro: | Rivestimento anti-riflesso sulla superficie interna |
| Dimensione della cassa: | Diametro 40.0mm Lug-to-lug 47.6mm Spessore 11.8mm |
| Larghezza cinturino: | 22mm |
| Tipo di chiusura: | Tripla chiusura pieghevole con rilascio a pulsante |
| Lunghezza bracciale: | 190mm |
Movimento
Codice calibro:

9RA2

Istruzioni
Precisione:
±0,5 secondi al giorno (±10 secondi al mese)
Funzioni
Resistenza all'acqua:
10 bar
Resistenza magnetica:
4,800 A/m
Altri dettagli / Caratteristiche:

EDIZIONE LIMITATA sul fondello
Numero di serie inciso sul fondello
Corona a vite
Display riserva di energia
Minamo. The quiet water surface of Lake Suwa.
The softly textured dial and the sharply edged hands and indexes. A perfect contrast.
The textured pattern of the dial evokes the gentle sway of the surface, or minamo, of Lake Suwa with ripples and shallow waves that create a pleasing sparkle at whichever angle the dial catches the light. In contrast, the seconds hand and Grand Seiko letters are sharply cut and their gold color echoes the morning sunrise shimmering on the lake's surface.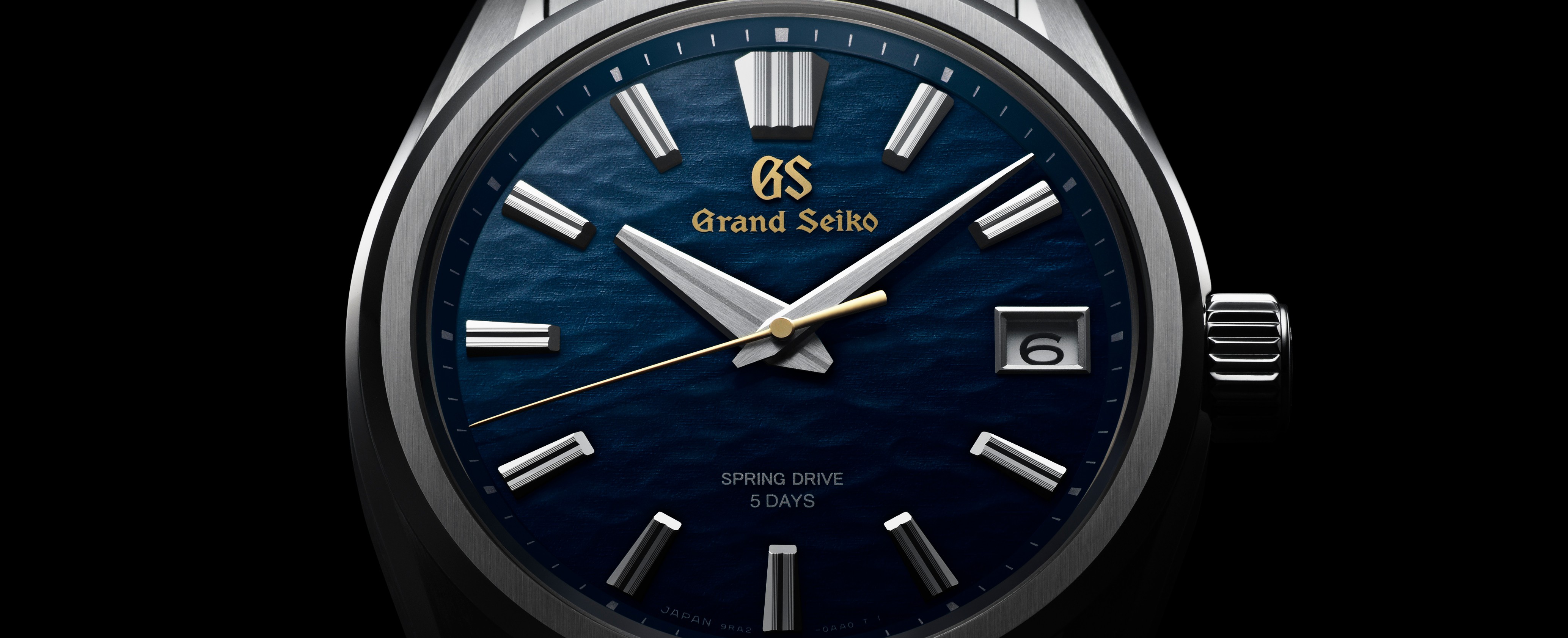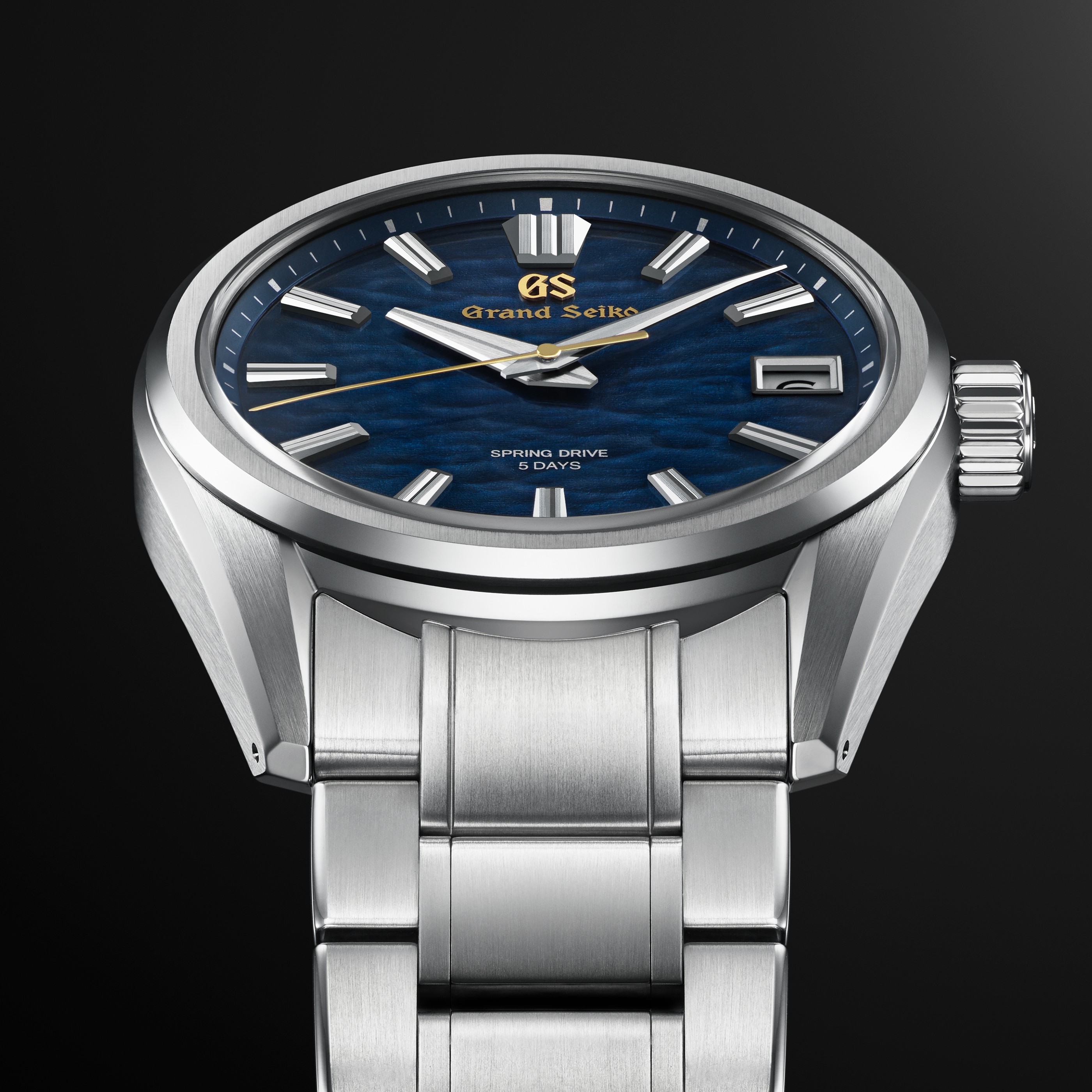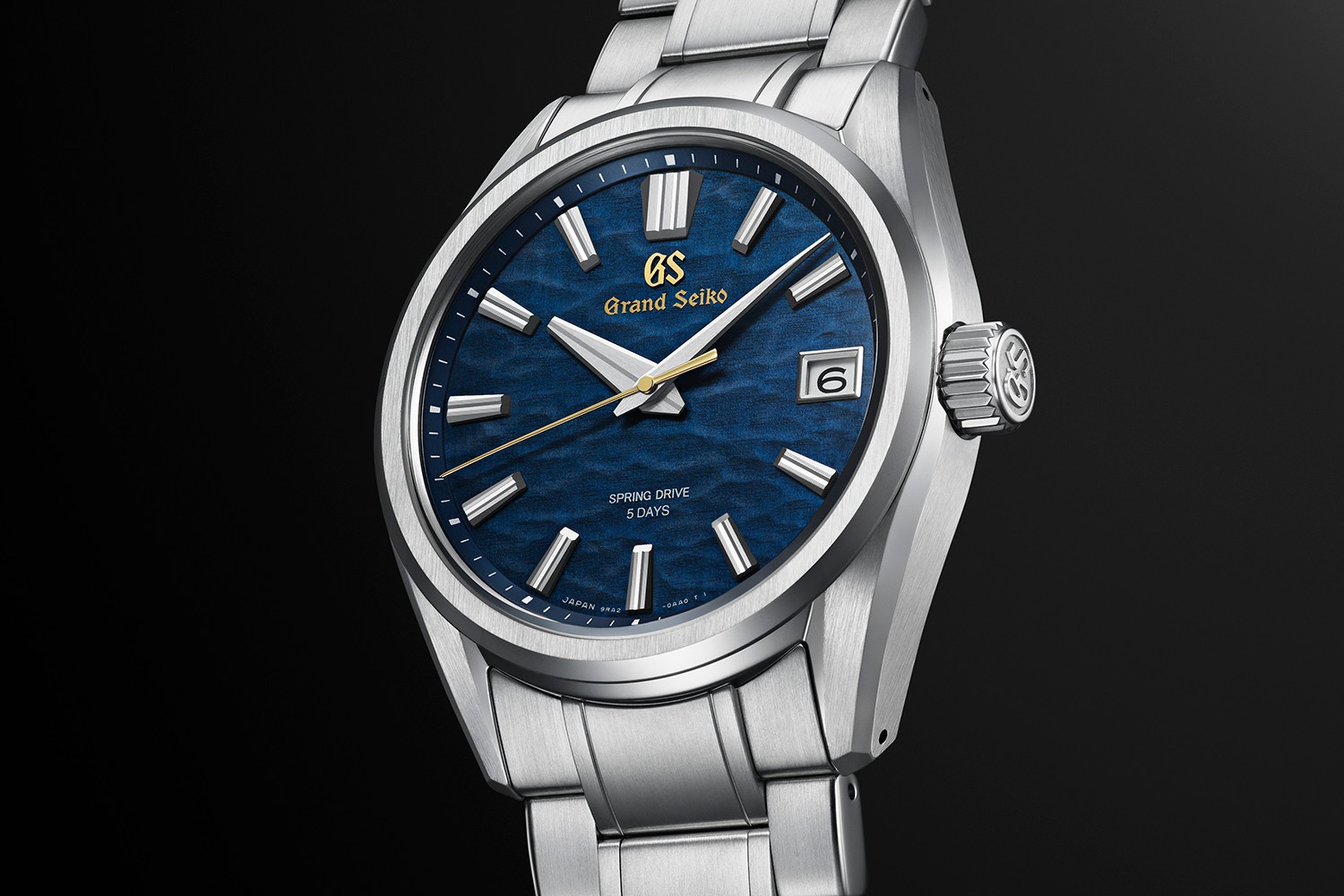 Quintessentially Grand Seiko
This commemorative limited edition watch perfectly expresses the quiet but strong character of Grand Seiko. Its powerful hands and grooved, prominent markers ensure perfect legibility, its Zaratsu polished, distortion-free mirror finish and delicate hairline finish alternate, giving the case a quiet and harmonious glow. The case has wide lugs and a low center of gravity that ensures that the watch sits easily and securely on the wrist.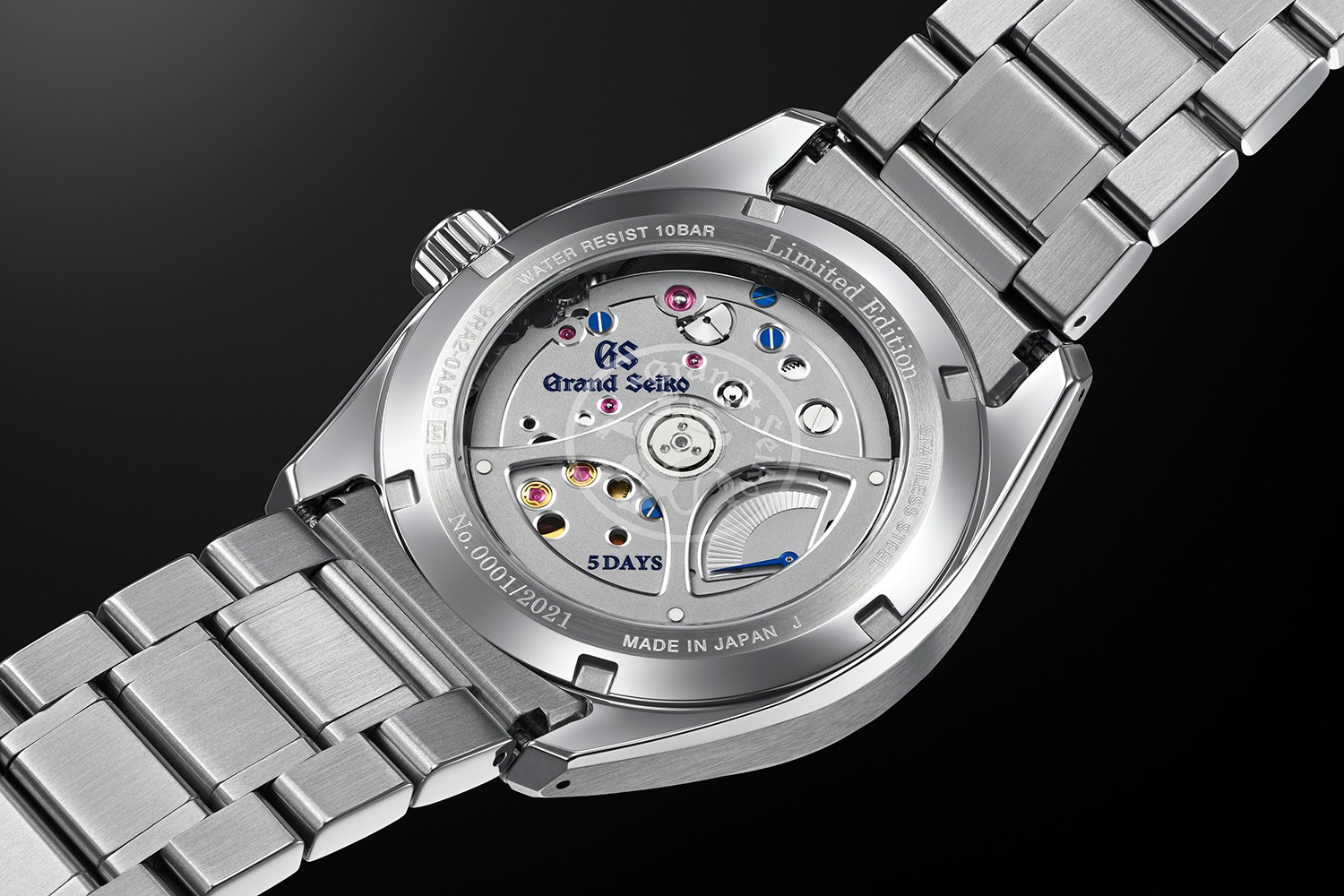 SLGA007 is powered by the Grand Seiko Spring Drive 5 Days Caliber 9RA2. The movement is equipped with an "Offset Magic Lever" to reduce its thickness and incorporates two barrels to provide up to 120 hours of power reserve.The beauty of the movement reveals the uniquely Japanese aesthetic for which Grand Seiko is renowned. The delicate texture of the movement's finish reflects the frost that winter brings to the forests in Shinshu where all Spring Drive watches are made. The bridge line and the edges of the screw holes are diamond cut to reflect the light from any angle and give the movement a quiet glow when seen through the sapphire case back.