The home of Grand Seiko's mechanical watches
The Grand Seiko Studio Shizukuishi
The birthplace of the world's foremost mechanical watch
Tucked away in a quiet forest in Iwate Prefecture, the Grand Seiko Studio Shizukuishi is one of the world's leading watch manufacturing facilities. This is where all the Grand Seiko 9S mechanical movements and watches are produced.
In this studio, every aspect of watch manufacturing, from design through the making of movement components to the assembly, adjustment and inspection of complete watches is carried out by Grand Seiko's own craftsmen and women. They put their heart and soul into the creation of each watch they make, with their craftsmanship shining through in every detail. Never has the word "manufacture" been more appropriate.
In 1998, the studio created Caliber 9S, the movement that marked the beginning of a new age for Grand Seiko's mechanical watchmaking. It was also here that the new Grand Seiko Standard was defined the same year, raising the bar for the studio's watchmakers and setting a new level of performance that exceeded that of the watch industry's most respected standard. 9S was just the start. Using it as the foundation, a new suite of movements was created, including, in 2009, Caliber 9S85, an automatic winding 10-beat movement with high torque and a power reserve of 55 hours. In 2010, Caliber 9S65, a movement with a power reserve of 72 hours, was created and a 10-beat movement with a GMT function, Caliber 9S86, was born in 2014.
The studio's technological progress has been sure, steady and continuous.
Now Grand Seiko's 60th anniversary is marked by the creation of the best mechanical movement in its long history, Caliber 9SA5. It is the culmination of 12 years development and has a precision rate of -3 to +5 seconds per day and a power reserve of 80 hours. It is also 15% slimmer than its predecessor.
The movement is as beautifully finished as it is efficient. The bridge has a gently curving outline that is inspired by the shape of Mt. Iwate and a bend in the Shizukuishi River that runs past the studio where the watch is made.
9S Mechanical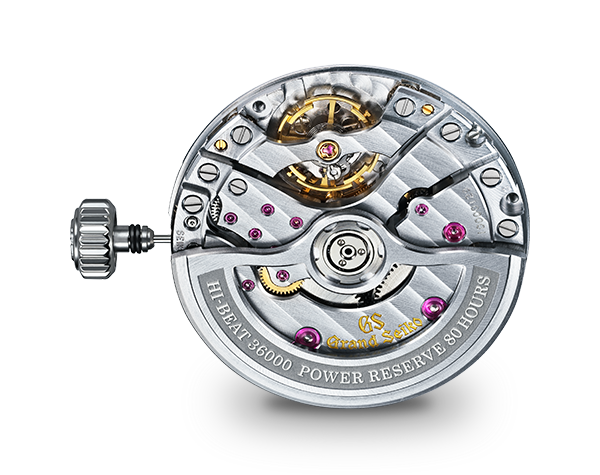 9S Mechanical
A mechanical movement created by leading-edge technology and expert craftsmanship
Caliber 9S was released in 1998, the same year as the new Grand Seiko Standard for mechanical watches was created. It was no co-incidence. Thanks to advances in materials, manufacturing and craftsmanship skills, Caliber 9S offered a superior level of performance which was reflected in the new standard. As so often before, Grand Seiko's ceaseless pursuit of precision, practicality and durability had taken its mechanical watchmaking to a new and higher level.
During the development of Caliber 9S, the speed control and escapement mechanism, comprising the balance, pallet fork and escape wheel, that governs the overall precision of a mechanical watch was redesigned. The watchmakers at the Grand Seiko Studio Shizukuishi, experts in mechanical watch design and with outstanding craftsmanship skills, searched for the ideal combination of the 200 and more components that make up a mechanical movement, adjusting them by hand to tolerances of one hundredth of a millimeter. Caliber 9S was an all-new design that was completed at unprecedented speed thanks to the use of 3D-CAD technology, which was cutting edge at the time. Caliber 9S was created by a meticulous development process that combined traditional watchmaking expertise and the very best of innovative technology.