Mar. 22, 2018
Press Release
Slimness and performance in perfect balance. The new automatic Grand Seiko calibre for women.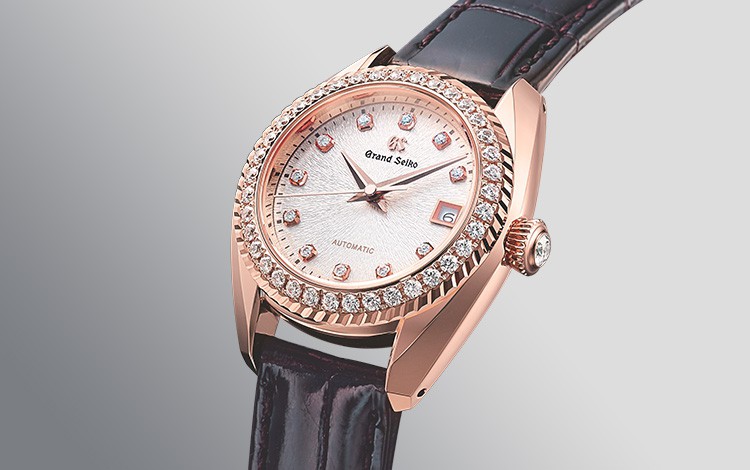 As the international reputation of Grand Seiko continues to grow, watch lovers worldwide have asked for the women's range to be expanded. Their request is now met with the launch of an allnew automatic calibre. It is presented in a limited edition of quite exceptional beauty.

Calibre 9S25. The perfect balance of slimness and performance

The new calibre is designed to offer both a slim profile and a high level of performance. It is just 4.49 mm in height, allowing the case to fit every wrist while it also has the strength to deliver a 50 hour power reserve and a precision of +8 to -3 seconds a day, which is a tangible tribute to the innovative engineering. Calibre 9S25 uses Grand Seiko's most advanced technologies, including the latest 610 alloy for the balance spring and MEMS engineering for the pallet fork, escapement wheel and other key components. The gear train layout is entirely new as is profile of the teeth on each gear to ensure maximum energy efficiency. The escapement wheel has a new design that is lighter but still robust and designed for maximum durability. It is an 8 beat calibre with 33 jewels.
Like all other Grand Seiko mechanical watches, this watch is made and assembled by hand at the Shizukuishi Watch Studio in Morioka. No compromise is made at any stage; each 9S25 movement is put through the same rigorous 17 day testing procedure as every men's Grand Seiko mechanical watch.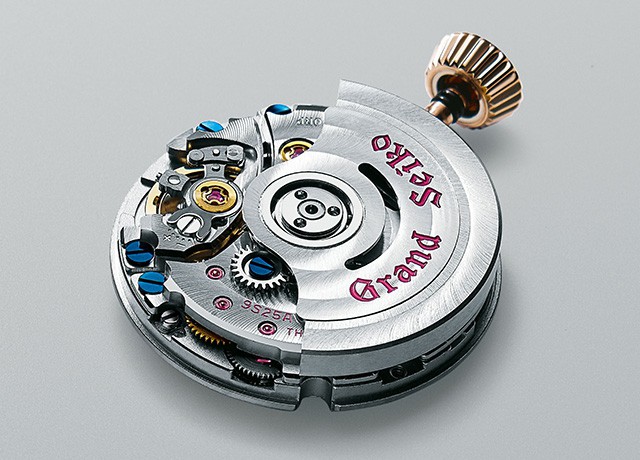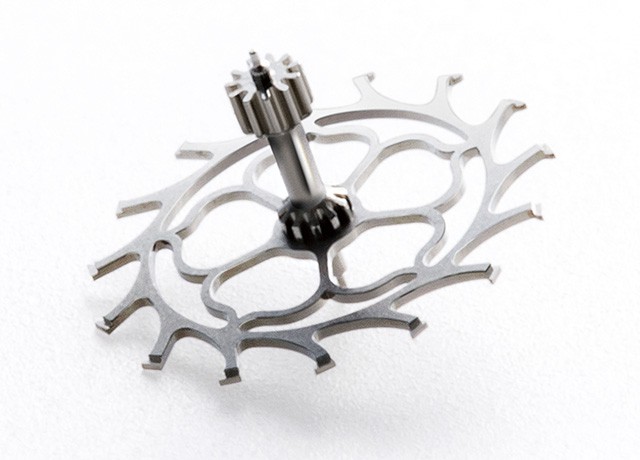 So much more than meets the eye.

Through the sapphire case back, the beauty of the new calibre and the painstaking care taken over its finishing shine bright. The beauty of the craftsmanship is much more than skin deep.
Hidden within the movement is the escapement wheel which is made in the shape of a five-petal flower and, beneath the oscillating weight, the elegant lines of the bridges flow like a stream that can be glimpsed as the weight moves back and forth. Similarly, the additional strap has a white textured surface with a grosgrain pattern but behind it lies a second and hidden layer, made of the finest crocodile leather.
In every aspect, both exterior and interior and both visible to the eye and hidden within, this remarkable jewel of a watch exemplifies the high quality watchmaking for which Grand Seiko is renowned. At each glance of the brilliant dial, it is a joy to behold but it also offers its owner the inner satisfaction of knowing that the external beauty is matched by the internal quality and craftsmanship with which every component is made and assembled.

A silver snow dial, set in a circle of diamonds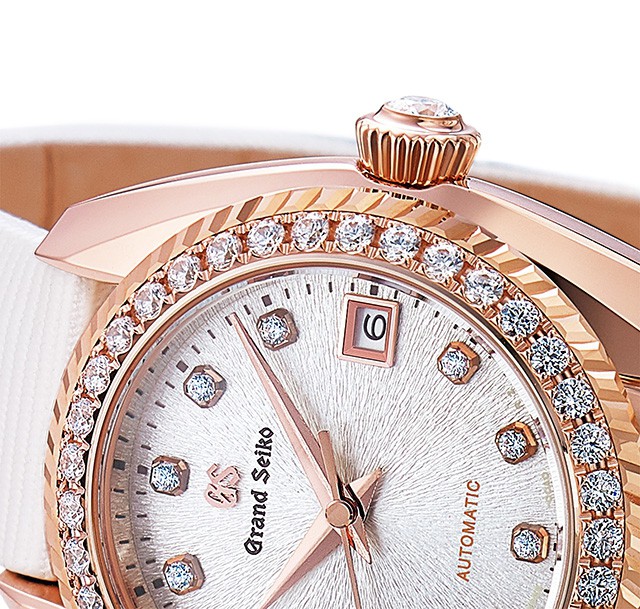 he dial is both striking and subtle. Its rich look is achieved with silver lamé that creates the sensual texture of the snow on Mt Iwate that overlooks the Shizukuishi studio where the watch is made. The bezel features 37 diamonds set into the 18k case with 60 diamond-cut facets. One larger diamond is set into the crown and eleven more mark the hours on the dial. This watch is offered in a limited edition of 50 and will be available in July.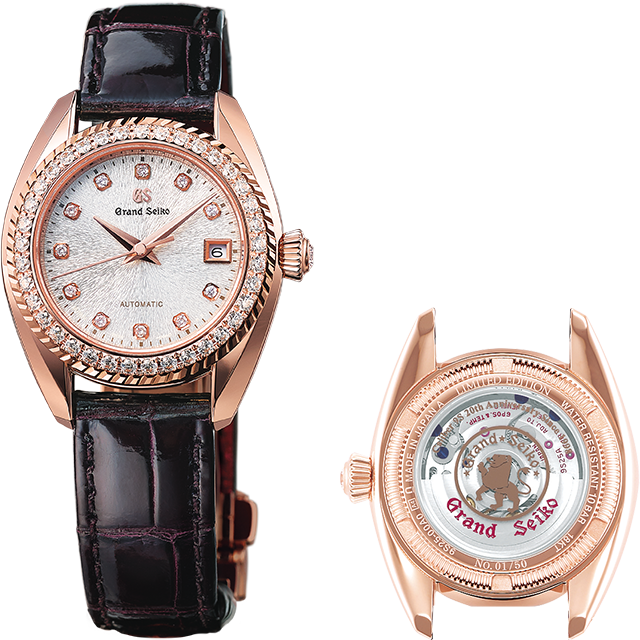 Automatic for women, calibre 9S 20th anniversary limited edition: STGK002J
Calibre 9S25

Vibrations: 28,800 vibrations per hour (8 beats per second)
Accuracy: +8 to -3 seconds per day (when static)
Power reserve: 50 hours
Number of jewels: 33
Diameter: 19.4 mm, Height: 4.49 mm

Specifications

18k rose gold case with diamonds (0.88 carat)
High definition dual-curved sapphire crystal with anti-reflective coating
See-through screw case back
Water resistance: 10 bar. Magnetic resistance: 4,800 A/m
Diameter: 28.7 mm, Thickness: 10.8 mm
Crocodile strap with three-fold clasp with push button release in 18k rose gold
An additional white strap is included.

Approximate recommended retail price in Europe: €32,000
Limited edition of 50