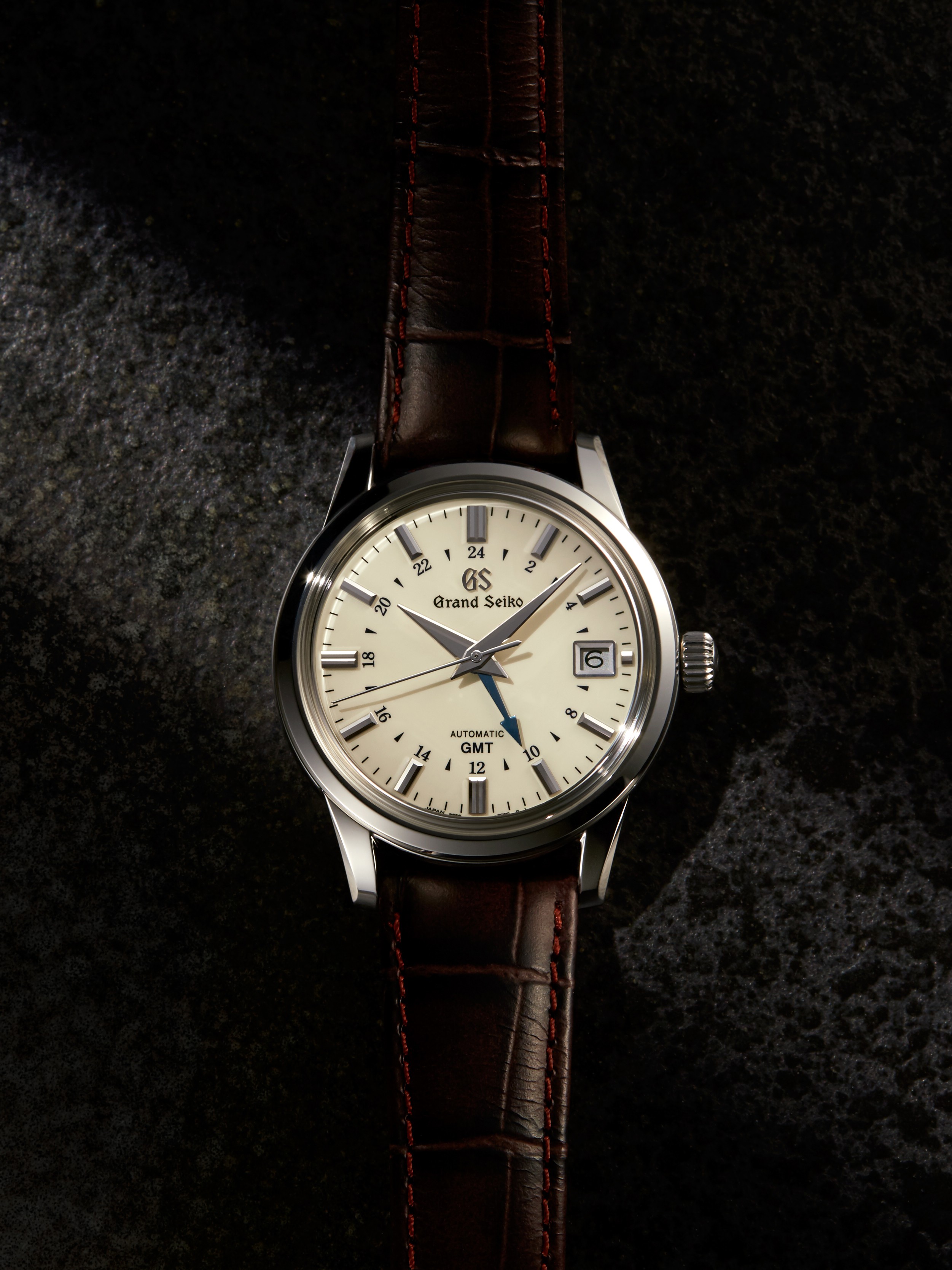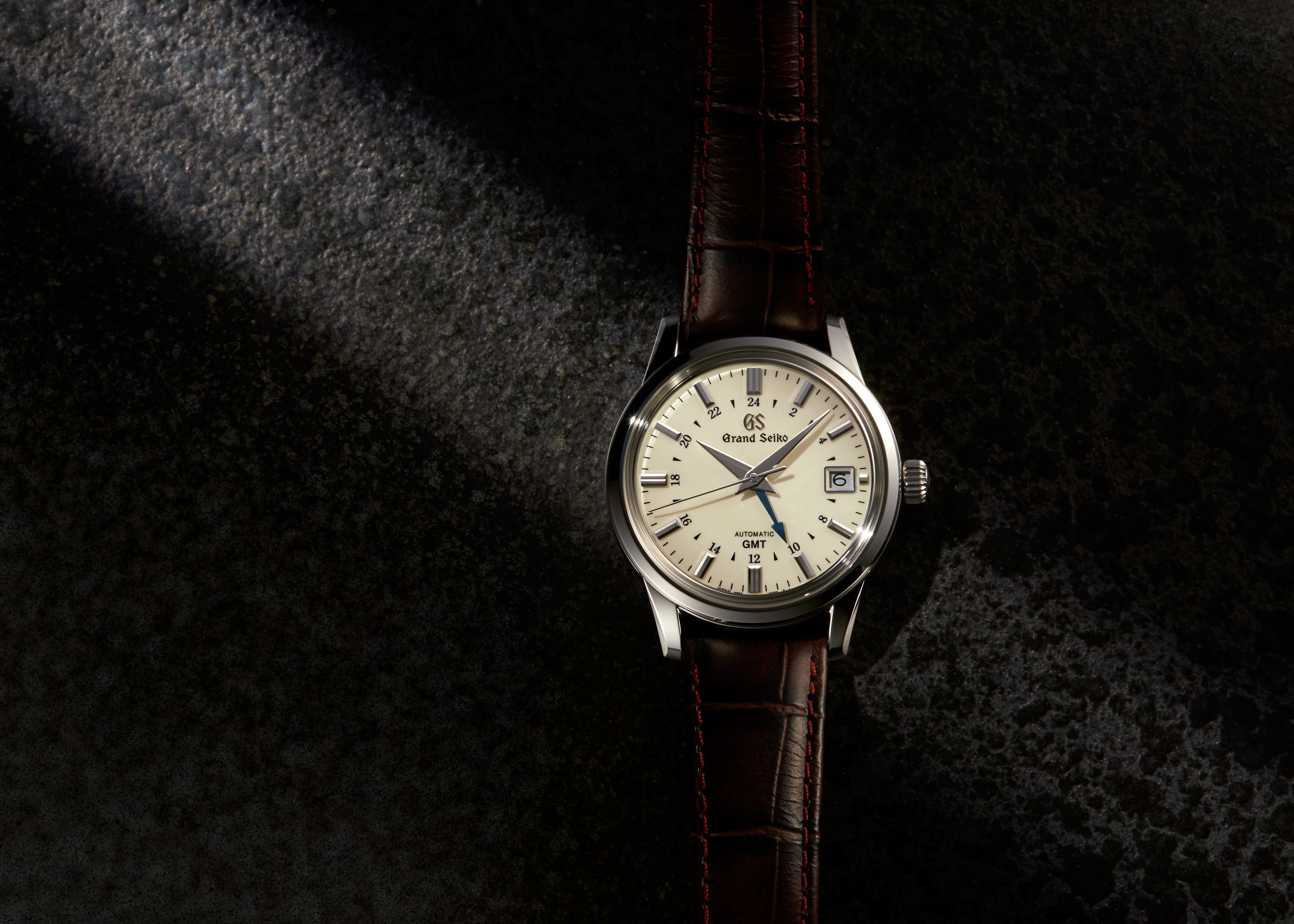 Elegance Collection
Understated, elegant and quintessentially
Grand Seiko
SBGM221. This classic timepiece shows the Grand Seiko Elegance Collection at its very best. It is a quiet, refined and minimalist design and yet it has a GMT hand, a date and a 24 hour inner dial ring so that the time shown by the GMT hand is as easy to read as that shown by the hour and minute hands. The hands and indexes are polished to a razor edge so that they catch the light and make the time legible even in semi-darkness.
成熟風範經典腕錶,自動上鍊機械 3Days GMT
沿用深受許多客戶長期喜愛的經典款GMT功能機種,搭載進化後的9S66機芯上市。滿鍊約可持續3天,採用最新的游絲以及MEMS(微機電鑄技術)製程的擒縱系統(擒縱輪、擒縱叉),提升實際使用時的精準度。復刻經典樣式的箱型藍寶石水晶鏡面、施以細膩超鏡面研磨的圓緩流暢錶耳、深棕色皮革錶帶、優雅雋永的象牙白錶盤、藍鋼24小時指針,打造出優雅的經典款式。透視背蓋,讓您可以親眼享受機械式機芯精巧的運作。
外觀
外觀:
不鏽鋼
背蓋:
可透視底蓋
6顆螺絲固定底蓋
鏡面材質:
箱型藍寶石水晶玻璃
鏡面鍍膜:
內面無反射塗層處理
尺寸:
周長 39.5mm 耳對耳 46.9mm 厚度 13.7mm
帶寬:
19mm
錶帶材質:
天然皮革(鱷魚皮)
錶扣種類:
三折式按鈕開關錶扣
功能
防水:
日常生活用防水
耐磁:
4,800 A/m
其他 / 特色:

寶石數:35石
24小時指針(兩地時間顯示功能)
日期連動時差修正功能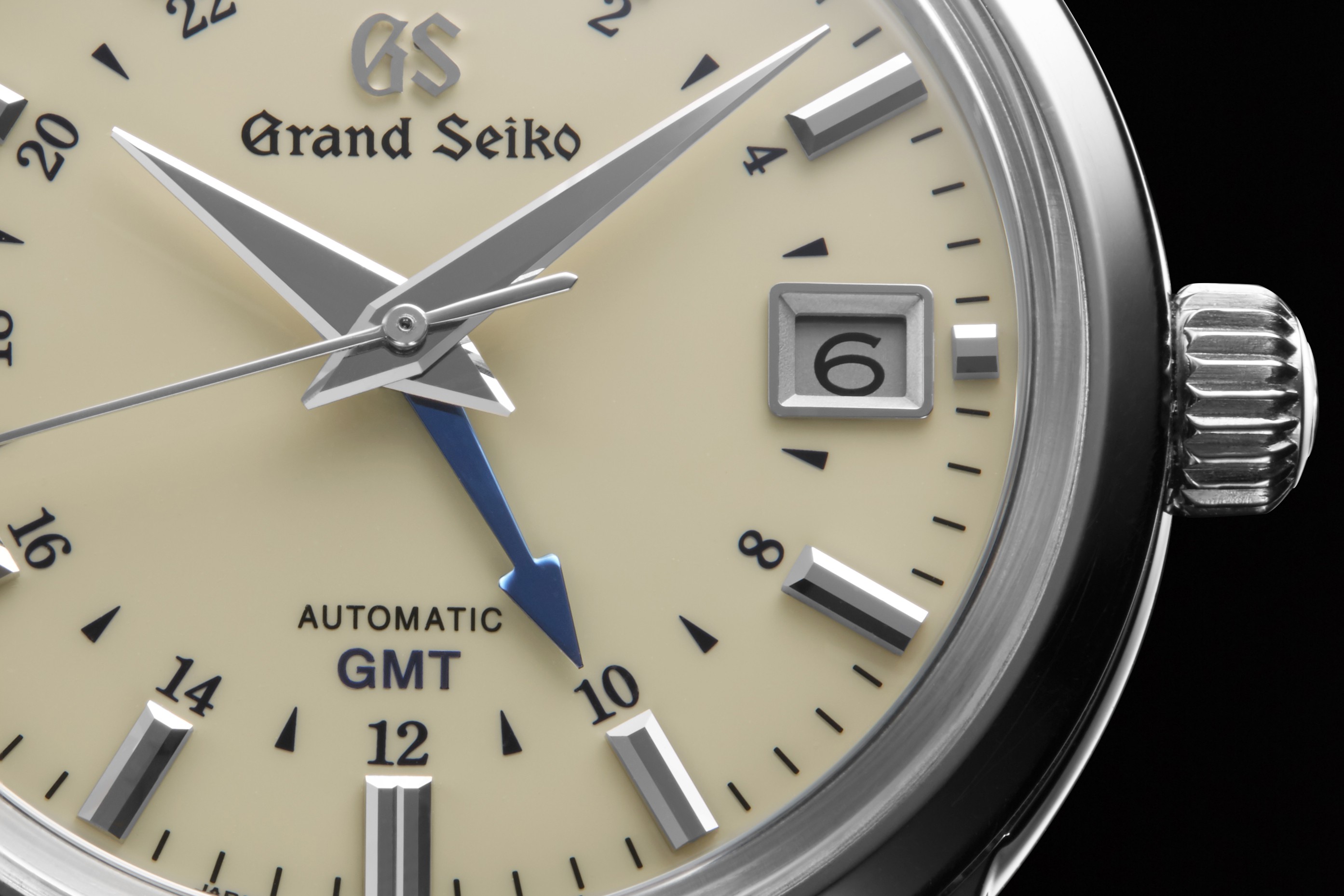 The GMT hand, blue, distinctive and perfectly functional.
The GMT hand is both unobtrusive and yet easy to see. How can this be? Because it is shorter than the other hands and set underneath them, it never interferes with the legibility of the time of day. However, because of its distinctive arrow shape and its blue color, it catches the eye whenever the wearer glances to see the time in a second time zone. It extends right to the 24 hour numerals but never overlaps them and, thanks to its powerful shape, it stands out clearly from the pure ivory dial. Form and function in perfect harmony, as the Grand Seiko Style demands.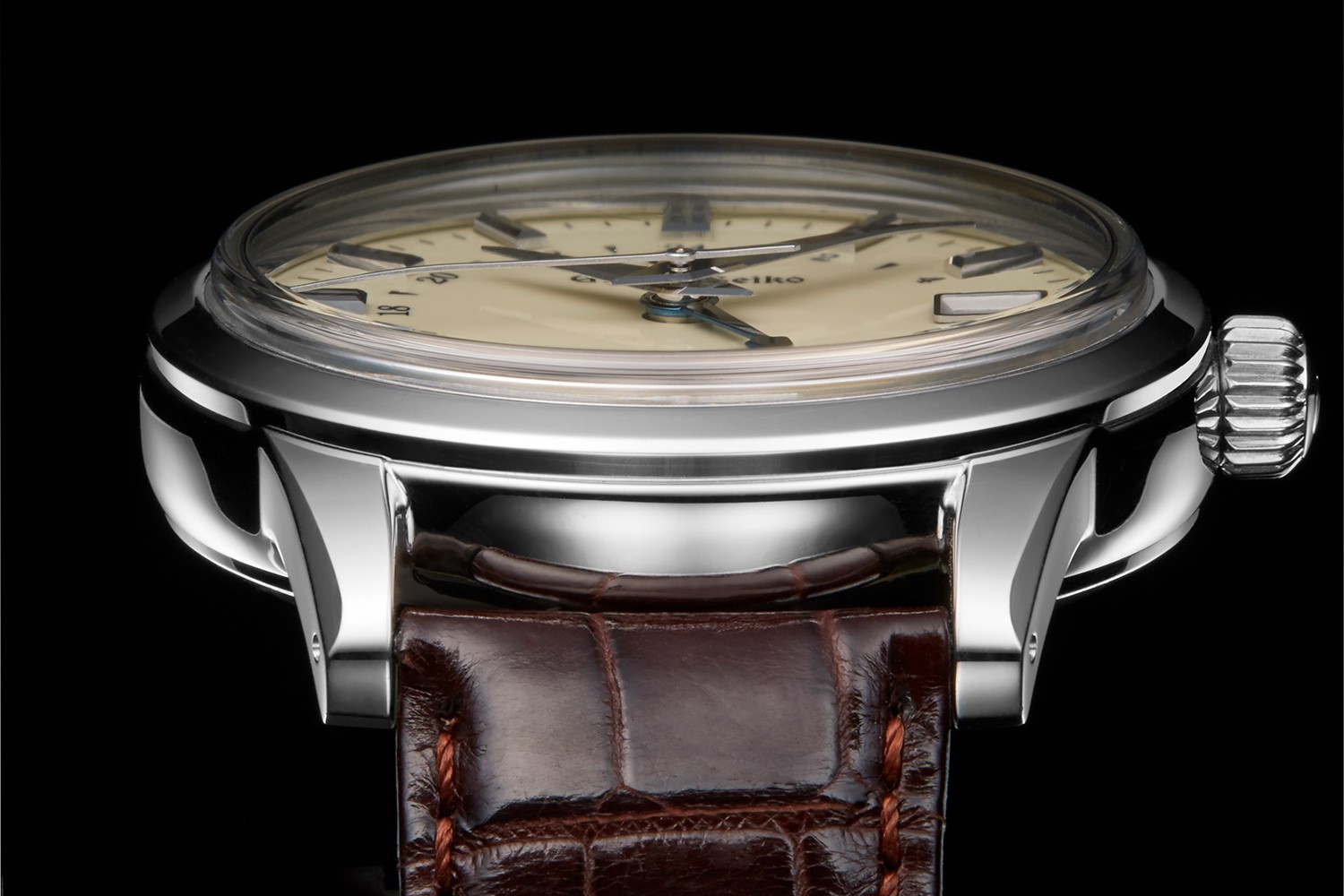 An authentic classic, with the Grand Seiko touch.
SBGM221 has long been a favorite in the Grand Seiko collection. It is an automatic watch with a GMT hand set above a deep ivory color dial. Its uniqueness lies in the shape of the case. While every angle is soft and rounded, there is a subtle triangle that catches the eye that dwells. Formed by the case at is widest and the Zaratsu polished edges to the lugs, it adds a sharp yet delicate distinction to this classic design.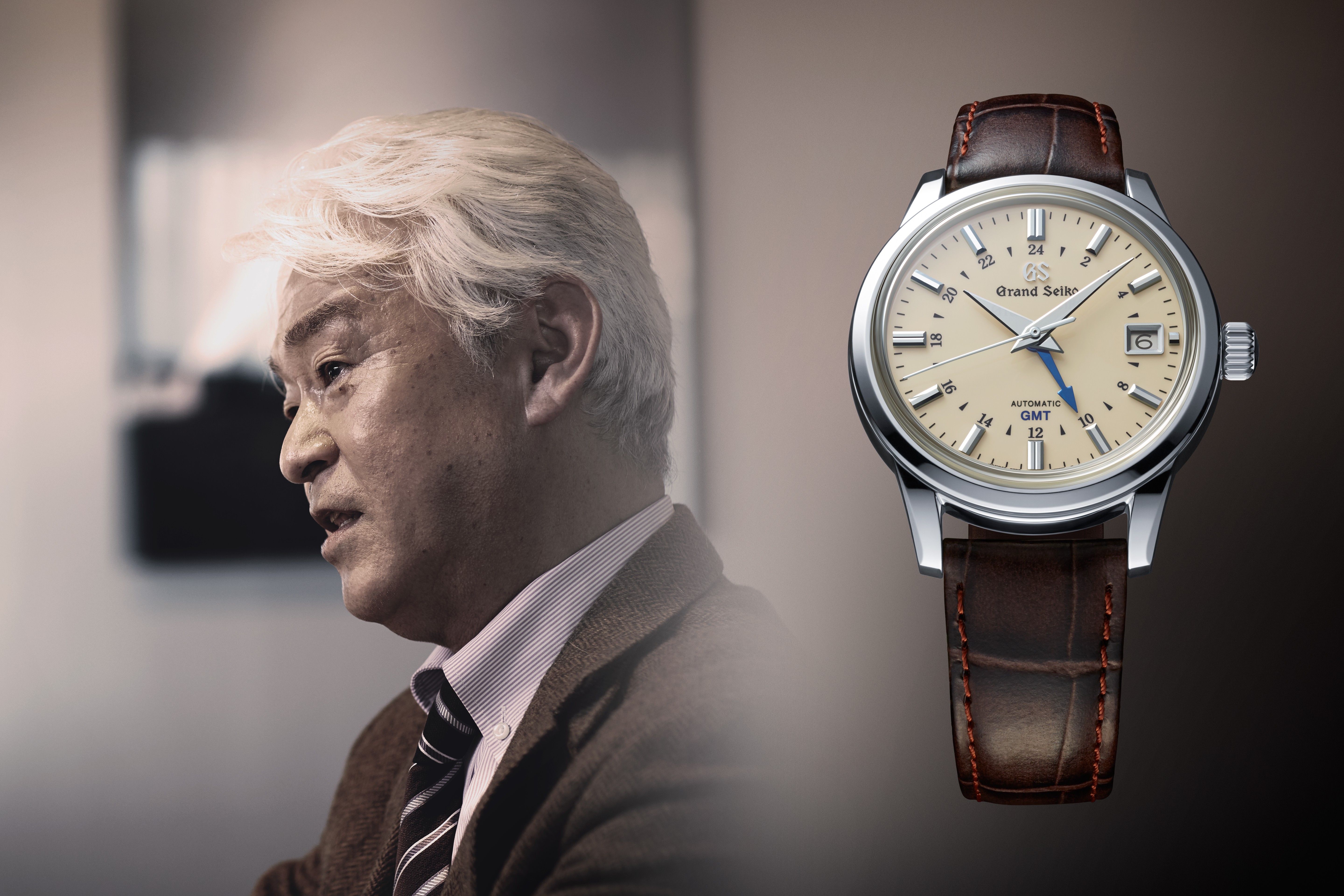 The Grand Seiko Automatic GMT, standing the test of time.
Nobuhiro Kosugi was the first watch designer in Japan to receive recognition from the Japanese government as a "Contemporary Master Craftsman." Among his most celebrated designs is this automatic GMT watch, first offered in 2010. "Its originality comes from the crescent moon shaped profile on the Zaratsu polished, curved lugs." says Kosugi. Perhaps so, but the combination of this distinctive case with the blue tempered GMT hand, the ivory color dial and the brown leather strap also play a role in creating a design that looks as perfectly understated today as it did nearly a decade ago.