Learn more about Calibre 9S
44GS (1967)
Why 44GS is seen as a masterpiece.
44GS, born in 1967, was the watch that established the Grand Seiko Style. The three defining features of its design all use the way that light plays on the watch in different ways, at different times of day and at different angles. First, the flat surfaces are truly flat and the curves on the case are perfectly two-dimensional. Second, the hands and hour markers have wide and flat surfaces and highly polished edges that catch and reflect even the smallest ray of light. Third, the distortion-free mirrored surfaces deliver perfect reflections. It's as if the high precision of Grand Seiko is expressed by every sparkle of quality.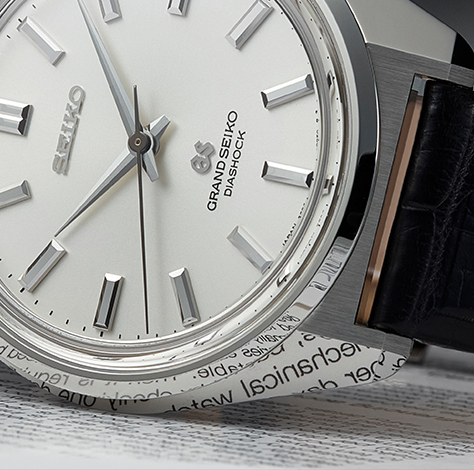 A distortion-free mirror-like surface made possible by Zaratsu polishing.
Zaratsu polishing – a key component of the Grand Seiko Style.
In the 1950's, the Hayashi Seiki facility which manufactures many of the Grand Seiko watch cases began using a polishing machine that had the words GEBR.SALLAZ engraved on it. GEBR. is an abbreviation of the German word for "brothers" and SALLAZ (pronounced in the German fashion as "zaratsu" in Japan) was the family name of the company that built it. The main feature of this polishing machine is that the front of the rotating disc, not the side, is used to polish surfaces. In Japan, this process came to be known as Zaratsu polishing. The Grand Seiko Style, with its highly polished, clearly defined ridges where plane meets plane, is only achievable through use of this machine and its successors and the expert skills of the craftsmen who mastered its application.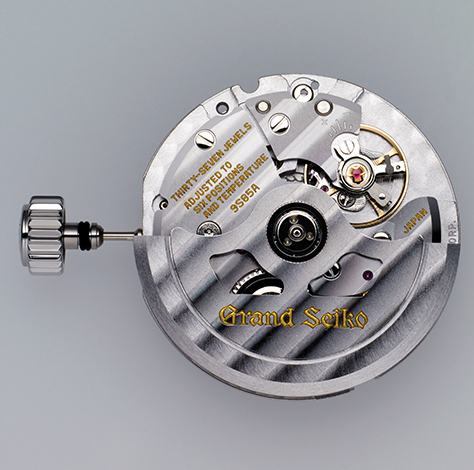 The manufacturing precision of the components also defines the precision of the timepiece.
Calibre 9S and the new Grand Seiko Standard
In the mid 1980's, the Grand Seiko team judged that the time had come to enhance the performance of its mechanical calibres. After extensive research, it was determined that simple modifications to the existing calibres would not deliver the improvements in performance that Grand Seiko deserved and so the team conducted test after test, using computer simulations and prototypes in pursuit of improved performance from the gear train. At the same time, they created a new balance and a balance spring with a special curved shape. It was, in the end, a brand new calibre, the 9S5 series. Subsequently, a new SPRON alloy was created for the mainspring and a new escapement was perfected thanks to MEMS technology. On this base, new versions of Calibre 9S continued to be created, including the 9S6 series with a 72 hour power reserve and the 9S8 series featuring a 10 beat movement. The current Grand Seiko Standard, which defines standards of accuracy that go beyond those of any chronometer certification, was established in 1998. It was a more exacting standard than its 1966 predecessor, reflecting the advances that had been made in Grand Seiko's mechanical watchmaking with the launch of the 9S calibre.