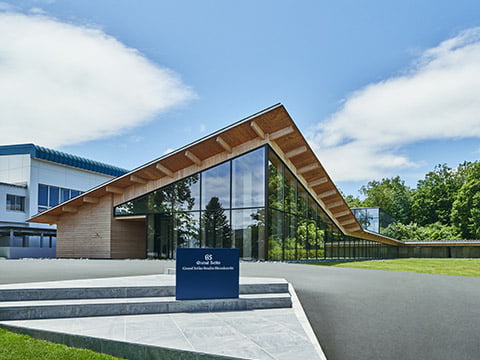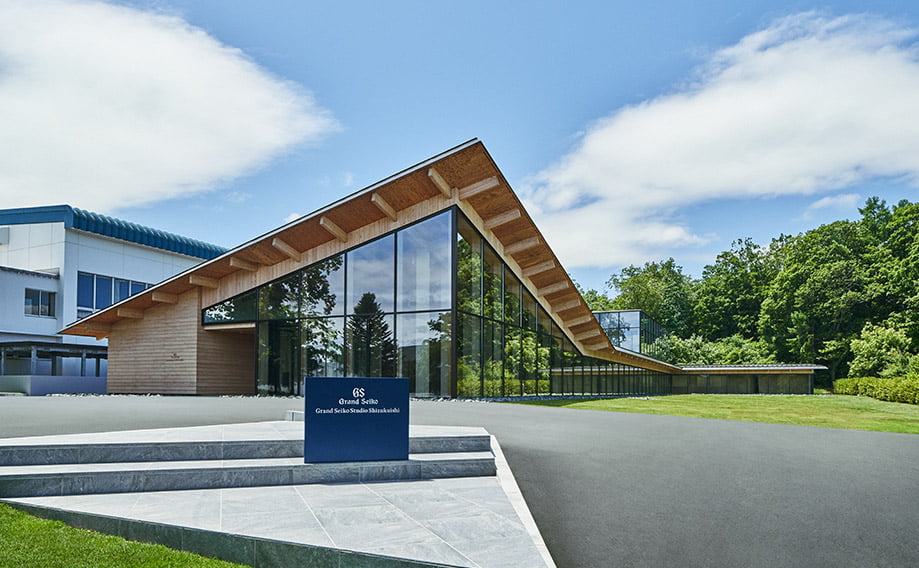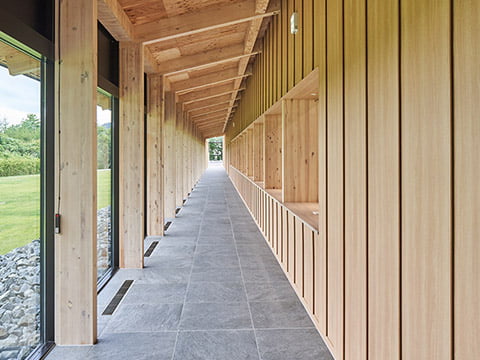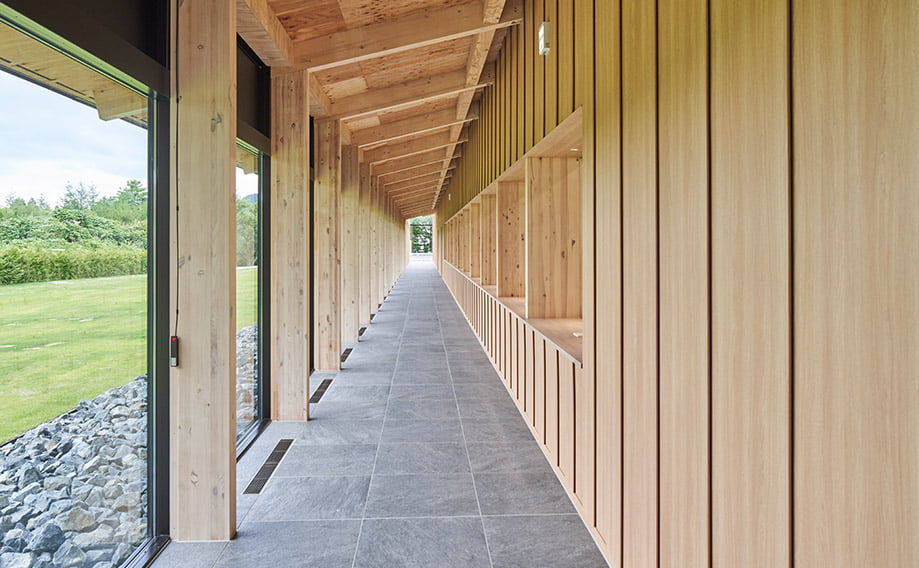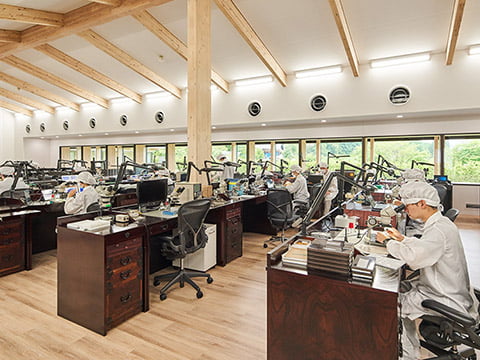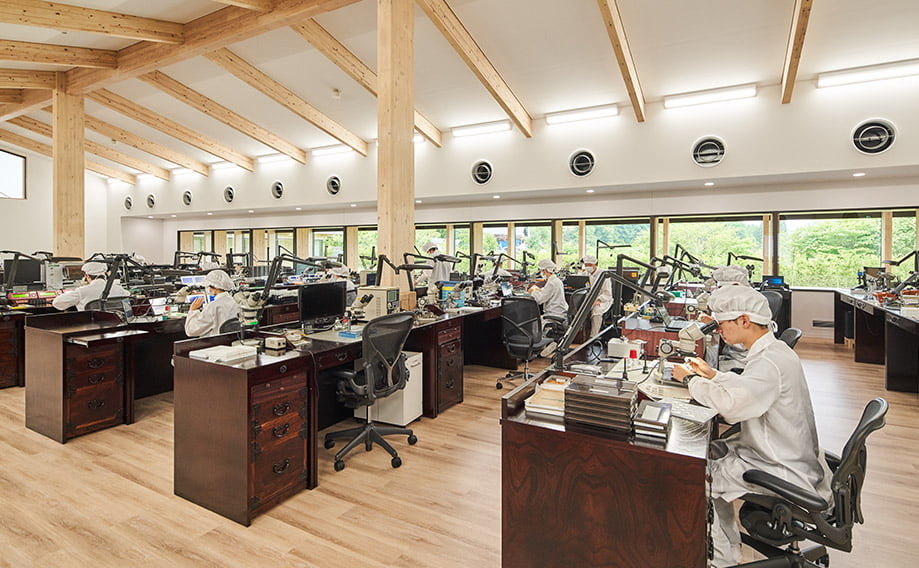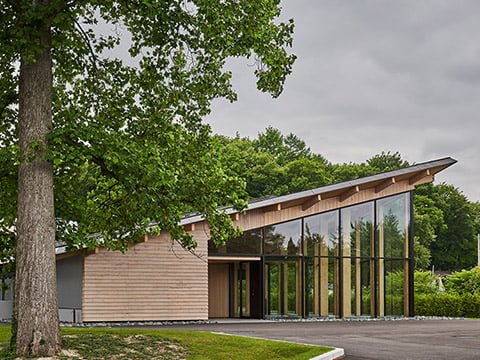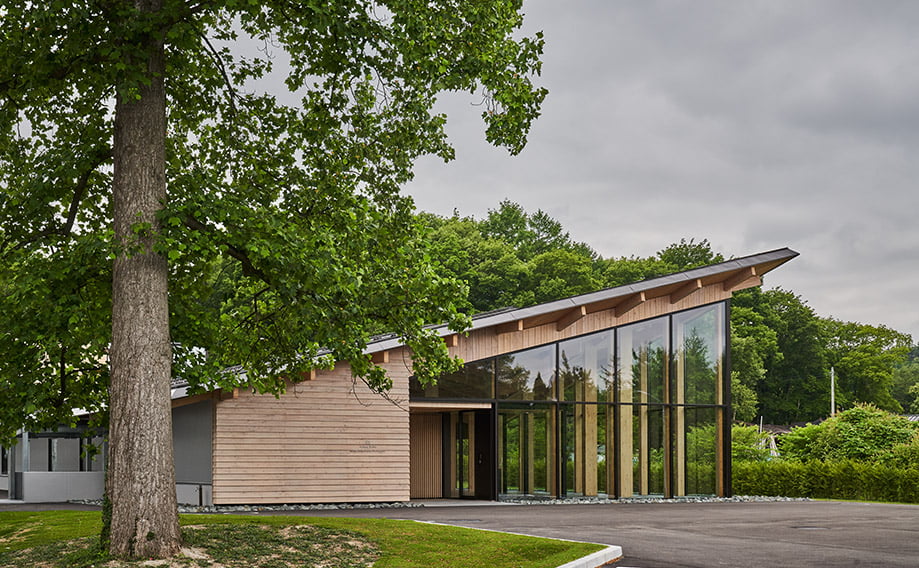 July 20, 2020 marked the opening of Grand Seiko Studio Shizukuishi, a space devoted to producing Grand Seiko mechanical watches and other high-end timepieces. This workshop was effectively added to the Shizukuishi Watch Studio, a high-end watch and movement manufacturing site of Morioka Seiko Instruments (located in the town of Shizukuishi in Iwate Prefecture).
The new studio was completed on the milestone sixtieth anniversary of the birth of the Grand Seiko brand. The design is the brainchild of Kengo Kuma, a celebrated Japanese architect also famed for his work on the new Japan National Stadium finished in 2019.
Surrounded by a thicket of trees, the studio incorporates various areas. There is a workshop devoted to the assembly and fine-tuning of each product by expert watchmakers, and a display space where visitors can discover and appreciate the brand's history and background. An adjoining lounge provides an invigorating view of a celebrated peak, Mount Iwate.
In every way, this site is fashioned for visitors to directly bask in the craftsmanship of Grand Seiko-a brand emerging from graceful symbiosis with the natural world. The new studio is now open to the general public on a reservation-only basis.
Giving Tangible Form to the Aesthetics and
Essence of "The Nature of Time"
Architect | Kengo Kuma
Morioka Seiko Instruments Inc., located in the town of Shizukuishi in Iwate Prefecture, is the production site for the Grand Seiko series as well as other members of Seiko Watch's high-end mechanical watch lineup.
To commemorate the sixtieth anniversary of its famed Grand Seiko brand, Grand Seiko Studio Shizukuishi was opened in July 2020. Kengo Kuma, one of Japan's most acclaimed architects, was selected to design this new space. To learn more about this landmark undertaking, we spoke with Kuma about how he has articulated the technology and underlying spirit of the Grand Seiko models in the studio's structure.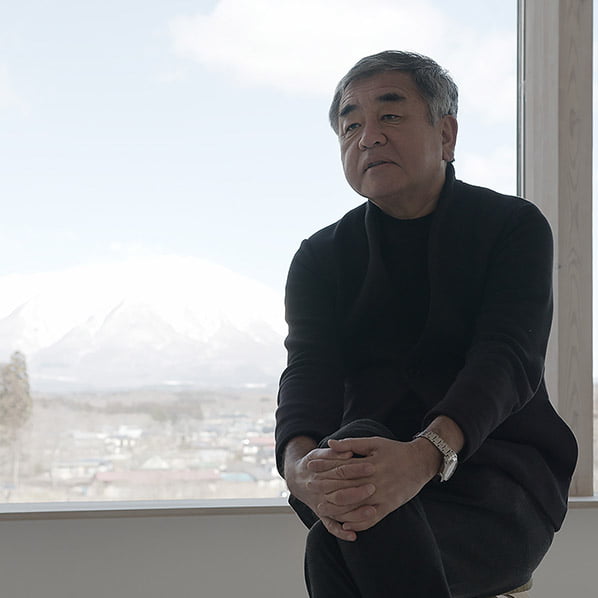 "To begin with, I feel that Grand Seiko's brand philosophy 'The Nature of Time' is a phrase that almost everyone can intuitively embrace," he says. "My goal, however, was to reach beyond the primary nuance of the essence of time to inspire a sense of the mysterious linkage inherent between the aspects of nature and time. I strove to frame a more tangible picture of that awareness through my architecture.
"In this studio, I sought to instill a unique configuration that kindles instinctive appreciation," Kuma continues. "This first involves the use of wood, arguably the most natural element of all. Second, we underscored the creation of Grand Seiko watches-instruments intricately crafted to mark the passage of time-taking place in this space. The building is meant to embody the vision this enduring brand pursues. As an architect, I found this to be an extremely stimulating and joyous opportunity."
Kuma went on to explain that the building does not stand as an isolated entity. Rather, the studio is powerfully linked to the surrounding environment. On that point as well, he stresses how Grand Seiko Studio Shizukuishi sparkles as an unprecedented architectural triumph.
"It is genuinely rare for the spirit and skills of artisans to be preserved in the midst of such a magnificent natural environment, while steadily thriving over the decades. Moreover, with this new structure in place, I am confident that these qualities will be sustained and passed on for many decades to come. For the building as well, I cannot imagine a greater source of contentment."
Inside the new Grand Seiko Studio Shizukuishi space, Grand Seiko products imbued with the "Nature of Time" philosophy of its creators continue to track the movement of time, with ultimate precision, on the wrist of every owner.

"I sincerely hope that the instant people set eyes on a Grand Seiko they will sense nature's presence in it," Kuma adds, "tapping into images of this rich natural setting full of nature, mountains, open skies and other blessings that embrace the studio. I would be elated if each of these timepieces served as a radiant medium that awakens an awareness of the bonds that exist between Mother Nature and human beings."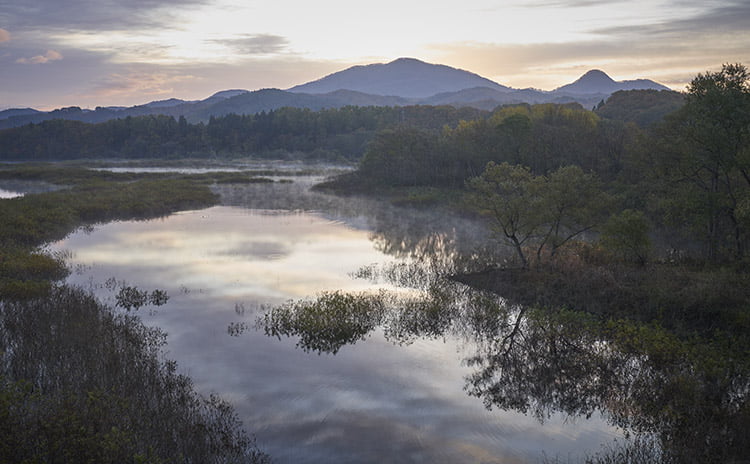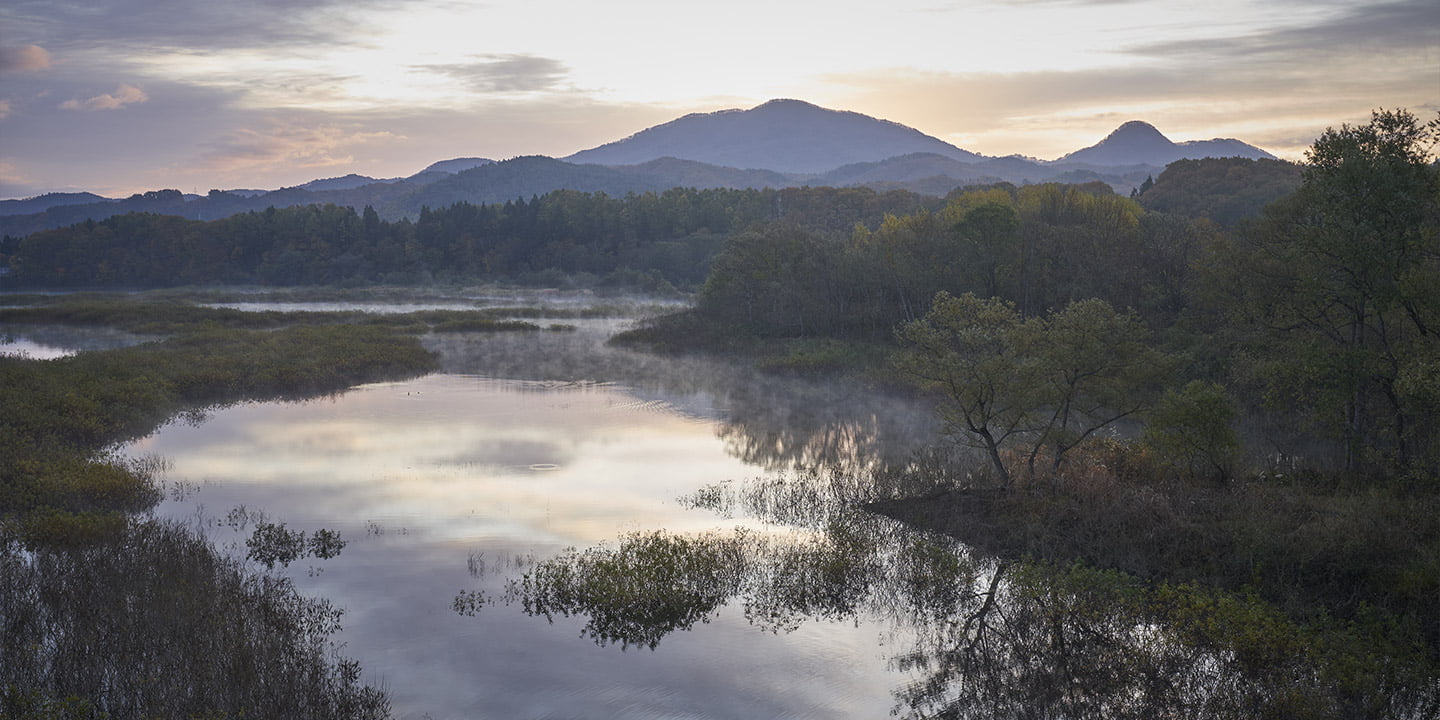 - Mechanical Movement Parts Exhibit

The spacious entrance hall displays the various parts used in the sophisticated mechanical movements of Grand Seiko watches, and also showcases the process used to produce these legendary timepieces. Visitors can get a close-up view of the fine components so integral to ensuring movement precision, and gain a keen sense of the passion that the master artisans express in their craft.

- The Assembly Process

From the exhibition area aisle, visitors can watch the watchmakers absorbed in their work through glass barriers in a space bathed in bright sunshine. The tasks they can view include assembly, adjustment and the other high-precision steps of the watchmaker's art.
Mounted in the display space in front of the glass, meanwhile, are displays presenting details of the Grand Seiko design philosophy, the "Grand Seiko Standard" detailing the brand's original benchmark for accuracy, and other informative reference materials. Visitors can also see the tools and other instruments the watchmakers use during the assembly process, providing an overall awareness of the superlative skills these outstanding craftspeople possess.

- Shizukuishi Original Model

On display and for sale here is the SBGH283-an original model available only at Grand Seiko Studio Shizukuishi. This high-end watch features the 9S85 high-performance movement, which harnesses high-speed performance of 36,000 vibrations per hour (ten beats per second) to ensure superbly stable precision. This is indeed an exceptional model, sporting a green-colored dial to reflect the image of fresh leaves on the trees around the studio and enhanced by a vertically striped motif.
*The purchase of this exclusive model is limited to only one per person.

T0 (T-zero) Constant-force Tourbillon

The T0 (T-zero) Constant-force Tourbillon is displayed on the second-floor lounge. T0 incorporates a fully integrated constant-force mechanism and tourbillon on the same axis for the first time in the world.
The rotating tourbillon and intermittent turning of the constant-force as well as the rhythmical 16th note ticking sound of the mechanisms can be thoroughly enjoyed.more
Grand Seiko Studio Shizukuishi
020-0596 61-1 Itabashi, Shizukuishi-cho, Iwate-gun, Iwate Prefecture