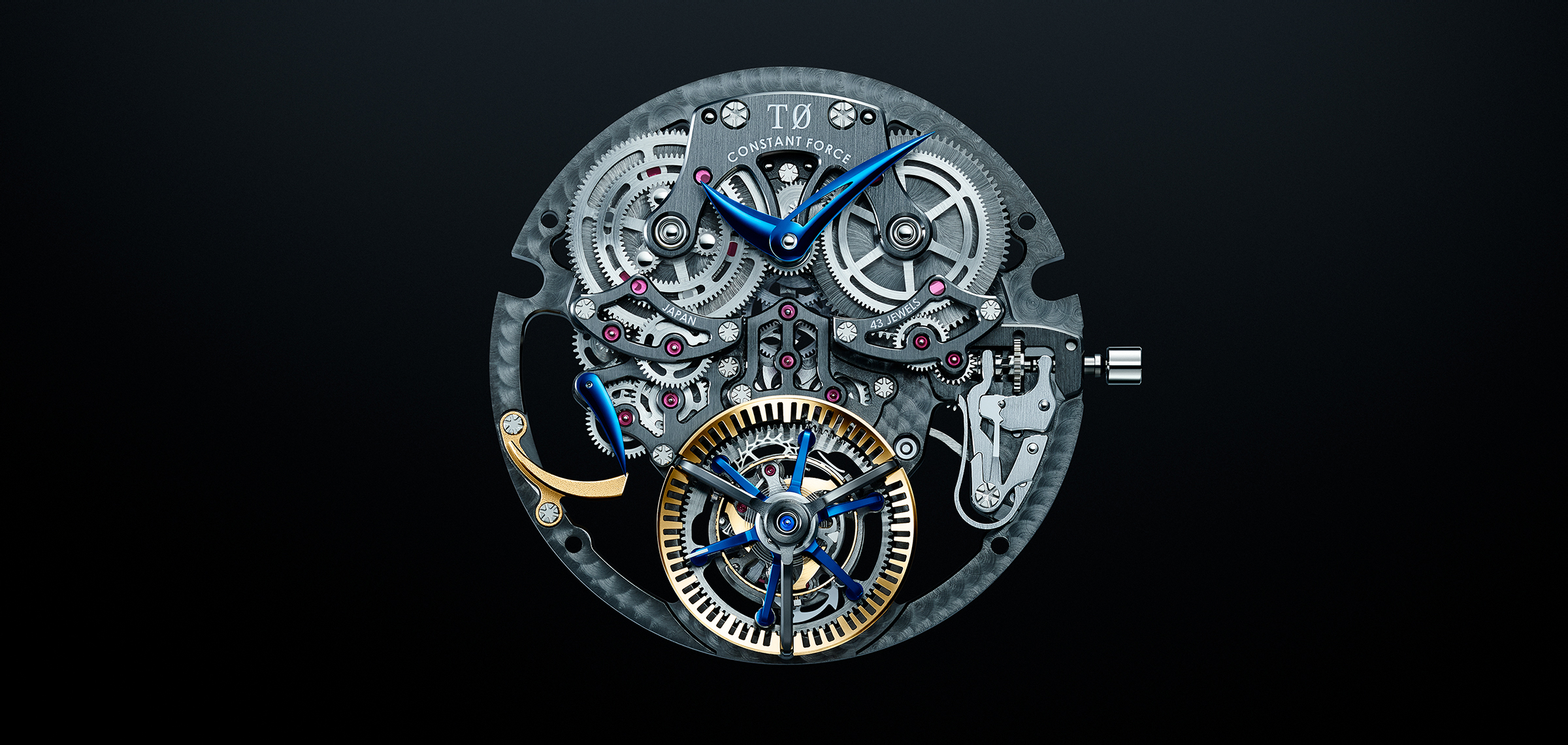 Seiko Watch Corporation revealed the T0 (T-zero) Constant-force Tourbillon (abbreviated as "T0") as a concept creation of Grand Seiko in September 2020. It represents the world's first movement with a fully integrated constant-force and tourbillon on the same axis, aiming to create a mechanical watch with the highest accuracy possible. In the 1960s, Seiko's mechanical movements dominated top spots at the Neuchatel and Geneva Observatory Competitions, regarded as the most authoritative watch competitions then. With this new movement, Grand Seiko returned to the top in the world.
Mainspring, the endless challenge in mechanical watchmaking
Unlike battery-driven quartz watches, mechanical watches are powered by the unwinding force of a mainspring. The mechanism of mechanical watches has remained almost the same since the 17th century. This seemingly antiquated mechanism is still used today because its technological evolution solved many issues.
One of Grand Seiko's movements, Spring Drive, symbolizes that evolution. Spring Drive is as accurate as a quartz movement, though it is powered by a mainspring. It is highly resistant to magnetism, changes in temperature, and shock. As a result of the company's technological progress, Seiko successfully launched a mechanism that no one else was able to achieve.
The mechanism of mechanical watches has become more and more practical thanks to technological advancement. Mechanical watches have evolved far beyond the ones made 10 years ago, not to mention those made 100 years ago. However, one issue remains, the mainspring that powers mechanical watches.
In mechanical watches, a mainspring gains power (or ''torque'') as it is wound and loses power as it unwinds. That is why clockwork toys move energetically at first and move less as time passes.
Theoretically, spring-driven mechanical watches and clocks beat at a stable rhythm thanks to a pendulum or a balance. The components working under the principle of the pendulum should deliver a stable rhythm to mechanical watches regardless of the amount of power reserved in the mainspring.
However, this is only a theory. The accuracy of a mechanical watch will be diminished due to a variety of factors as the mainspring unwinds. It does not mean that watchmakers do nothing about it. A good example is Grand Seiko's Caliber 9SA5, released earlier this year. Thanks to its power reserve of 80 hours, the unique shape of the hairspring and the way it is set into the movement, it is able to maintain accuracy for longer hours. Nonetheless, ideally, the torque should be the same whether it is fully wound or almost unwound.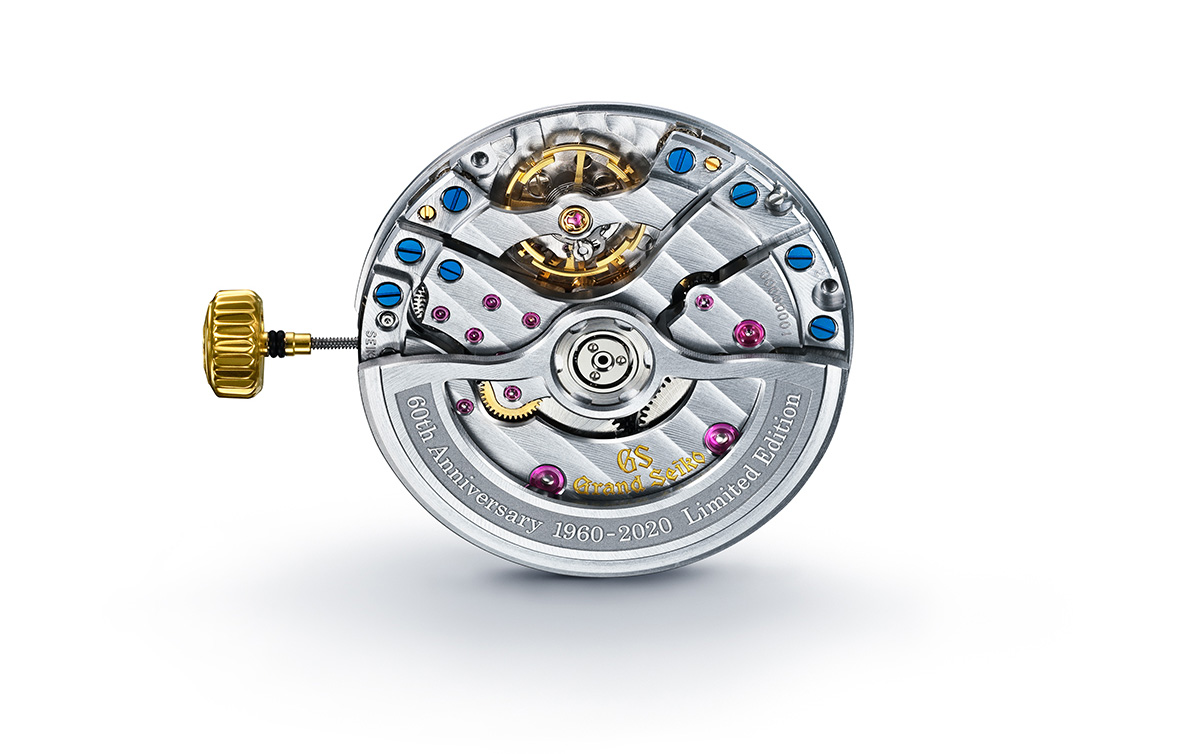 The new 9SA5 caliber introduced in August 2020
How to keep torque stable?
Since spring-powered mechanical watches were invented, many watchmakers and watch manufacturers have struggled to ensure the steadiness of the torque. If torque is stable, the accuracy of a mechanical watch will be higher. One of the solutions is a ''fusee,'' a chain puller that makes the barrel pull a cone-shaped pulley with a chain. A fusee can generate stable torque if it is well designed and well manufactured. It was introduced in the marine chronometers for measuring longitude. However, it was difficult to mount a fusee in small items such as pocket watches and wristwatches.
Subsequently, attention was drawn to a constant-force mechanism. A constant-force preserves power in a small spring called a constant-force spring, which is different than a mainspring, and uses the repulsive power of this small spring to power a pendulum or a balance. The mechanism is often compared to an impounding dam and it is excellent in the way that it ensures stable torque.
A constant-force mechanism, a dream once unachieved by watchmakers
Constant-force is an ideal mechanism for portable watches due to its smaller size and fewer components in comparison to a fusee. However, it was hard to equip it in a movement because of the difficulty in design and manufacturing. Only few mechanical watches were using a constant-force mechanism, and even less when it came to wristwatches. It was extremely difficult to apply a constant-force mechanism for commercial use despite their theoretical excellence, and was once thought of as a dream impossible to achieve for many watchmakers.
In September 2020, Grand Seiko released a concept creation with a new mechanism. It is called T0 Constant-force Tourbillon. True to the name, it contains a mechanism that combines a tourbillon with a constant-force mechanism in an unprecedented way, in my opinion, surpassing former mechanisms alike. Finally, Grand Seiko achieved the dream in a theoretically perfect form.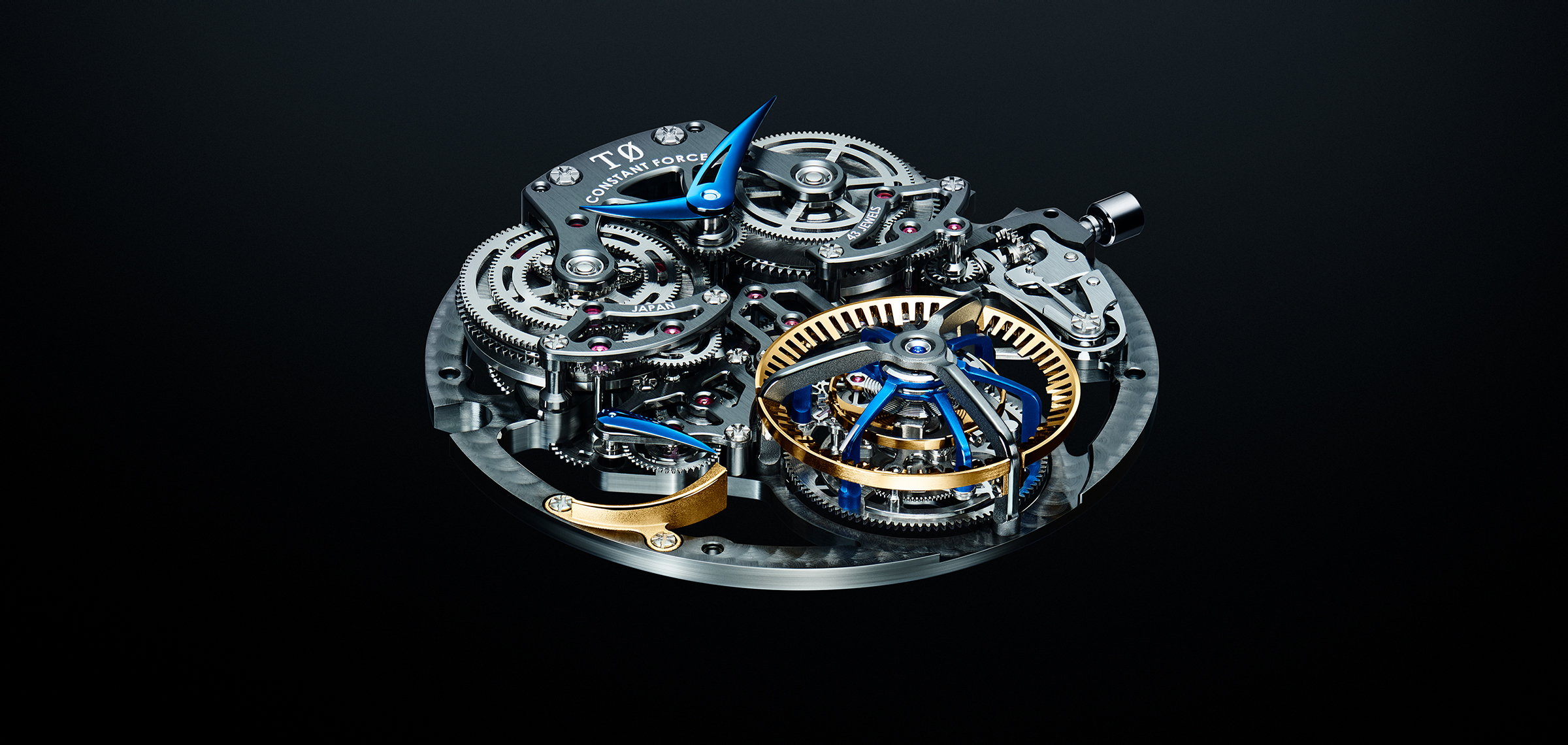 The tradition that Seiko cultivated through the Observatory Competitions
Grand Seiko currently uses the 9S6 and the 9S8 families as base calibers for mechanical watches. Developed by improving the 9S5 movement, in my opinion, they are one of the best among the mass-produced movements on the market. With the completion of the 9S6 movement, the technical team of Seiko Instruments Inc. (currently Seiko Watch Corp.) began developing new movements. One of the team's achievements is the 9SA5 movement that aims for innovation in basic performances by redesigning mechanisms and its components on a large scale. The other achievement is the T0 movement intended to elevate precision with a complicated mechanism to pursue further accuracy without consideration of mass production. The pursuit for high accuracy has been deeply rooted in Grand Seiko since its birth in 1960, and this time, T0 and the 9SA5 caliber are developed in parallel, inspiring and affecting each other in the development process.
Back in 1964, four years after the creation of the first Grand Seiko, Daini Seikosha, a precursor of Seiko Instruments Inc., and Suwa Seikosha (currently, Seiko Epson Corp.) participated in the Neuchatel Observatory Competition, in which participants competed on movement accuracy. First-class Swiss watch manufacturers dominated high places at that time but the two companies achieved better results over the years. In 1966, Daini Seikosha won third place in the Corporate Series prize category, while Suwa Seikosha won sixth place. In 1967, Daini Seikosha won second place, while Suwa Seikosha won third place. Although not widely known, Seiko, who astonished the world with the invention of the quartz watch, also reached the world's highest ranking of mechanical watches in the late 1960s.

Then, mechanical watches were no longer the priority for Daini Seikosha, but the tradition of making accurate watches remained. Grand Seiko mechanical watches were officially revived with the release of the 9S caliber in 1998. This was made possible by applying technology cultivated through the Observatory Competitions for a hairspring, the heart of a watch. In 2006, Grand Seiko returned to the highest level of mechanical watchmaking with the 9S6 movement which delivered a longer power reserve and higher magnetic resistance.
Seiko once swept the Observatory Competitions and later successfully developed the 9S movement. In 2012, Takuma Kawauchiya, movement designer and watchmaker of Seiko Instruments Inc. (currently Seiko Watch Corp.), began to seek the possibility of creating an ultra high-precision watch using all the technology Seiko had gained over the years. A tourbillion should not be that hard, he thought. He decided to challenge himself to mount a constant-force mechanism of which watchmakers dreamed.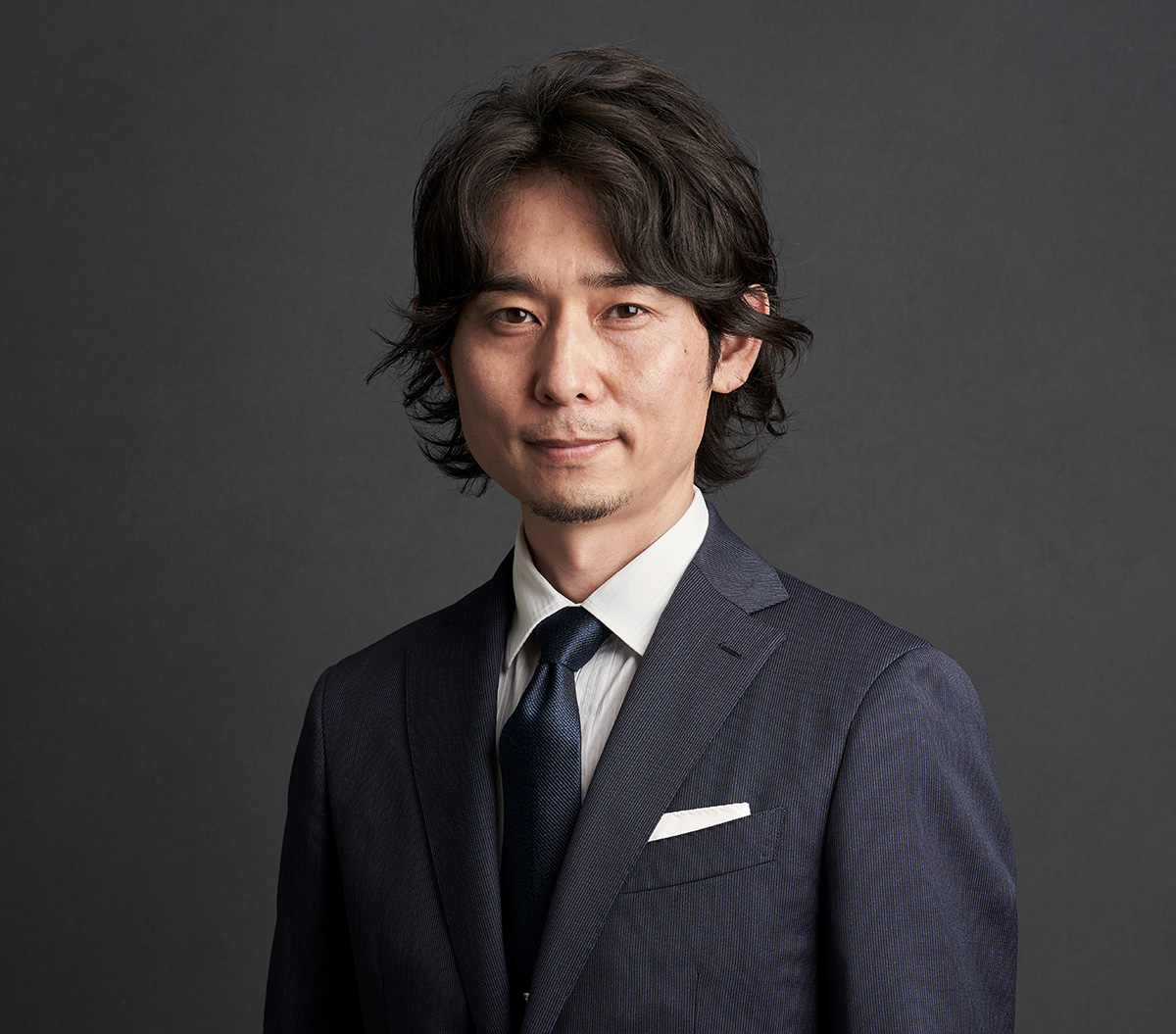 Takuma Kawauchiya, Product Development Dept. of Seiko Watch Corp.
The world's first fully integrated constant-force tourbillon
When constant-force is placed close to a mainspring, it is easier to control the unwinding power of the mainspring. However, efficiency is lower, and torque is uneven because it is relatively away from the balance. On the other hand, when placed close to a balance, it is able to deliver energy stably to the balance. In this case, torque has to be controlled to a very small amount as it comes closer to the balance wheel, making it hard to keep the stability.
Kawauchiya aimed to develop a stable system while placing constant-force as close to the balance as possible. As already mentioned, the two elements have a trade-off relationship, making it difficult to realize both concurrently.
Theoretically, the impact of gravity can be reduced if the balance is rotated. That is the concept of a tourbillon. Kawauchiya came to an idea to mount a constant-force under the tourbillon. In general, a tourbillon has a unit (called ''carriage'') which incorporates a balance and an escapement mounted on the fourth wheel that rotates once per minute. In most cases, when a constant-force is added, it is placed away from the carriage. However, T0 stores torque from a gear coaxially arranged with the carriage in a constant-force spring, and the energy of the unwinding spring is used for rotating the carriage including the balance in it.
Increase torque and reduce resistance
Kawauchiya studied a variety of constant-force mechanisms. He tried to increase torque to achieve an ideal constant-force mechanism. One example is a twin barrel with two springs. If barrels are placed in a series, the power reserve will be prolonged. If the barrels are placed in parallel, torque will be doubled. Kawauchiya chose the latter. As a result, T0 became the first movement to have two barrels placed in parallel in the history of Seiko's watchmaking to release the stable Constant-force mechanism.
Resistance was also greatly reduced. The center and third wheels were treated with a special coating for reducing friction to accommodate the great torque generated by the twin barrels. A constant-force stores the force of a mainspring and releases it in constant intervals. Thus, as a key component, a stop wheel is required to have high durability and low friction resistance. Kawauchiya applied a precise ceramic gear for the stop wheel, whose processing was precise to a micron level. As a result, T0 can operate with certainty every second without the wear of the stop wheel.
He also took a different approach in manufacturing gears. In general, mechanical watch parts are made by machining. This is because precisely machined gears rarely cause irregularity in the power transmission of a mainspring. However, to ensure even higher precision, Kawauchiya used the manufacturing process called the Micro Electro Mechanical Systems (MEMS), a forming technique used for manufacturing semiconductors. Metal films are layered like plating to materialize a perfect gear tooth shape with precision measuring in microns. Having already utilized in Grand Seiko's pallet fork and escapement wheel, this is the first time for the company to apply MEMS technologies to almost all gears.
Improvements for higher accuracy
It was a natural choice to develop T0 based on Caliber 9S65, which had been tried and trusted. Key components such as the mainspring, the wheel trains, the escapement, and the balance are designed based on those of 9S65. The setting lever and yoke were designed based on 9S65 as well.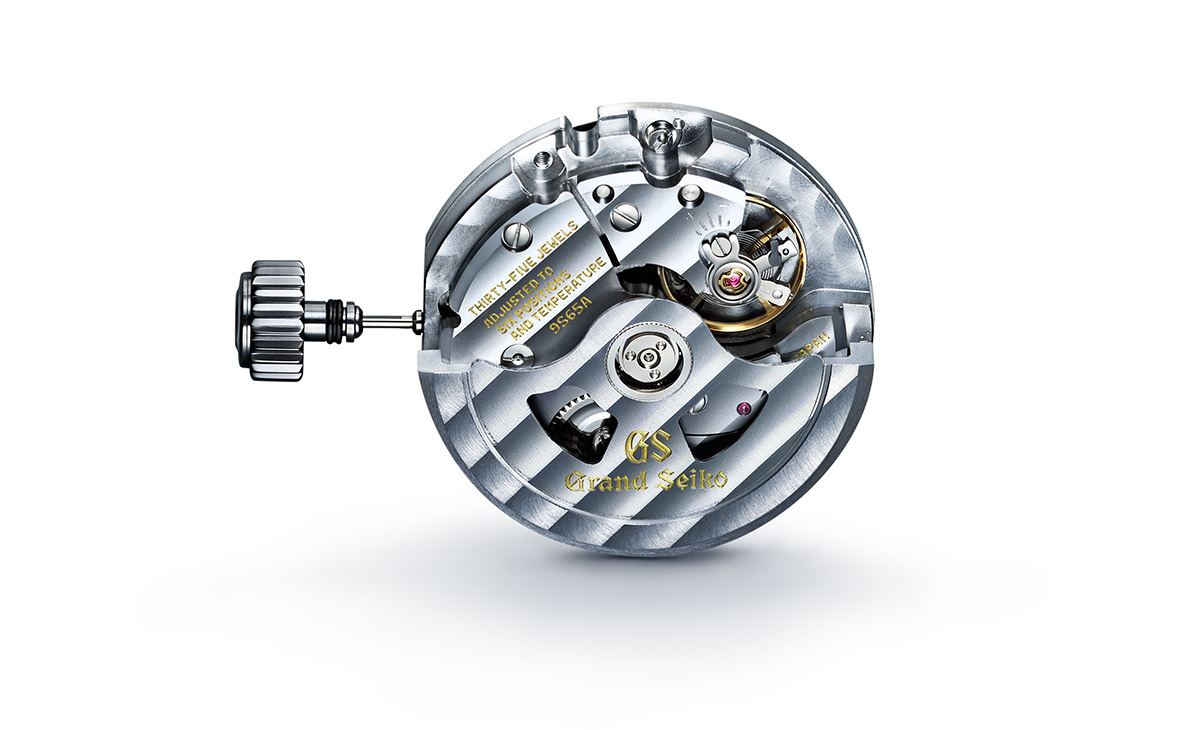 The 9S65 caliber, the base caliber upon which T0 was developed
Of course, improvements needed to be made to achieve a much higher precision. One is a free-sprung balance without a regulator. In many mechanical watches, the length of the hairspring is changed by a regulator to compensate time gain or loss. It is the same as adjusting the gaining and losing of time for pendulum clocks by changing the length of the pendulum. However, this type is relatively vulnerable to shock and inclined to lose accuracy when a mainspring is unwound to a certain extent. Although there exist watches with a regulator that ensures accuracy as the mainspring unwinds, a mechanism without a regulator is theoretically ideal.
That is why Kawauchiya used a free-sprung balance without a regulator. The mechanism adjusts to the gaining and losing of time through the inertia of the balance, without changing the length of a hairspring. Although more difficult in design and manufacturing than a balance with a regulator, it features higher shock resistance and maintains more stable precision for long hours. The idea was under development for 9SA5, aiming for a revolution in basic performance. Kawauchiya decided to try this mechanism in T0.
Another characteristic is the high beat. A balance increases accuracy as it moves faster. It is similar to a rapidly spinning top that is less likely to topple. Seiko started to advance technology for producing high beat watches in the 1960s and won the Observatory Competitions in the late 1960s. The tradition has continued to this day. Released in 2020, 9SA5 boasts a 36,000 vibrations/hour.
T0 also inherited this tradition. T0 is 28,800 vibrations/hour, which is equivalent to 9S6 calibers. This number is not rare for a mechanical watch. However, it becomes much more difficult in case of a constant-force when the energy of a spring is limited. In spite of this, T0 achieved the highest frequency ever in the mechanism with a constant-force by using two mainsprings and minimizing the resistance of the mechanism. What surprises me is the size of the balance that hasn't changed from 9S6.
A measurement test using a prototype found that the impact of gravity was reduced to one tenth or less thanks to the tourbillion, and a high accuracy was maintained for 50 hours out of 72 hours due to the constant-force. The high frequency and a free-sprung balance would significantly increase the accuracy when wearing a watch. T0 proved the theoretical accuracy with a real movement.
A heritage design from 50 years ago
You may be tempted to set time in seconds for a high accuracy watch. However, it is difficult to add a hacking function to a tourbillon whose movement is constantly rotating. In general, a lever is required to be in contact with a balance when stopping a mechanical watch. However, in the case of a tourbillon, it is impossible to directly get a lever on the balance, because a carriage including the balance is rotated. So, Kawauchiya decided to stop the carriage itself instead of the sole balance.
There are other tourbillons that can stop a carriage. However, T0 has a truly unique mechanism. Normally, it is more difficult to restart a watch as the number of vibrations increases. T0 holds a large carriage with a constant-force mounted and features 28,800 vibrations/hour. I can easily imagine the difficulty of restarting T0 once a carriage is stopped. T0 is then designed to facilitate a restart by rotating a carriage instantly in the opposite direction when a lever for stopping the carriage comes off (patent pending). It is exactly the same mechanism as the one that Seiko applied in the stopwatch for the 1964 Summer Olympics in Tokyo. After that, the mechanism was used for Caliber 45, the legendary, high-precision movement for Grand Seiko, which also inspired the design of T0.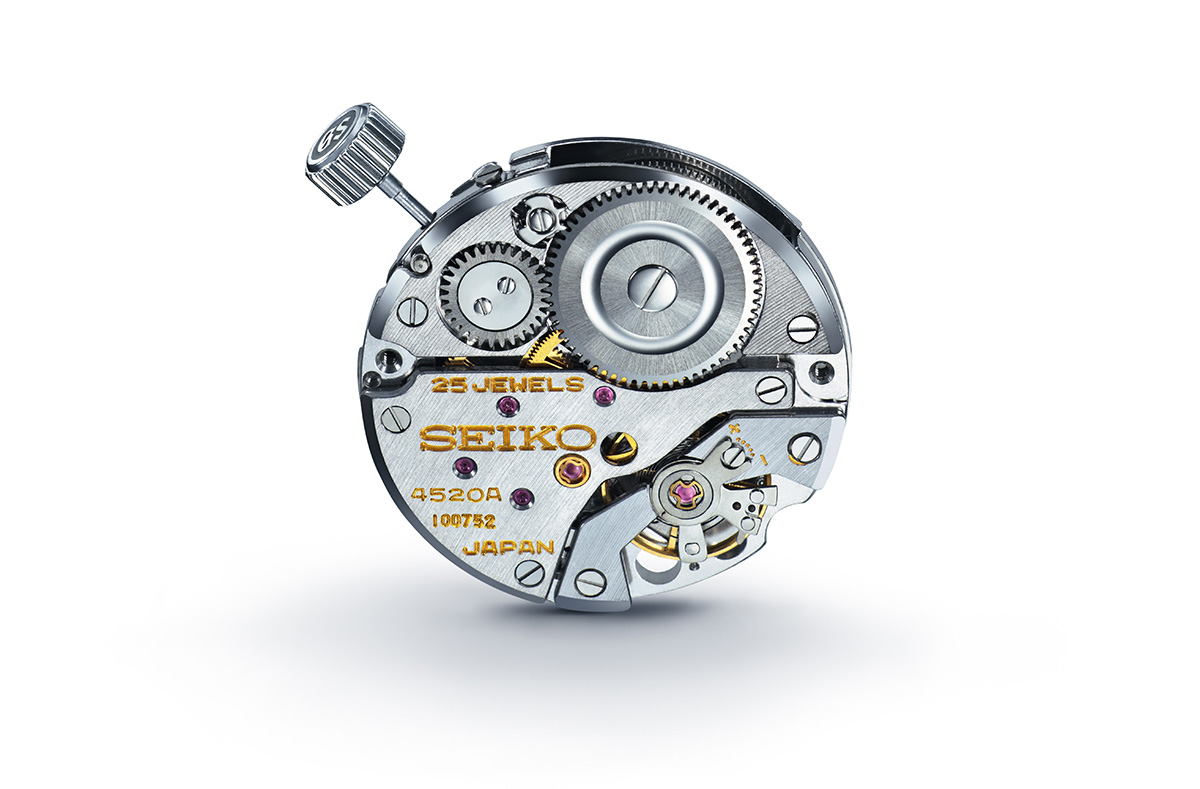 Caliber 4520 from 1968 that achieved high and stable accuracy
Emotional value in the finish and the sound
Kawauchiya created the world's first movement with a fully integrated constant-force tourbillon on the same axis. Historical value of this masterpiece is further raised. All components including the main plate and bridges, are hand finished by their craftsmen and women, taking more than 3 months. The finish is equivalent to that of the most luxurious Swiss-made watches. The expertise was effectively applied in 9SA5 as well.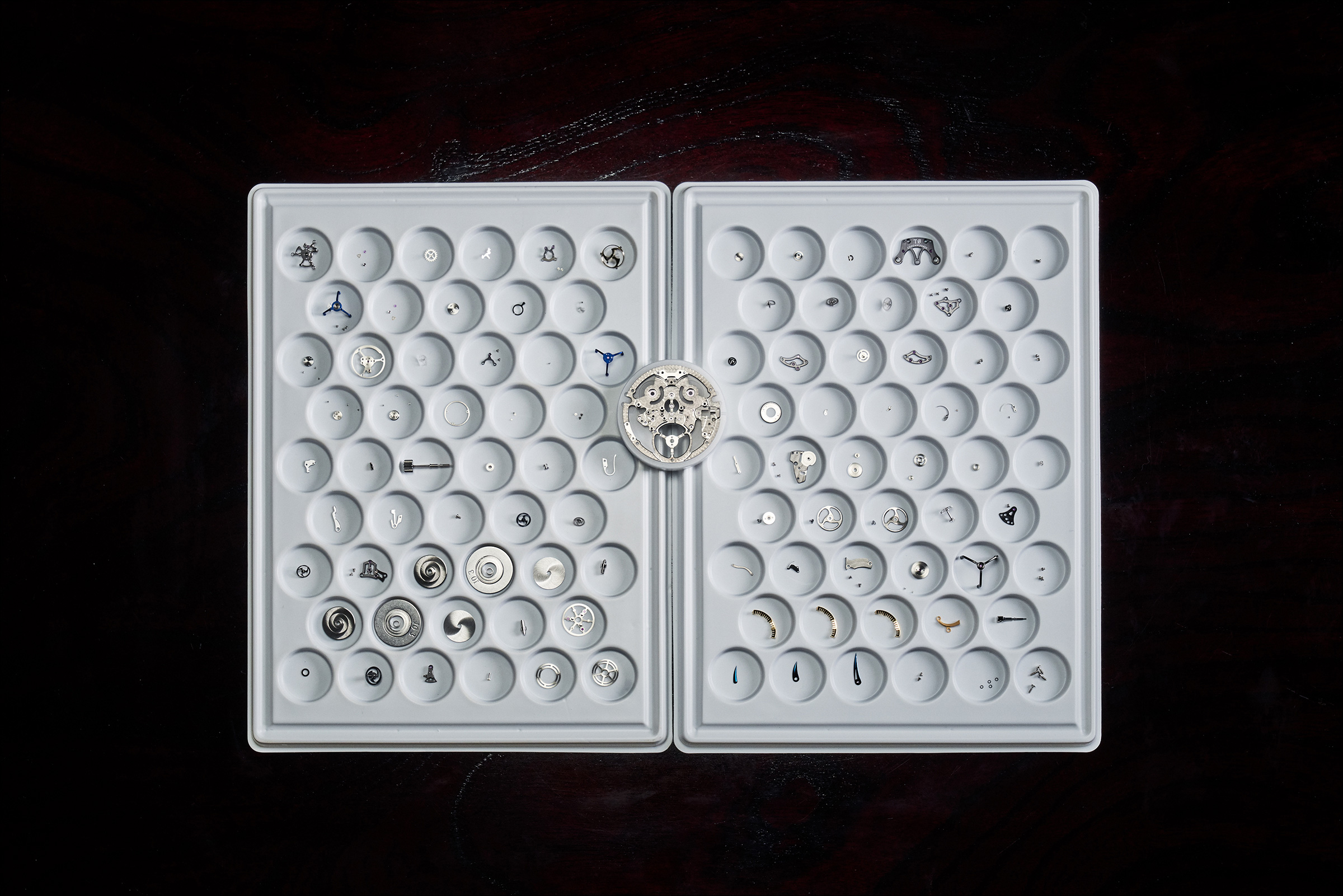 Components of T0 are beautifully polished by hand
T0 is clearly characterized by its ticking sound. An escapement ticks eight times per second if a watch has 28,800 vibrations/hour. In the case of T0, the ticking sounds like a 16th note feel, accompanied by the impact sound of a constant-force every second. Extremely high processing precision is required to ensure exact one-second periods for the release of torque by constant-force. Kawauchiya tried to make the processing precision perceivable as sound. T0 achieves the perfect 16th note ticking sound with a ceramic stop wheel processed in precision at a micron level and the mechanism for finely regulating the timing of action.
Its accuracy as a mechanical watch is also reflected in terms of sound, creating emotional value together with its beautiful finish. T0 is without doubt a new milestone of the company, who never stopped pursuing the accuracy no matter in mechanical or quartz watchmaking.
T0 shows the future of Grand Seiko.
Using all the technology and experience gained through the Observatory Competitions, Seiko continued the pursuit for high-accuracy mechanical watches in Grand Seiko. Over half a century has passed since then and the T0 Constant-force Tourbillon has been created. To me, it is the most ambitious timepiece in Japanese horological history. This is the only fully integrated constant-force and tourbillon on the same axis in the world, just as unique as Seiko's high-beat movements in the Observatory Competitions in the 1960s.
The company explains that T0 is just a concept creation, but it is far more than that. As the Observatory Competitions significantly developed the performance of Grand Seiko, the pursuit for higher accuracy and the watchmaking technologies including movement finishing of T0 contributed to refining the revolutionary mechanical caliber, 9SA5. Personally, T0 shows a brilliant future for Grand Seiko rather than simply showcasing its exceptional technological expertise.