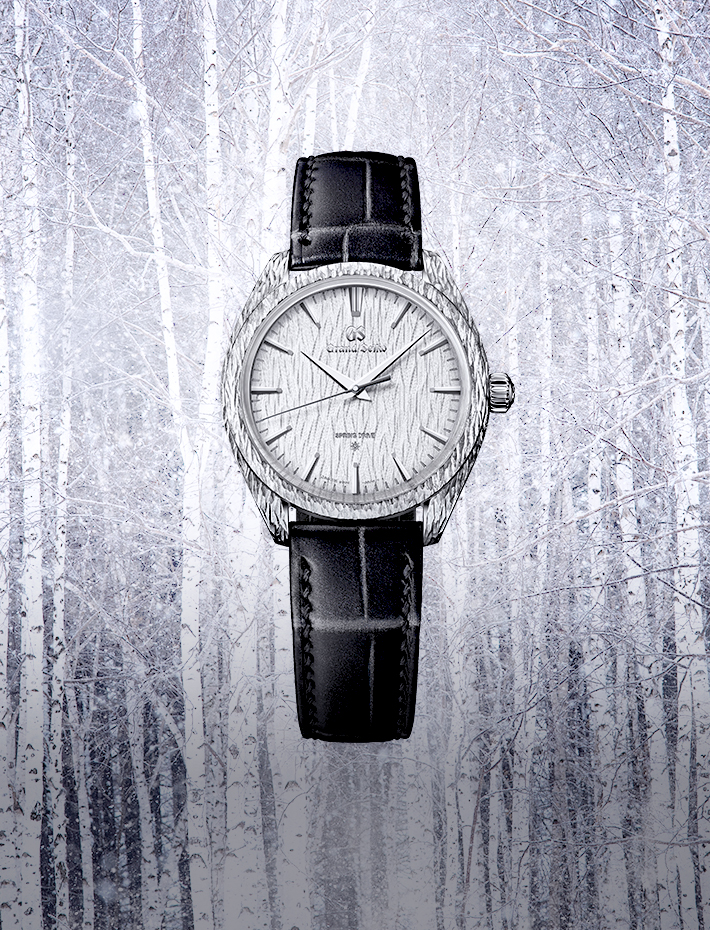 Masterpiece CollectionSBGZ009Hand-engraved Manual-winding Spring Drive Limited Edition
A manually wound Spring Drive masterpiece inspired by a majestic white birch forest at the height of winter.
This hand-engraved platinum limited edition watch demonstrates the expertise of hand-engravers, watchmakers, and other artisans as they pay homage to the white birch forests that stretch across the Yachiho Plateau at the eastern foot of the Kita-Yatsugatake Mountains. Skilled in jewelry techniques, they have created the long grooves in the case one by one. Combined with the pattern of the dial, these designs paint the picture of the splendor of a majestic white birch forest.

The movement was crafted by the Micro Artist Studio, the team behind the Masterpiece Collection, and features the Spring Drive Caliber 9R02, which has a maximum power reserve of approximately 84 hours when fully wound. This is made possible by the combination of the Dual Spring Barrel and Torque Return System. When the mainspring has been fully wound and the torque output is highest, approximately 30% of the power isn't needed to maintain the watch's precision. The Torque Return System reclaims this energy by using it to rewind the mainspring, thus lengthening the power reserve.

The hour and minute hands, as well as the indexes, are made of 14K white gold, with the engraved minute markers and logo mark drawing out the delicate brilliance of the dial. This limited-edition model imparts the feeling of the tranquil flow of time through a sublime, snow-covered landscape.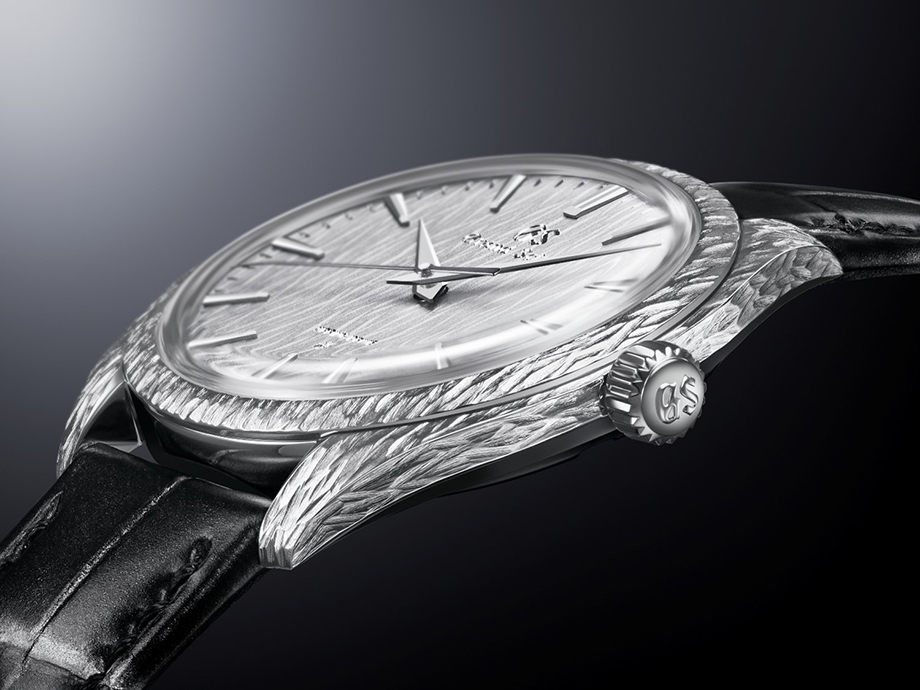 A majestic white birch forest comes to life on the case, echoing the pattern of the dial.
Skilled artisans with expertise in advanced jewelry techniques have crafted a masterpiece inspired by a white birch forest. Its fully hand-engraved Platinum 950 case is harmoniously complemented by the white birch dial.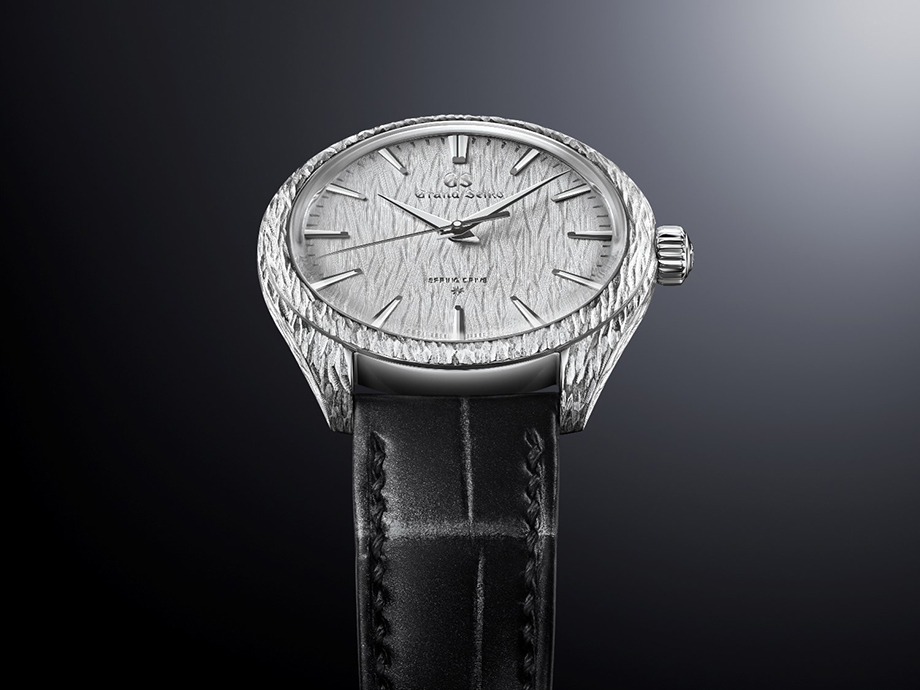 A dial with carved text and markings.
The white birch dial is further refined through elaborate carvings for the Grand Seiko logo, Spring Drive, the mark at 6 o'clock (denoting gold applied markers), and the minute track.
The hour and minute hands, as well as the indexes, are crafted from 14k white gold. The seconds hand is tempered to a shade of grey that harmonizes with the dial and has an appearance that stands apart from that of coating or plating.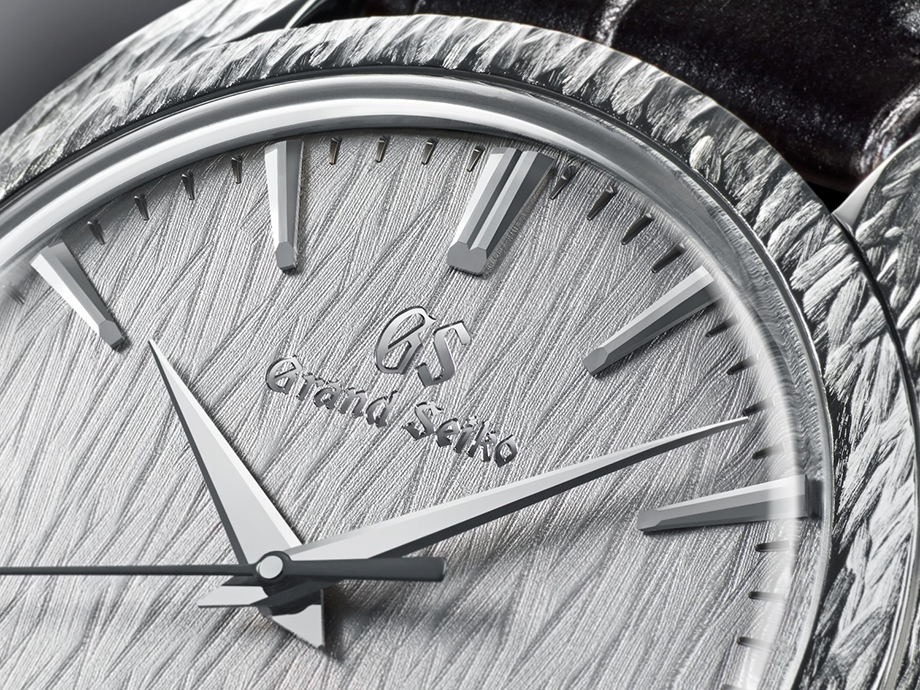 An impressive 84 hours of power reserve for a slender Spring Drive wristwatch.
The Spring Drive Caliber 9R02 was designed by the team at the Micro Artist Studio. Its Dual Spring Barrel technology combines with the Torque Return System to achieve a power reserve of 84 hours (3.5 days) while allowing the watch to maintain a slim form.