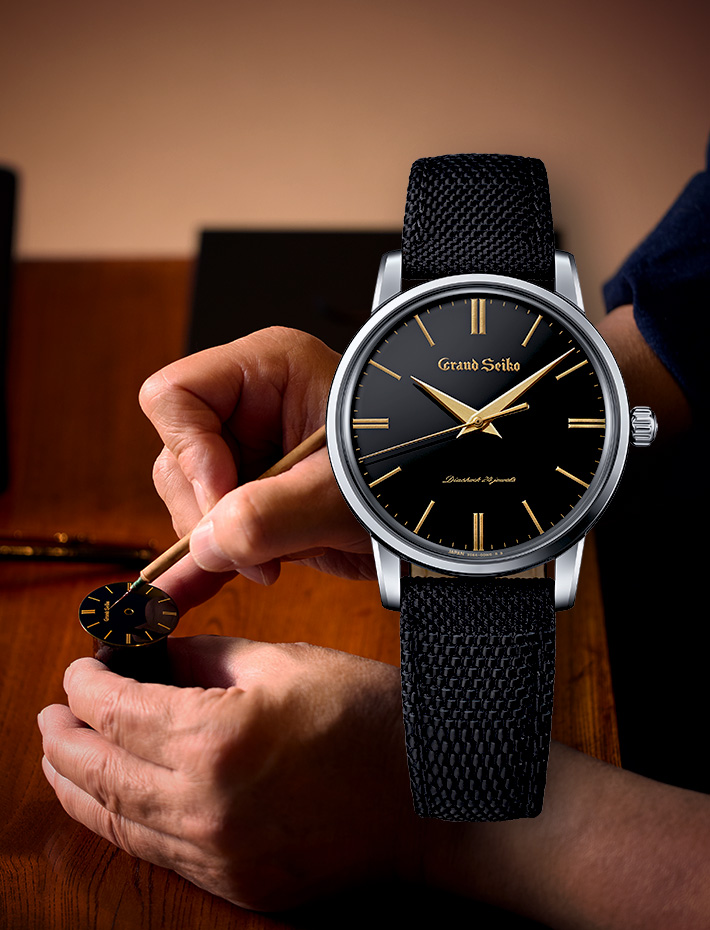 Seiko Watchmaking 110th Anniversary Limited Edition
SBGW295
A manually wound recreation of the first Grand Seiko watch featuring traditional Japanese crafts and materials
This exceptionally elegant re-creation of the first Grand Seiko watch from 1960 features an embossed expression of maki-e, a traditional technique of decorating urushi lacquer by sprinkling it with pure gold powder. The black urushi lacquer used in this watch is a special compound crafted especially for Grand Seiko and made from domestic Japanese lacquer, making it extremely rare. Indeed, the majority of urushi produced today comes from outside of Japan, and true Japanese urushi is known to dry extremely quickly, making it challenging to use. The urushi lacquer in this carefully crafted dial was formed by a mixture with iron so that it stays the same black color. It will maintain its unique quality and lustrous shine over many years, so that it can be appreciated by future generations of watch lovers.
The Grand Seiko logo and the twelve pure gold maki-e indexes have been brought to life by the hands of Isshu Tamura, a lacquerware artist from Kanazawa, a city whose poetic name translates to "marsh of gold."
Combining a dual-curved sapphire glass with the lacquer dial grants this watch a soft presence and unparalleled depth. The case uses Brilliant Hard Titanium, which melds the lightness of titanium with a robustness twice that of standard steel. With its classic profile and high resistance to wear, the new SBGW295 is an ideal expression of Grand Seiko's mission to craft practical watches for everyday wear. Moreover, one of the two supplied straps incorporates a traditional Japanese weaving technique called yoroiori that was once used for making samurai armor. Thin strips of calf leather and fabric are interlaced by a skilled artisan to enhance the watch strap's durability.
Created to mark 110 years since the first Seiko wristwatch, the Laurel, this Grand Seiko model houses the latest manual-winding Caliber 9S64 mechanical movement, which has a power reserve of 3 days.
外觀
外觀:
鈦金屬
背蓋:
可透視底蓋
6顆螺絲固定底蓋
鏡面材質:
雙弧面藍寶石水晶玻璃
鏡面鍍膜:
內面無反射塗層處理
尺寸:
周長 38.0mm 耳對耳 45.7mm 厚度 10.9mm
帶寬:
19mm
錶扣種類:
三折式按鈕開關錶扣
功能
防水:
日常生活用防水
耐磁:
4,800 A/m
其他 / 特色:

底蓋刻有"LIMITED EDITION"標記
底蓋刻有產品序號
抗金屬過敏
寶石數:24石