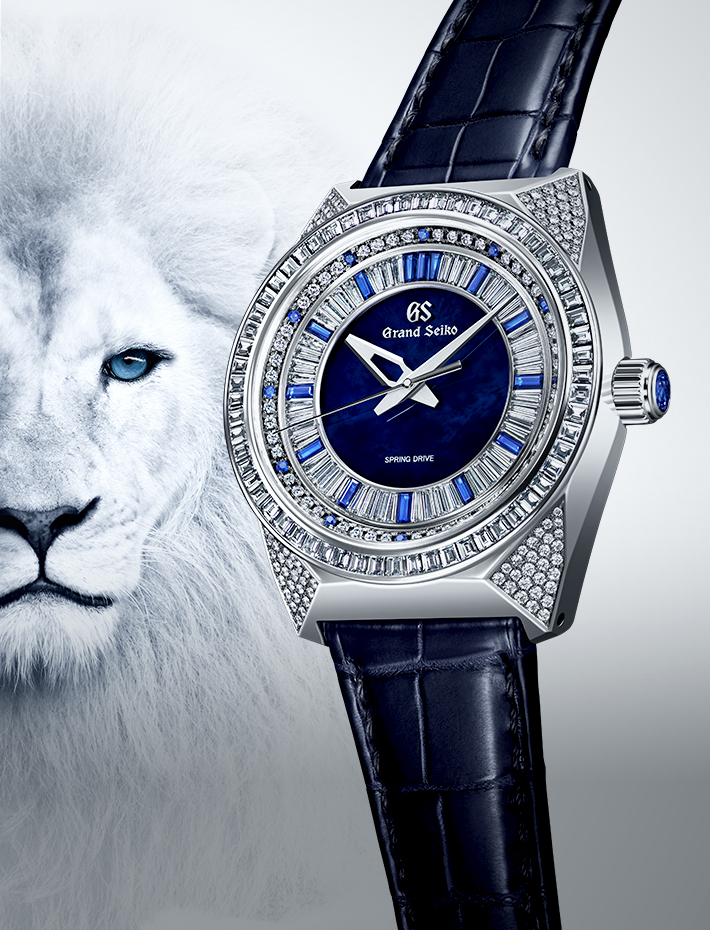 Masterpiece CollectionSBGD213Spring Drive 8-Day Jewelry Watch
A new limited-edition jewelry masterpiece honoring Grand Seiko's enduring emblem, the lion.
The lion has been the powerful symbol of Grand Seiko ever since the first watch in 1960. Exuding dignity and a strong will, the lion symbol speaks to Grand Seiko's desire to be the pinnacle of wristwatches.

Drawing on the dynamic spirit of the Grand Seiko lion, a special jewelry watch has been crafted in 950 Platinum with diamonds and sapphires adorning the case and dial.

The watch is powered by the manual-winding Spring Drive 8 days Caliber 9R01, which achieves a power reserve of up to 192 hours thanks to three barrels.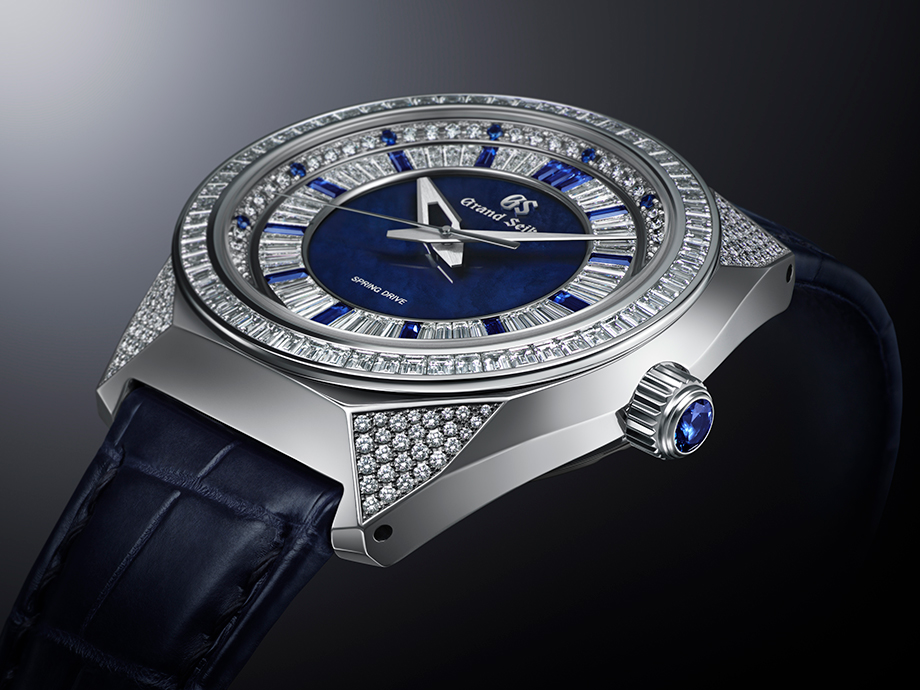 A flowing mane
The strength of the lion finds its way into the powerful lugs, with a mother-of-pearl dial representing the flowing mane of the regal creature. With the powerful case and lugs, as well as the precious stones, the watch's distinctive appearance commands attention. The upper part of the case has 112 diamonds set into it, with a further 60 baguette diamonds making up the bezel. A total of 94 diamonds are set on the dial combined with 26 blue sapphires to create a visually impressive and complex contrast. A single blue sapphire is also set in the crown.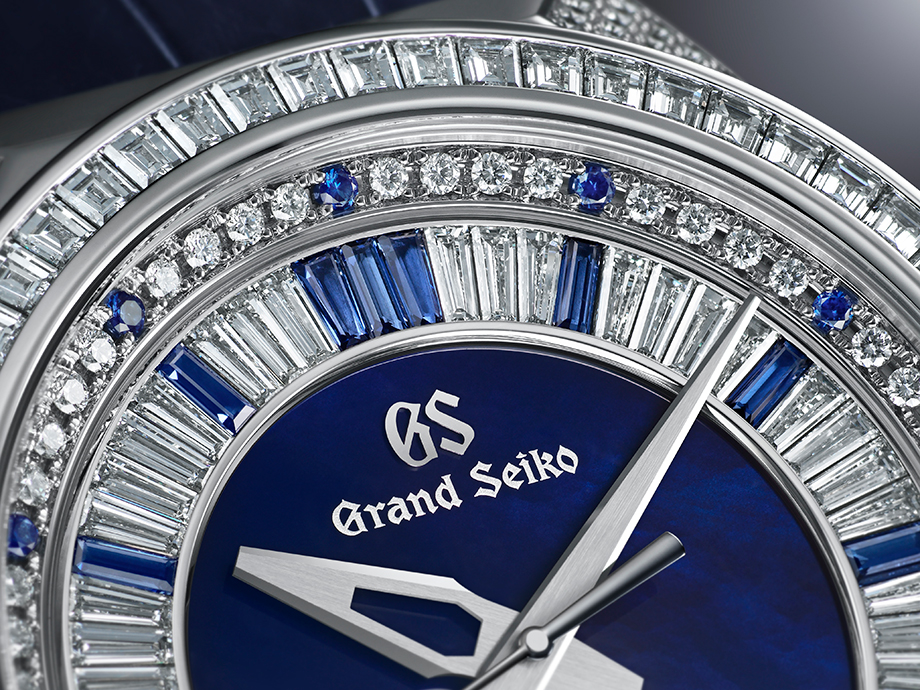 Highest-quality craftsmanship
With diamonds set alongside blue sapphires, the two varieties of precious stones harmoniously enhance each other's brilliance and create a bold display of the light and dark stones that calls to mind Grand Seiko's signature use of light and shadow in design. The diamonds and blue sapphires surrounding the dial are more than mere decoration. They also function as minute markers. Flowing with a brilliant shine on the dial, baguette diamonds and blue sapphires are evenly set within 18K white gold rails by highly skilled artisans. By making the time easy to read at a glance, Grand Seiko blends the precision and skill required of high-level jewelry and watchmaking in this stunning wristwatch.
A manually wound Spring Drive movement with an impressive eight-day power reserve
Caliber 9R01 is a high-end Spring Drive movement designed and crafted by the elite team at the Micro Artist Studio. Watches powered by springs, whether mechanical or Spring Drive, typically have a single barrel to hold a mainspring, but the 9R01 has three barrels arrayed in a series, allowing for continuous operation of up to eight days (about 192 hours). The bridge is fashioned in the shape of Mt. Fuji and the glide wheel plays the part of the sun setting behind Japan's highest peak. The lights of Suwa city by night come to life in the form of the rubies, and the power-reserve indicator echoes the shape of Lake Suwa.